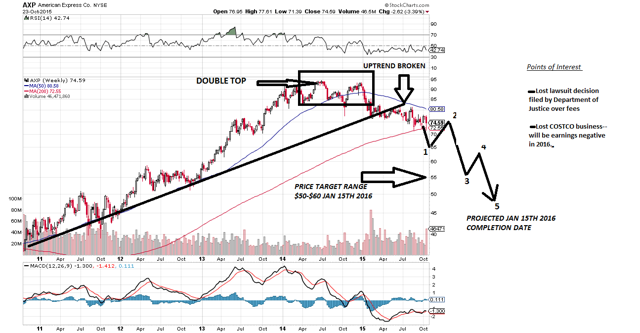 American Express via a few misteps by management now finds it's shares locked into a potential downtrend. (not confirmed yet with shares still above 200 day average)
The above chart shows a clear double top and uptrend line break. The projected ending date for this 1st wave of selling is Fib 21 ending week date of Janurary 15th 2016-price target $60; + or - 5 points.
Activst investors have recently taken up a large stake in shares of AXP, so I am not able to project at this time if this will be enough to stem the bleeding. However, with the loss of Costco business and an indifferent CEO based on his latest comments, unless a big shakeup happens at the top, AXP shareholders may be in for a long protracted downtrend.
Stay tuned.
Disclosure: I/we have no positions in any stocks mentioned, and no plans to initiate any positions within the next 72 hours.