Business Summary:
LyondellBasell Industries N.V. operates as a manufacturer of chemicals and polymers, refiner of crude oil, producer of gasoline blending components, and developer and licensor of technologies for production of polymers.
Technicals Now:
The below chart shows an uptrend of 94 weeks between 2013-2014, break out to peak, for a total of 50 points.
The pattern has since moved into a long triangle consolidation phase, pulling back a perfect 61% FIB of the up move.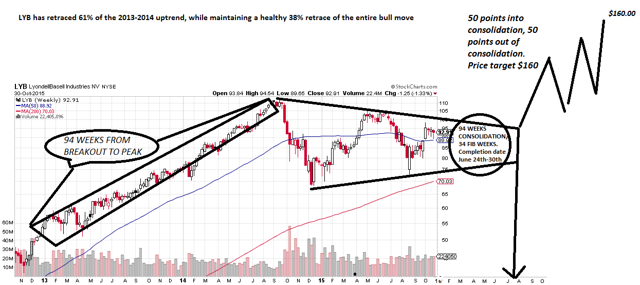 Technical projections:
Based on FIB projections and a squaring of price and time, I expect this consolidation phase to continue deep into 2016; ending between the weeks of June 24th thru 30th, giving the stock 94 weeks of consolidation, squaring with 94 weeks of upside between 2013-2014.
The trend is your friend, a popular saying on Wall Street. As the stock moved UP 50 points into the consolidation phase, expect the stock to move 50 points UP out of the consolidation; giving us a price target of $160 PER SHARE.
Fundamental Case:
LYB trades at just under 10xs p/e. Forward projections predict a p/e of just over 9xs. In other words, the street is expecting 10% growth or less; which I consider overly pessimistic.
LyondellBasell's third quarter operating income in the Americas shrunk significantly from last year, declining from $1.07 billion to $740 million. However, the company's Europe, Asia and international operating income spiked from $223 million up to $412 million--ALMOST A DOUBLE.
During the latest reporting period, short interest levels exploded on chemical stocks like Dow Chemical Co (DOW). LYB shares trade at a 50% discount to it's peers with companies like Dupont trade north of 20xs. LYB short days to cover are currently 3.46 days; compared to the S&P of 3.92 days to cover.
The XLB ETF however saw an inflow of $81 million week over week. while individual names in the XLB are being targeted by shorts as over valued, the sector as a whole is seen favorably.
LYB is a cash printing machine with an ROE of 50%, substantially higher then the S&P or it's peers. The companies management keeps returning this cash flow to shareholders with buybacks and dividend increases. The last divvy increase was almost 11%.
Bottom Line:
With substantial cash generation, cheap valuations compared to peers, an expected mild winter which will be favorable on fuel cost, and a technical pattern set to explode higher, I have no problem collecting a nice divvy for the next 8 months while waiting for the stock to explode $50 points higher.
Disclosure: I/we have no positions in any stocks mentioned, and no plans to initiate any positions within the next 72 hours.