After completing Wave 5 of the bull run; SPY has now worked out 3 minor waves of WAVE 1 in the new bear trend.
This chart shows the true trend line of the bull wave; and calculated FIB pivots.
One of these areas should be the end of minor IV bear, before we move to minor 5 low to complete this first bear wave; sometime late June or early July.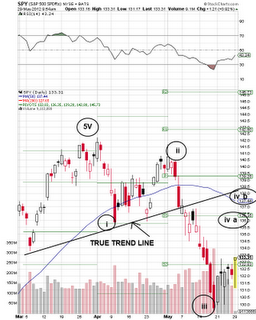 Tim Kathlina

Disclosure: I have no positions in any stocks mentioned, and no plans to initiate any positions within the next 72 hours.