Yesterday the markets got CNBS to call for complete bail out of Europe and a leading FED official to call for massive stimulus accommodations.
No surprise this morning, despite back tracking from other FED officials and the ECB doing nothing, futures risk-on is still in play.
The question: Have we reached EW1 bottom?
EW suggest that sub wave five can or will equal sub wave one-as one clue. Looking at SPY we can see wave i was 7 points, and wave five has moved down 7 points to the 200 day moving average.
We have to assume it is possible that WAVE 1 has been completed.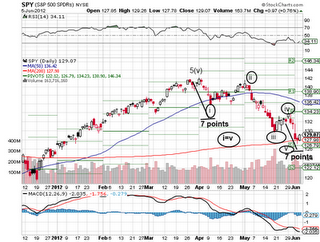 In May, I posted this KAGI chart of the 2008 SPY bear move; suggesting that this is the road map that we should consider.
In 2008, a Presidential election year and the last bear market, the markets topped in May, and moved lower into ending WAVE 1-end of June, first of July.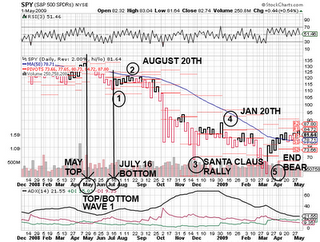 Fibonacci sequence noted on the next SPY chart, suggest the 2008 scenario is still in play.
Starting at the top, day zero, the 8th day completed sub 2, the 13th day completed sub three.
The next FIB sequence is 21 days, which counts out to June 19th. Per FIB theory, SPY trend change wont be until the next FIB ending date of June 19th; 21 days past the last FIB ending time, 13 days.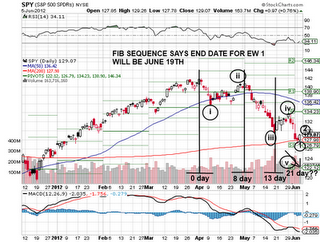 Conclusion:
EW theory allows for completion of EW1 when sub one equaled to sub five.
The 2008 bear road map and FIB number sequence suggest EW1 completion sometime around June 19th or early July; this is still our preferred scenario.
Tim Kathlina
Disclosure: I have no positions in any stocks mentioned, and no plans to initiate any positions within the next 72 hours.