This 1st SPY chart considers the possibility of a 1st wave EW1 completion.
Noted in my last post, the overlap and sub wave numbers do line up for this probability. My concern for this is the FAST move back towards the 50% retrace level. This is day 3 and markets have already retraced 38% of the 5 sub waves.
Any trend allows for one to four day counter trends; even up to seven days. Therefore, the market is still within this allowable range, yet has already retraced a distance that a normal second wave would take at least two weeks to a month to complete.
In other words, what I am saying is the time and distance doesn't sit well with me to validate this count.
Short term traders use RSI<2>, overbought above 90, oversold below 5, for potential early warning of turns.
This fast move, within the 4 day counter trend allowable time frame, already overbought at 90 on RSI<2>, and reaching close to 50% retrace; feels more like a fast counter trend and not a completion of EW1, moving into EW2.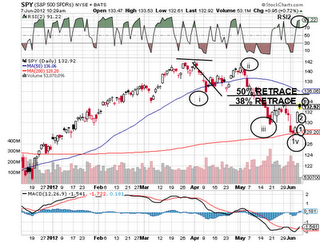 Next SPY chart I have noted a trend channel, with RSI<2> +90 tops and <5 lows. Since EW is conflicting at this point, lets stick with this trend channel until proven otherwise-leaving off any EW counts.
If this market can get past 7 days and take out 61% of the decline, this is not a bear market.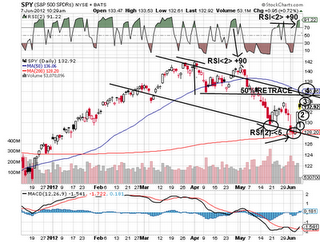 Tim Kathlina
Disclosure: I have no positions in any stocks mentioned, and no plans to initiate any positions within the next 72 hours.