On June 5th I posted this chart, indicating we had completed FIB day 13, and to expect a significant change of trend on FIB day 21, or June 19th. At the time, the current best EW count led me to lend strong weighting to the probability of FIB 21 day, June 19th, bringing in a significant low and completion of EW wave one.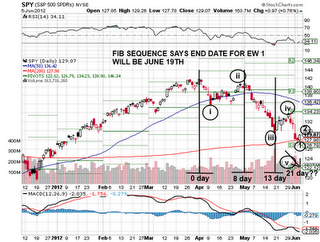 The next chart shows on June 19th, the exact FIB 21 day, did not bring in a low, but a significant HIGH.
The market found support at the 200 day moving average, and then retraced 61% of the April to June high to low range-ending exactly on June 19th, with a significant distribution day.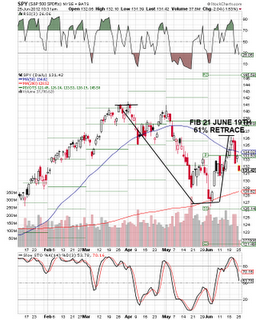 I have indicated that I do not believe the EW count is correct and will need to be adjusted. I am still of this opinion. I do not believe EW1 has completed-thus I have not listed those counts up on the current charts.
The significant low came at 60 days from the April high and squared with price at the 200 day moving average. The next significant point in time is at the 90-99 day from the April high, or the first week of July 1st thru the 10th.
My expectation is for the index to complete EW1 within this July 1st thru 10th time frame. There is a lower probability of the index completing a significant lower high within this time frame; but as of this writing, the odds favor a final exhaustion into a low-somewhere between 1220 and 1180 for S&P.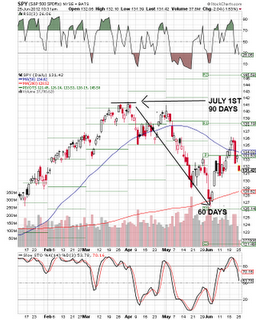 Conclusion:
The FIB 21 day of June 19th, brought in a significant high-61% retrace from the 60 day low.
Based on Slow Stochastic overbought condition, FIB 21 day, and RSI(2), the index now sets up to complete EW1 at the 90 day time frame from the April 1st high, or July 1st thru the 10th.
Expected low range is between 1180 to 1220-extensions of varying degrees from the 60 day low.
Tim Kathlina
Disclosure: I have no positions in any stocks mentioned, and no plans to initiate any positions within the next 72 hours.