On July 7th I indicated the next possible date for SPY top, based on our secondary count, would be July 19th or 45 days from the ending 1st wave low.
The SPY index exhausted higher into Fib 13th date July 19th, 45 days from Wave one low, followed by a distribution on July 20th.
Traders should use my updates to look for price and time dates before entering trading positions. These time frames offer the highest probability of winning trades.
For example, after reading my update on July 7th, you would know to wait for the next Fib sequence date, July 19th, and 45 days from Wave one low, to take a short position with a protective stop above $140, our price target for July 19th.
The next few charts continue to build a case for a probable top using the same 45 day pattern from the EW1 low.
We have five clear sub-waves higher: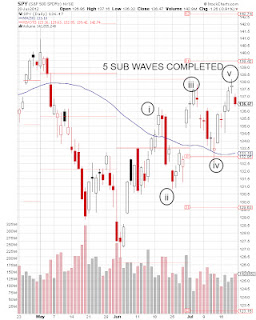 The 45 day from the low pattern is also showing three thrust higher: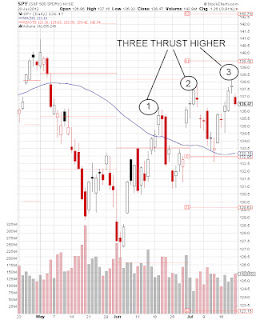 The 45 day pattern once again has formed a Bearish Kicking Pattern: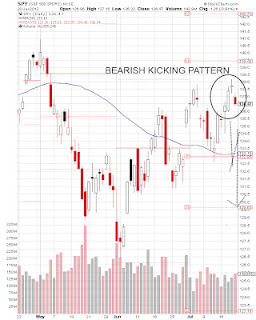 Conclusion:
SPY has moved 45 days from the June low, ending on Fib 13th date of July 19th.
SPY has 5 countable sub waves up from the June low, three exhaustion thrust into highs, and a Bearish Kicking pattern.
We do not have a squaring of price and time and the index has been able to ignore all bad news to date.
The FED meets August 1st, they will not do QE3 as I have been saying for months now. I will update direction, price and time after the Fed meeting.
Tim Kathlina
Disclosure: I have no positions in any stocks mentioned, and no plans to initiate any positions within the next 72 hours.