My latest investment in ATHX has also left me extremely torn. Over the last few weeks, I have put in countless hours of research and taken a 4.5% portfolio position. After I took the position, it became evident I overlooked the fact that ATHX has paid stock promoters in the past and currently. On top of that, trading action over the last few days has been dreadful suggesting that large institutions could be dumping. Despite these facts and a nagging feeling that I have fell for a con, I have decided to hold my nose and my stock through the data release.
Please note that I first wrote this article a few days ago and tried to submit it to Seeking Alpha. Ultimately, they rejected it as being too speculative and they had been alerted that ATHX had been a promoted stock in the past. Therefore, they decided to pass on publishing my article, but I thought I would share it anyway to show my thought processes and research....
This article is not about evaluating stem cell therapy and whether or not it is a beneficial treatment in stroke. There are numerous rodent studies and a boatload of medical literature discussing the subject (for example: here at section 5.4 ). I suggest searching NIH site for "Stem Cell and Ischemic Stroke" if you are not convinced on the science end. In particular, here is a study published in 2014 which summed up the results of many small stroke studies. This meta-study concluded "published data suggest that stem cell-based therapy for patients with stroke can be judged as effective based on single arm clinical studies."

Obviously, there are no guarantees in investing and that is especially true in biotech investing. NEVER risk capital you cannot afford to lose. Again, the purpose of this article is to share information which I believe increases the chances of a positive data release.
A Quick MultiStem and Ischemic Stroke Review
Athersys' Multistem product is created from extracting stem cells from adult bone marrow and then manufacturing a biologic product which can be cold-stored in hospital banks and administered intravenously to patients. Cells from a single donor can yield millions of doses. Multistem acts regeneratively to protect and restore tissue damaged in acute ischemic events.
An Ischemic Stroke is a brain event where blood supply is cut off from a portion of the brain due to a blood clot. Immediately following a stroke the body produces an "Ischemic cascade" which is a series of cellular level events compounding damage to already compromised brain cell tissue.
Currently, the only FDA approved therapy for stroke is clot-busting tPA which has a very narrow treatment window of 3 hours after the onset of a stroke. Unfortunately, most stroke victims do not make it to the hospital within that time frame.
The Multistem product is unique because it can be cold-stored in hospital banks and administered to a stroke patient at the time of arrival or even in an ambulance. Then, the regenerative and Ischemic cascade dampening effect can begin.
The Ulcerative Colitis Trial Failure Creates Opportunity
The one event that caused a major crisis of confidence for ATHX investors was the failed Ulcerative Colitis (NYSEARCA:IBD) trial in April of 2014. I reviewed four different sources of institutional ownership and, interestingly enough, they all varied in their estimates. However, all four showed a huge drop in ownership in the quarters following the UC debacle. CEO Gil Van Bokkelen did have, at least, a reasonable explanation for the failure. The following quotes from the November 2014 conference call paint a picture of management realizing Multistem is best suited for acute maladies rather than chronic, or long-standing, conditions such as UC/IBD:
So it [the UC trial] was a pretty severe patient population that was suffering from long standing chronic disease on average patient had been suffering from IBD for ten years with some patients that suffered from IBD for as a long as 30 years they were in the trial...
So, it was a pretty severe and pretty substantially sick long-standing group of patients. In that trial we administered a dose of 750 million cells one time IV into these patients to access the primarily outcome in the study which was effect at eight weeks in these chronic patients.
the analogy that I used to explain the people, kind of illustrate the concept of them imagine if you had somebody that suffered a stroke ten years ago versus somebody that suffered a stroke yesterday, which would be easier to treat?
And I think most people intuitively grasp that treating somebody and helping somebody that just suffered a stroke in the last day or two is probably going to be a lot easier than somebody that suffered a stroke a few years after all the resulting tissue loss destruction and scarring and everything else has already occurred over an extended period of time. So it's not maybe the perfect metaphor in terms of comparing what we did in IBD with Pfizer versus what we are doing with stroke. But we are really weighted more heavily these days towards acute indications where we think that early intervention based on a lot of the data we have generated over the past few years can have a profound impact on improving the outcome, and so kind of getting ahead of curve as opposed to waiting for patients that are much sicker.
So, the failed UC trial was definitely a deep wound to ATHX investors, but it has also created opportunity in the sense that institutions lost faith, bailed on their investments, and created a very depressed stock with somewhere between 9% and 24% ownership today. Positive ischemic stroke data would show the failed UC trial results were a result of attempting to apply a short-term (8 week) trial to a very chronic group of patients dealing with IBD for multiple decades. I believe positive stroke data would cause a violent upward movement in the stock as many institutions will seek to buy in.
Analysis of Eight Clues
Various clues, when interpreted and added together, can be used to enhance one's guess on the chances of positive results being announced on April 19th. I will start with the least significant clues and progress to the most significant. Keep in mind the basis for my analysis is, the CEO and other insiders, already know or have a good idea of whether or not the trial will be successful. I am not saying they are doing anything illegal, but based on how a patient group does as a whole (when compared to the norm), and comments from hospital personnel, etc. a company can generally figure out if a trial is going well.
CLUE #1 - CEO Tone and Demeanor in conference calls leading up to data releases.
Although, this clue is by far the most subjective, I believe it may also be one of the most useful. I have underlined portions of quotes I see as telling. In the call dated March 13th 2014, about 1.5 months before ATHX stock tanked on failed news, Gil Van Bokkelen did not even attend the conference call due to a "family medical issue". On top of the CEO not attending, I found this question and answer exchange between an analyst and COO William Lehmann to be extremely foretelling... basically, Mr. Lehmann's answer should have raised serious red flags:
Tracy Marshbanks - First Analysis Securities Corporation
... And clearly, discussing the trial with Pfizer with data coming up here in the short term, I think you're reminding us that is a proof of principle and things are probably not black and white, but you'll learn a lot. So if you could talk just a little bit more about thoughts there. And I also think the results you find there could have spill-over impact in informative in other areas. Is that correct...?
William (B.J.) Lehmann - President and COO
Sure. Yeah. I mean I think that latter point is right on. And we're going to learn a lot from the study. We're gathering a lot of information and I think the information we gather is certainly have relevance in other autoimmune conditions and may be relevant in an area like (inaudible) we're already working.
Lot of the drugs that have been developed in this space, as you know, are not only developed for UC they are developed for Crohn's, but they often have utility in other autoimmune conditions like rheumatoid arthritis and a variety of others as well. So I think the learning we get out of this study it could be relevant for some of those other indication areas.
I think it is important to note is as you noted that this is a proof of principle, proof of concept study. As Pfizer went into this the study was designed with that purpose in mind. And we built in an opportunity to learn a lot about the biological activities to sell products...
If you contrast the tone in the latest (March 2015) conference call to the above exchange, we get an entirely different feeling from management. CEO Gil Van Bokkelen attended the March call and said the following:
So for example, if we saw a very robust response and we felt that it was the right thing to do, then we could go forward and apply for breakthrough therapy designation for example with the FDA, or there might be other things that we could do. These are all possibilities, right and I think people should be thinking about those things. But really, Tracy, it's all going to come down to the data, what are we seeing from the data.
and this..
But look, we are very excited and a few weeks from now, I think it's going to be an important time for us and a lot of other people.
Also in the latest conference call, I noticed a lot of questions and answers centered on events that frankly looked past the Phase 2 results. For example, there was a back and forth exchange on how Athersys might handle getting Multistem approved in Japan. This was part of Gil's response:
But I think it's fair to say that there's a lot of excitement, no matter how you look at it and the reason for that is pretty obvious. If you got a safe and effective therapy it -- under the system and the mentality that is being employed in Japan now, the approach for getting approval is become much more streamlined than what people thought it might be.
CLUE #2: Presenting Stroke Data at a Big Conference Compared to Releasing a Press Release for Failed UC Trial
When Athersys released data on the failed Ulcerative Colitis study, it was in the form of a press release. This time Athersys has asked the lead investigator Dr. David Hess, a stroke specialist and Chairman of the Department of Neurology at the Medical College of Georgia Regents University, to present the ischemic stroke trial data at the European Stroke Organization Conference.
CLUE #3: Follow Up Conferences Announced
The company is already scheduled to present at another conference the week after the data release. If the trial was truly a failure, would the company be presenting a failed study multiple times in consecutive weeks?
CLUE #4: Stock Chart Analysis
Three months before the UC trial failure announcement in April 2014, the stock peaked at $4.25 and began a sustained high volume sell off knocking the price down to the $2.25/$2.50 range. If we contrast this with the current situation, we see almost the opposite. The weekly chart below shows price breaking out of a consolidation base in January 2015 at $1.50 per share and peaking in the last week in late March at $3.43. The next week saw the entire biotech sector as a whole take a major hit knocking the IBB etf down about 10% in 5 trading days. Since then, IBB and ATHX have recovered.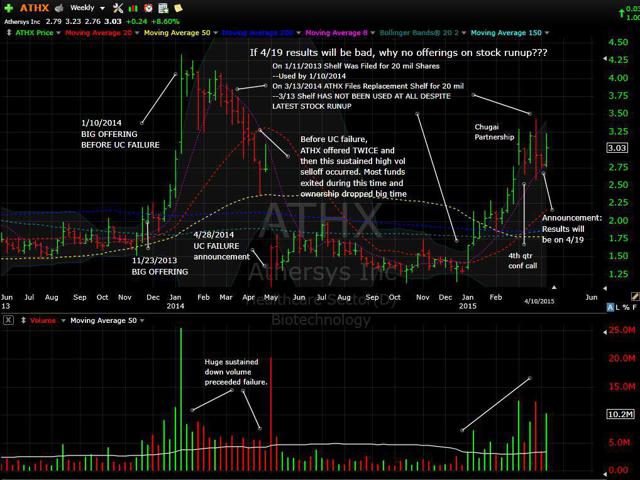 Clue #5: Chugai Partnership
Chugai is a $2.2 trillion powerhouse pharmaceuticals company in Japan. The company completed a deal with Athersys to license, develop and commercialize MultiStem for ischemic stroke in Japan. Athersys will receive an upfront payment of $10 million and another $7 million upon successful Phase 2 results. I doubt that a company of this magnitude would put its reputation on the line weeks before a data release. If Chugai had doubts, they could have waited to make the deal until after Phase 2 results, or, they could have back loaded the deal even more committing the majority of the upfront cash upon acceptable Phase 2 results. But they did not. The deal also includes $45 million in regulatory milestones and $150 million in sales milestones. Again, this deal only applies in Japan. Athersys retains all other rights to Multistem outside of Japan. Finally, in the March 2015 conference call, Gil had this to say regarding the negotiations with Chugai:
With Chugai in particular, we've had discussions now that have gone on with them for over year. They did a tremendous amount of due diligence during that period. Obviously, we're engaged in discussions with other companies.
Clue #6: Absence of Secondary Offerings
Perhaps the most telling clue is the comparison of secondary offerings and shelf registrations before the UC failure and now. Here is a timeline of offerings, shelf registrations, and certain company events going back to early 2011. The last 6 bullet points are the most important.
1/28/2011 - $13.1 Mil Secondary Offering
11/14/2011 - $20 Mil Stock Purchase Agreement w/ Aspire Capital
3/9/2012 - $9 Mil Private Placement Offering
10/26/2012 - Public Offering 19.8 Mil Shares Offered at $1.01
11/6/2012 - Overallotment Announcement Adding 2.97 Mil more shares to 10/26 Offering
1/11/2013 - Files Shelf Registration for 20 Millions Shares
10/23/2013 - Enters Into $25 Mil Agreement w/ Aspire Capital to Replace 11/14/2011 Agreement
11/27/2013 - $20 Mil Direct Offering - 10 mil shares + 3.5 Mil Warrants
1/10/2014 - Stock Pops to $4+ Athersys Immediately Registers Direct Offering for $20.5 Mil (5 mil shares + 1.5 Mil Warrants)
3/13/2014 - Files NEW Shelf Registration for 20 Mil Shares to Replace Exhausted 1/2013 Shelf
4/28/2014 - Failed Results from UC Trial Announced
3/2/2015 - Chugai Partnership Announced
4/8/2015 - Company Announces Phase 2 Results Released on 4/19 at ESOC
So, what can we glean from this timeline? In late 2013 and January of 2014, two secondary offerings were completed uncharacteristically *very* close to one another and only 3 months before failed UC results were released. Management had to have known the UC trial was going to be a failure and, therefore, took advantage of an elevated stock price to grab much needed cash. In fact, they exhausted the 1/11/2013 shelf registration and grabbed as much cash as they could.
In 3/13/2014 a new shelf registration was completed which allows the company to sell 20 million more shares. However, this shelf has not been utilized for over a year despite the latest run-up in the stock price AND despite the fact that cash reserves fell to $26 million. Athersys' burn rate for the last 3 quarters has averaged between $7 mil and $7.5 mil. Now, what is a CEO's first responsibility? The answer is to make sure the company can pay its employees and continue as a going concern. Yet, cash fell to under $26 million and the stock price was running and management chose not to utilize ANY of the 20 million shares from the untouched shelf. For example, if Gil had chosen to do an offering at $3 for, say, 10 mil shares he could have doubled the cash on the books and set the company up for another year.
It is my contention that Gil and management are expecting solid results from the Phase 2 Ischemic stroke trial. They are expecting a huge move in the stock and they will utilize some of the 20 million shares on the untouched shelf AFTER trial results are announced.
Clue #7: Lee Babiss Is on the ATHX B.O.D. and Works for Pappas Ventures Which Has Built a 3.8 Million Share Position
Lee Babiss is on the Board of Directors for ATHX here. And, he works for Pappas Ventures here, It seems Pappas Ventures has built a 3.8 million share position. Hmmmm. I have to admit though, it is entirely possible that Pappas Ventures bought ahead of the Chugai partnership announcement, possibly on insider information, and then sold ON THE NEWS. Anything is possible in the sleazy world of cheap biotech!
Clue #8: Video from 2012 Where CEO Gil Van Bokkelen Flat Out Tells Us the Trial Results Are Stellar
Unless Gil Van Bokkelen is a complete charlatan and liar in this video at minute 65, he flat out tells the world that the stroke trial is going extremely well. This video was from 2012.
Possible Valuation
There are 795,000 strokes with 87% being ischemic strokes. So 692,000 strokes multiplied by $20,000 per treatment is roughly $14 billion. If Multistem were to become the standard of care, stroke alone could represent $7 billion to $14 billion in peak sales. However, that is just stroke. The point of Multistem and stem cell therapy in general is that it is a regenerative therapy for ischemic tissue damage. Athersys is also preparing to begin a phase 2 trial in acute myocardial infarction (or heart attack). And there is really a near endless list of acute applications where Multistem could be deployed if it is successful in stroke. So, its really tough to put a peak sales dollar value out there. But, for the sake of this article, lets put a $7 billion peak sales number out there. This would represent Multistem eventually becoming the standard of care and half of all yearly stroke patients being treated. At one times peak sales using a current market cap of $250 million, the stock price would be $28. Obviously, that's a complete shot in the dark, but I wanted to just get a rough number to show potential. Again, that number is just for is ischemic stroke alone.
A Final Note
And finally, one more important point... I am VERY aware of confirmation bias and I have made every attempt to be skeptical of this situation and you should too. However, it is possible that my analysis has become biased in some way I am not aware of, either through outside manipulation of the facts, or through manipulation of the stock movements and volume. In other words, the company itself or promoters could have manipulated facts and price movement to create a story. So, in a nutshell, be careful and do not take anything at face value in the world of biotech.
Good luck!
Disclosure: The author is long 4.5% OF PORTFOLIO.