SC Minerals
After visiting with Company management at PDAC, I believe Sacre-Coeur Minerals (TSX.V:SCM) is a special situations opportunity for a smaller portfolio. SCM is a Canadian Junior Mining Company with gold assets in Guyana. Guyana is known to be political stable and "miner friendly." The market cap is just $12.1 million at $.20 a share, but they are starting to produce with plans to grow mining activities to 40k ounces by 2015. This one project alone could produce $30+ million a year of cash flow from operations. In addition, they have additional drilling on 8 projects covering 860 square kilometers.
Current Operations
Currently, given the last financing to expand production, the Company is producing 3,000 ounces per year on its alluvial production with expectations doubling by April. On a 6,000 ounce a year run rate, the Company could expect cash flow from operations of $3-$4 million. The doubling of operations was a result of the recent completion of raising $6.1 million through gold participating bonds. This should help provide some support in as much as the Company will not continue to burn through cash and see its market cap continue to slide to nothing.
Million Mountain Gold Project
SCM's premier project is the Million Mountain gold project with 450,000 TR OZ AU. This resource is surrounded by other large identified gold resources such as Sandspring's Toroparu 5 million ounce gold deposit and Guyana Goldfield's 3.5 million oz deposit. SCM seems confident there is an additional 50k ounces attainable to reach 500,000 total ounces.
The Million Mountain mine is expected to have cash production costs of just $450-$500 an ounce ignoring royalties. This is a result of unnecessary blasting and drilling as only "nominal crushing or grinding for processing" will be needed. Nearby Guyana Goldfields Inc. (TSX:GUY) can confirm the relatively cheap production costs with expectations of $527. For comparison, GUY has a 3.48 million Au mine and a $340 million market cap. Their project is expected to produce an IRR of 38% compared to SCM s 115%. Simply based upon resources, SCM's valuation could be $24M using the same resource valuation given to GUY.
Recent Financing
The Company recently raised $6M of Gold Linked Notes with investors interested in participating in the near term $30M gold denominated bonds that are needed for full production. The interest rate is expected to be around 8%. This will reduce the expected capital raises through equity.
Valuation
Based on the current and the expected production of 43-101 assets, the Company could be worth $73 million giving potential investors ~5x their initial investment. This is based upon cash flows expected from the current alluvial mining operations and the development of Million Mountain. I assumed a full 500,000 ounces and a 50% recovery rate over a 7 year mine life. The expected debt raise of $30 million will allow production to be around 40,000 ounces a year. Given the participation of the last year and their knowledge of the coming $30 million raise, management believes the raise is attainable at 7.5-8.5% interest rate.
Production of Million Mountain could start in the fourth quarter of 2014 and ramp up to full production in the beginning of 2015. Cash costs per ounce including royalties could be around $586 an ounce. Assuming $1500 an ounce for gold, SCM could be producing around $37 million in cash flow from operations.
SCM also has a $35 million loss carry forward to help reduce future taxes once they are in production. In addition, management has indicated they are looking at potentially setting up a Barbados subsidiary that would reduce the tax rate from 25% to 10%. For modeling purposes, I am conservatively using a 25% tax rate.
Based on these variables and expected cash flows, my DCF model indicates a potential valuation of $73 million for the company or $.98 a share. Please see attachment for details on the financials.
Conclusion
This JR miner is a unique story with a significant upside potential as it continues to expand its resources. The uniqueness is based upon the region's relatively cheap cash cost of production and its ability to use gold denominated debt financing to reduce excessive dilution with continuous equity raises. The near term catalyst is receiving debt financing once the bankable feasibility study is released. This should happen in June or early July.
Lastly, SCM offers upside opportunities on other resources as current future drilling takes place over their 860 square kilometers of land rights. Ignoring these upsides, the stock could be valued around $.98 given current and future expected cash flows. This represents a 4-5x return on your investment buying at current levels and reaching full valuation.
Other Notes & Risks:
At the end of 2010, Severstal offered $1.60 per Sacre-Coeur shares, but the deal fell apart in 2011. Severstal is Russia's largest steel producer and still continues to hold 7.7 million shares of SCM.
SCM raised $1m in equity last year which is possibly causing some near term resistance as the investors sell their shares and keep their warrants. The raise was done at $.12 with warrants at $.18. Based on recent volume, most of the overhang maybe removed.
Obviously, gold prices are a risk going forward. The low cash cost per ounce helps alleviate the destructive impact of gold prices compared to other more expensive producers. Another risk is the potential and likely plant shutdowns/delays that come with mining operations. Consequently, my financial model is based on a best case scenario. At the same time, I don't put any value on potential large resources that may come to light given SCM's continuing drilling on their other properties.
Currently, SCM trades sporadically. Management has indicated they will be starting a three week road show soon covering the U.S. and London. I am hopeful that this along with the start of full production will help provide liquidity to the stock.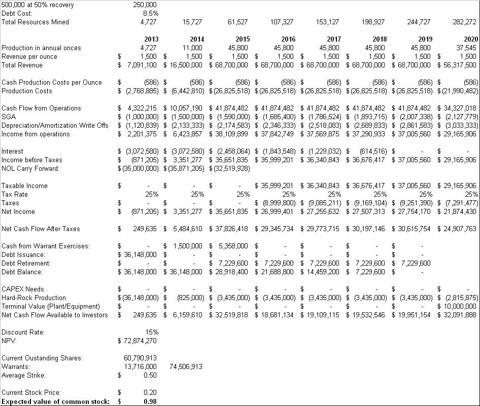 Disclosure: I am long OTC:SCRMF.