The oil prices didn't fluctuate much during last week, despite the uprising in the Middle East, and the adverse ramifications of the tsunami attack on Japan (see here for more on these news items and their relation to crude oil prices). The oil price rose at the beginning of the week, but as the week progressed it didn't change much as it settled on 105$/b (WTI spot).
Here is a recap on oil prices, and the highlights in the recent EIA oil report for the week ending on March 25th :
 Oil prices – highlights

The weekly average of WTI oil price rose by 4.6% to reach 104.43$/b compared to last week's average price of 99.78$/b. On average, the WTI daily change was 0.77%, and its price inclined by 2.58% from beginning to end.
 NYMEX Futures Price (April delivery) also rose by 3% from beginning to end of the week and settled on 104.62 $/ on Friday.
These figures show that WTI (spot and future) prices were at a higher price level than previous week, mainly because they have started off the week strong.
 Europe Brent price also inclined by 0.79% from beginning to end of the week , and its weekly average price rose by 2.43% compared to previous week's average price.
The gap between the Brent and WTI spot was on Friday 10.83$/b.
The following charts show the daily changes of WTI spot, NYMEX Futures (April delivery) and Brent spot prices:
The graph below shows that WTI and Brent prices rose very moderately during the week.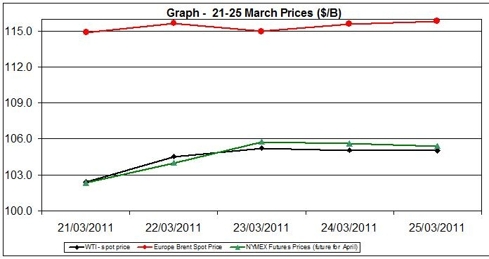 The final chart shows the daily percent change of oil prices during last week:
 The graph above shows how Brent oil and WTI prices started off the week strong and finished with very moderate changes.
Oil Stocks –highlights:
In my recent review on last week's EIA report, oil stocks have moderately declined for the sixth straight week by 0.1%, which is  a decrease of 0.9 million barrels. The oil stocks reached 1,765 million barrels – the lowest level since March 2010.
The average US productions (million of barrels a day) for the week of March 18th was 5.586 (on a four week average), which was 0.2% below last week's average production level, but was 1.0% above the average production at the same time last year;
 In total, there was a decline in petroleum stocks and US production, and a rise in imports and refineries inputs.
 For the complete petroleum stocks, consumption and production review see here. 
Disclosure:
I have no positions in any stocks mentioned, and no plans to initiate any positions within the next 72 hours.