By Frederick Benjamin

"...The government has somehow managed to convince investors that bear markets or even corrections are now unconstitutional...", David Rosenberg


Below is a chart I created representing the readings of the ADP private payroll report for the last 4 months. You'll see that today's December number is quite shocking. 297,000!!!!!!!!!!!!!!!!!!!!!!!!!!!!!
The highest EVER since they started reporting. So high I can't even take it seriously. I'd think the same if it were in the opposite direction too.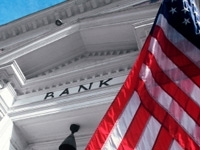 This ADP number will most likely be much higher than the "private payroll" portion of the government numbers that come out on Friday. The folks over at ADP (Automatic Data Processing) also factor in last week's jobless claims number which most analysts have written-off as a fluke since it was the last week in December (which is always comfortably low). Either way the ADP number will be talk of the town until the government numbers come out on Friday. Note that the ADP report has diverged from the government numbers as of late. My second chart below shows this.
Friday is a huge day as we await the official Non-Farm payrolls number (which of course is a statistical joke but the market takes it seriously and that's what matters). However today we also got ISM Non-Manufacturing numbers (only 90% of the economy! :P :P :P) coming in higher than expected at 57.1. Will Thursday's jobless claims number validate last week's below 400,000 number? Lastly we have the Challenger jobs report today showing the lowest # of planned job cuts since the year 2000 (another anomaly?) as well which is a sort of leading indicator of jobless claims.
But the key thing going forward is job hirings. Please glance at my 2nd chart to see how the U-3 and U-6 unemployment rates have STILL unfortunately held steady as jobless claims have steadily fallen (sure it's a lagging indicator but those unemployment rates have been really stubborn). So we're not firing as much but we aren't hiring that much either. The big picture is this => We need around 120,000 net jobs created monthly JUST TO KEEP THE UNEMPLOYMENT RATE FLAT, We'll need 250,000+ net jobs created per month to actually lower the unemployment rate. So we'll need this December ADP job number to keep holding.
Final analysis. The trend is good and obviously the bottom of the job market has stabilized at least. Things can only get better from here (from a jobs perspective) despite a possible temporary spike up in the unemployment rate as more people enter back into active job-seeking mode. I was hoping for a correction to happen in the stock market first before even thinking of overweighting stocks as investor (not consumer) sentiment is sky-high and for the first time the public money which Wall St. calls the "dumb" money is entering back into stock funds. But if numbers like this keep coming out I'm going to add to the 56.8% BULL camp we have currently regarding investor sentiment.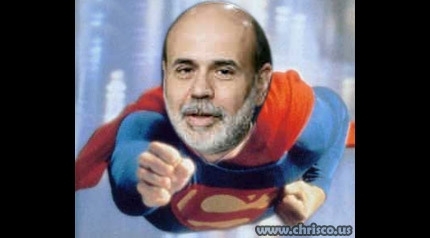 Ben Bernanke has been responsible for the 2009 and 2010 S&P 500 rally as David Rosenberg notes and jokes that it's almost "unconstitutional" now to have stock market corrections. The Fed has done everything in its power to flush Wall St. with cash with hopes it buoys the stock market. I'm hoping soon the real economy can take over.
OF COURSE THESE END OF THE YEAR NUMBERS ARE ALWAYS SUBJECT TO FLUKY SEASONAL ADJUSTMENTS SO I'M STILL IN "SHOW ME THE MONEY" MODE AND WILL WAIT FOR END OF JANUARY OFFICIAL NUMBERS FOR THE LATEST TREND TO BE CONFIRMED BEFORE GETTING TRULY EXCITED.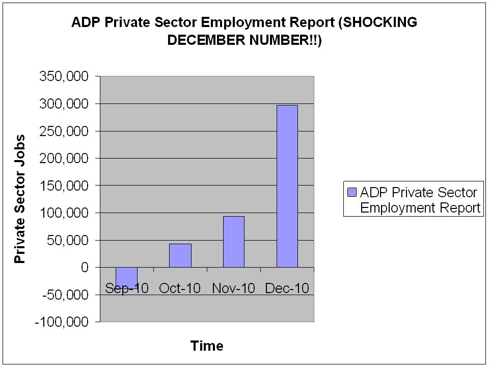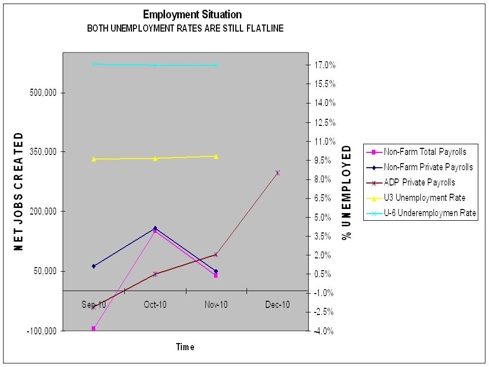 Disclosure:
I have no positions in any stocks mentioned, and no plans to initiate any positions within the next 72 hours.