What is wrong with investors? Who could be this bad? The best performing of the major market indices this year is the Dow Jones Industrial Average (DJIA), down -5.5% YTD as represented by the SPDR Dow Jones Industrial Average ETF (NYSEARCA:DIA), which includes dividends.
I liked the DJIA last year and going into this year because its been lagging the S&P 500 and certainly the NASDAQ over the last couple years and I felt it was time for value stocks to step up a bit, particularly some of the down and out oil conglomerates like Chevron (NYSE:CVX) and Exxon (NYSE:XOM).
But at the same time, the markets were probably overdue for a pullback so one CEF that I had been endorsing was the Nuveen Dow 30 Dynamic Overwrite fund (NYSE:DIAX), $13.23 market price, $15.04 NAV, -12.03% discount, 8.04% current market yield (as of 2/19/16).
DIAX made a lot of sense since it was easy to follow because it only owns the Dow 30 stocks (plus DIA actually) and it was easy to hedge if need be. Who wouldn't want to own the Dow 30 stocks at a discount and in a fund that was actually even more defensive than the Dow itself?
That's because DIAX was an option income fund and by selling call options against roughly 50% of each of its stock positions, it offered investors some downside protection. Selling call options is defensive by nature and its the equivalent of giving up future appreciation potential for income today. As a result, DIAX offers a $0.266/share quarterly distribution which translates to an 8% current market yield, much higher than the actual DJIA at about 2.5%.
And how has DIAX's NAV performed with this sell call strategy? Well, as you might expect, DIAX's NAV is holding up far better this year than the actual Dow, down only -4.7%. That's 80 basis points better than the Dow in only a couple months. That is a very big difference in favor of DIAX.
One would think investors would be all over this. But how have investors rewarded DIAX with this outperformance? Here is DIAX's Premium/Discount chart since its inception in late 2014 when DIAX got started after the merger of two other Nuveen Dow focused CEFs, (DPO) and (DPD).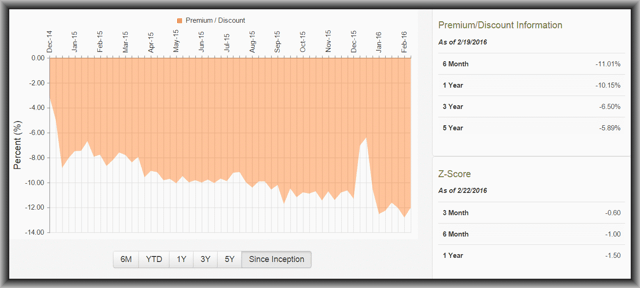 Since 2015, or roughly since inception, DIAX's NAV is down -3.2% compared to -4.0% for DIA including all distributions for DIA. This makes absolutely no sense to me. DIAX should actually be narrowing its discount in this kind of a market, not widening it. Today is another example of the insanity of CEF investors. The DJIA is up 1.3% today while DIAX is up only 0.4%.
Now will DIAX's NAV capture as much of the DJIA upside on strong days? No, but the fund doesn't get any credibility even on down days when it holds up better!! This should not be happening, particularly when I see horrible equity CEFs that are dramatically underperforming and yet are seeing their valuations go up!! That's insane.
I don't know who could be so short sighted to sell DIAX here when you could easily hedge your position by buying inverse Dow funds like (NYSEARCA:DOG), 1X the Dow inverse or (NYSEARCA:DXD), 2X the Dow inverse. There's obviously no guarantee this arbitrage has to narrow, but shouldn't it?
At a -12.0% discount (wider after today if this holds), a windfall yield of 8.0% (because DIAX's NAV yield is lower at 7.1%) and more defensive than the Dow itself, DIAX should be trading at well over $14 in my opinion, which would still put it at a wide discount from its $15.04 closing NAV as of 2/19/16.
And where is DIAX right now? It currently trades at $13.29.
Disclosure: I am/we are long DIAX, DOG.