Muni bonds have been under pressure recently which means National muni bond CEFs have been hit even harder. Nuveen recently closed on the mergers of several of their National muni bond funds creating three super muni bond CEFs.
These new super funds are the Nuveen Enhanced Muni Credit Opportunity fund (NYSEMKT:NZF), $15.34 market price, $16.60 NAV, -7.6% discount, 5.9% current market yield, the Nuveen AMT-Free Quality Muni Income fund (NYSE:NEA), $14.21 market price, $15.57 NAV, -8.7% discount, 5.7% current market yield and the Nuveen Quality Municipal Income fund (NYSE:NAD), $14.71 market price, $15.96 NAV, -7.8% discount, 5.8% current market yield.
All three funds are down again today with NZF at $15.27 currently, NEA at $14.16 and NAD at $14.64 and they have been taking the brunt of selling it seems over the last week or so. I believe a big reason for the weakness is because these are huge funds now, NZF at $3.5 billion in total managed assets, NEA at $6 billion and NAD at $4.6 billion and there are probably prior institutional holders of the other funds who may be selling simply because the new funds are so liquid and its easier to get out of these funds now.
I believe this is creating an excellent entry point for these funds at some of the widest discounts for all muni bond CEFs available to investors. In fact, all three of these funds have actually raised their distributions upon the completion of their mergers last month and in the case of NZF, this June. Compare that to most national muni bond CEFs which have been cutting recently.
Looking at this 1-year NAV and market price total return table of a cross section of national muni bond CEFs, you'll see that there's not a lot of variance between total return NAV performances between these funds (2nd column from far right) as they all invest in many of the exact same securities across a wide variance of states, ratings and maturities.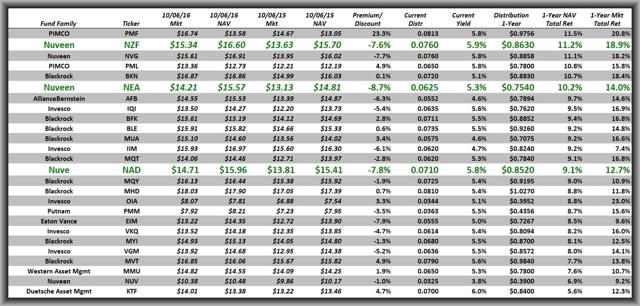 So why should the PIMCO Municipal Income fund (NYSE:PMF), $16.74 market price, $13.58 NAV, 23.3% premium, 5.8% current market yield, trade at a 23% premium and actually be up on a day like today when most funds are down again? In fact, many muni CEFs are still at or close to par or premium valuations and yet the Nuveen funds, NZF, NEA and NAD seem to be getting hit the hardest even though they already are at wide discounts and reflect superior NAV performance.
Certainly interest rates are a concern, as are borrowing costs, as are bond maturities or called bond options, etc. But that's not what I am addressing here. This is all about valuation and how the new Nuveen super funds are all offering excellent comparative value to other funds in their National muni bond class.
Disclosure: I am/we are long NZF, NEA, NAD.