It has been awhile since I've done an article on the monthly Retail Sales Report from the US census, but I felt this one needed some commentary. During June 2012, Retail Sales fell a substantial -0.5% overall. Excluding autos it fell -0.4% and excluding gas and autos, it also fell -0.2%.
This report is a very important one economically, because we know what is happening in Europe; it stinks. US economic strength or weakness at this point is going to depend squarely on the US consumer, and this report gives great insight into what that all important buyer is doing. However, you'll note widespread weakness across most sectors, even with a big drop in gasoline prices. This shows not only a slowdown, but could portend a recession.
Let's take a quick look, along with corresponding investment advice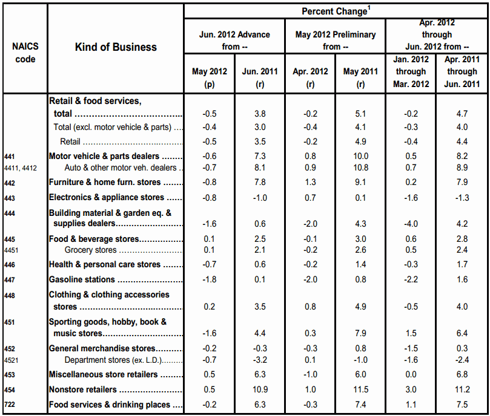 Gasoline was the most notable decline, dropping -1.8% and barely rising +0.1% for the year. Since gasoline is mostly a fixed expense, normally that would mean other categories would gain, but you will see that is not the case. Investor Note: I'd stay away from anything refining at this point, such as Valero (NYSE:VLO) or Sunoco (NYSE:SUN). 9X earnings is not cheap enough for such a cyclically sensitive business.
The next important category is restaurants. It also dropped, coming in at -0.2% and only +0.3% for the year. Food services is often a very good leading indicator of overall spending confidence. Investor Watch: More caution needed here. Avoid highly priced growth stories like Chipoltle Mexican Grill (NYSE:CMG) despite a 10% drop off highs. Growth stocks can turn sour in an instant, and CMG's chart is looking very bad.
Electronics was down -0.8% and even more -1% for the year. Investor Watch: Steer clear of Apple (NASDAQ:AAPL) which has almost no new products and if you really want to take some risk on, you can try shorting Best Buy (NYSE:BBY), a store in continual decline. I think a dividend cut is coming, and their stock will plummet on that news.
Building Materials, the category I had been highest on (to a nice profit), is even turning lower. It was down -0.6% and only up 0.6% year on year. Investor Watch: While construction really can only continue to come off decade lows longer term, in the short term companies like Home Depot (NYSE:HD) and Lowe's (NYSE:LOW) are trading at high multiples of 20X earnings. While excellent long term investments, I would avoid adding to those positions for now.
One of the bright spots, Autos, displayed weakness dropping -0.7% for the month. However, it is still up a whopping +8.1% for the year. Autos are still benefiting from pent up demand and loosening credit, so I wouldn't count this category out, despite being a cyclically sensitive one. Investor Watch: General Motors (NYSE:GM) and Ford (NYSE:F) are still extremely cheap on a valuation basis and continue to make progress on turning their companies around.
Finally, Non Store retailers actually gain, as the shift from brick and mortar stores continues. They rose 0.5% for the month and almost +11% for the year. This is more of a secular trend, I feel, than anything related to the economy.
Overall, this report is weak. Falling gasoline sales did nothing to tweak demand across other areas, instead many of those areas fell, even categories that have been improving like construction and autos. This report makes me very cautious about the US economy. While it may just be a summer slowdown, it is possible we could be heading into another recession. Be careful with your investments and follow the economic data closely.
Disclosure: I am long GM.