My name is Jeff D. Hamann, PhD and I'm new to Seeking Alpha. I'm an econometrician at Money Tree Software studying portfolios of Exchange Traded Funds (ETFs). My goal is to help investors maintain reliable, safe, and stable portfolios of ETFs using modern portfolio theory, cost effective ETFs, some fundamental mathematics and market intelligence to help investors make better decisions about managing their portfolios. 
Over the next year, I intend to post the results of my portfolio research at Money Tree Software. 
I have selected a small universe of ETFs that could represent investment choices, from a much larger universe, for an individual investor. The universe contains the following
 asset types/classes:
1) Fixed-Income/Bond Assets (TIP,SHY,IEF,TLT,AGG)
2) Commodities (IAU,SLV,GSG,BDC,USO)
3) US Equities (OEF,IVV,ISI,IYY,JKD,JKG,JKJ)
4) Global Equities/Emerging Markets (FXI,EFA,EEM,IEV,IOO)
5) Inversely Correlated Assets (i.e. Shorts) (DOG,SH,PSQ,MYY)
6) Leveraged ETFs (i.e. Longs, Double Longs, etc.) (DDM,SSO,QLD,MVV)
7) US Equity Sectors (XLF,IYM,XLE,VNQ,XLI,XLY,SMH)

and the two objectives for the portfolios are to:
1) Meet or exceed return targets (7.5%, 10%, and 15%), and 
2) Minimize portfolio volatility 
which are the cornerstones of Modern Portfolio Theory (MPT). 
I have created three target return portfolios (7.5%, 10%, and 15% annual return), with three different numbers of assets (i.e. all possible, the top 5, and the top 2 assets). Each day, I compute the optimal weights/proportions/allocations for all nine (9) combinations of these three different target returns and cardinality constraints. 
These portfolios are not static. They change almost daily, and most often, by very small amounts. The goal of the research is to detect changes in portfolio composition, determine what allocations have performed best in the past, and to foster discussion about portfolio management so that investors can use the results as a reality check against others.
For example, a portfolio that includes the last 200 days worth of data, targeting 10-percent (L1B-10-200), presented below, contains about 65% bonds, with about 10% commodities (NYSEARCA:
SLV
), with a small spread between the -2x and +2x leveraged ETFs (SDS and QLD), and a single sector ETF (Consumer Discretionary XLY) would look like this: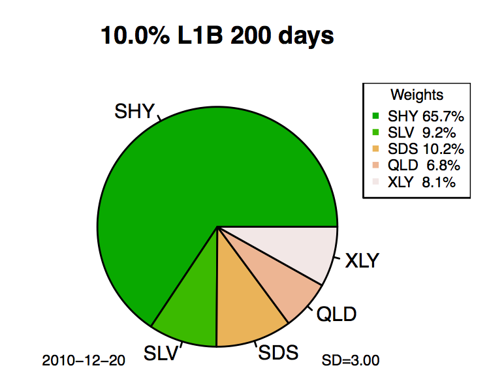 This pie chart, representing the proportion of money allocated to the assets in this portfolio, for the previous 200 days, has returned about 10% annualized (i.e. target return). The annualized standard deviation for the portfolio is 3%, which is considerably lower than the S&P500, which for the previous 200 days, has been about 19%, which is way too high for many tastes (i.e. minimize volatility). 
Had an investor allocated their money into these five assets 200 days ago (March 9, 2010), the performance would look like this: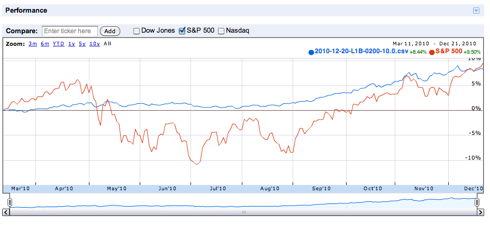 which shows that when the market corrected this last year, the portfolio performed better than the benchmark (i.e. S&P500).
Look for more in the future,
Jeff.
Disclosure:
I am long
EEM
,
SH
,
IAU
,
SLV
.