Opening a new brokerage account is easy. It's just a matter of linking the brokerage to your checking account, and then placing orders for stock to buy. Here's a quick rundown of one of the brokers I use, a low cost option from Capital One Investing (Formerly called Sharebuilder).
Start from this link: https://www.capitaloneinvesting.com/main/default.aspx
Before going straight into the opening process, first check the circled area for any special offers that are running on new accounts.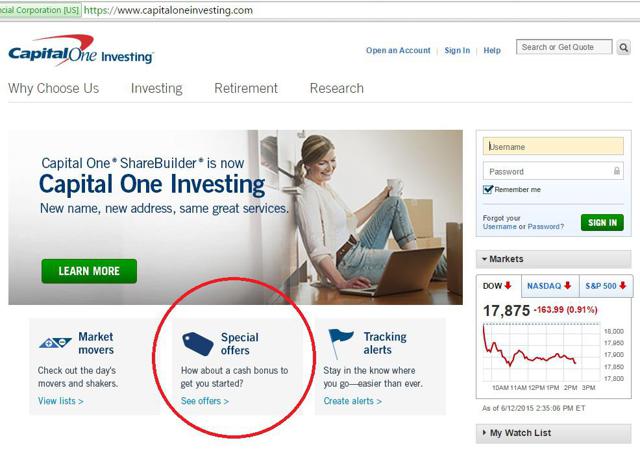 I also like to check Retailmenot.com for other offers that might not be listed on the official page. There is, for example, a promotion running where you can get a $50 bonus on any sized trade for new accounts. The promotional code is 50TRADE. I am told that you cannot combine offers, so do not use the $50 bonus along with a free trade code for example, or it disqualifies you.
So now go back to the main screen and click the "Open an account" link at the top. The next step is to chose what kind of account you are creating. If you are single, choose "Individual account". For married, choose "Joint". You can have both types of accounts if you like, just restart this process from the beginning after you create the first one. That allows you to use the bonus more than once if you are married.
Be sure that if you are using a promotional offer, that the code is showing in the field circled below. You can also apply for options and margin if you like, but you can do that later too. If you check those boxes, you'll be asked a little about your investing history.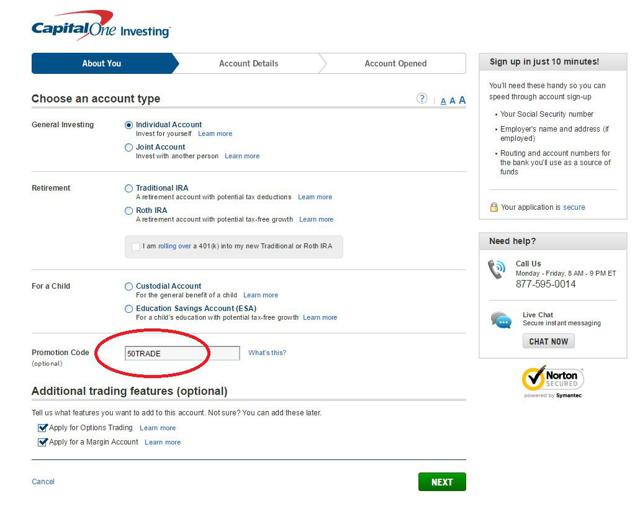 Sharebuilder's big benefit is that they have two kinds of pricing for placing trades. You can either place live market orders for $6.95, or use their "Automatic Investing" plan to get them for $4. You do not have to set up a recurring purchase, it can be set for just a one-time buy, and you can use dollar amounts instead of # of shares.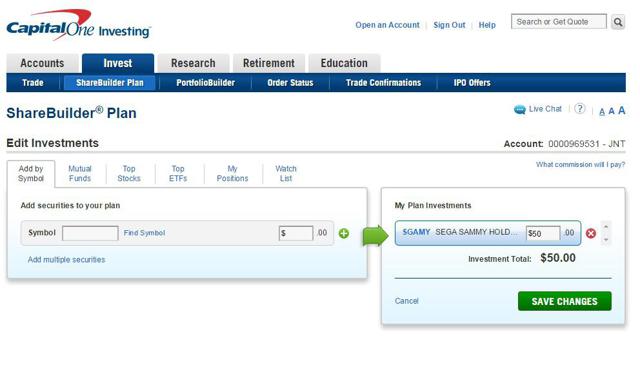 In this example, I'm setting the plan to buy $50 worth of Sega Sammy shares. You type the tick symbol in the box on the left, the amount you want to buy, and then click the + to add it to your plan.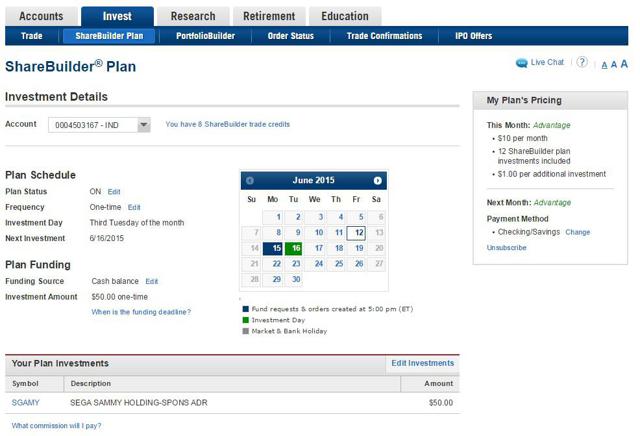 Sharebuilder trades are always placed on Tuesdays. In the above image, I've set it to buy on the Third Tuesday of the month, but you can also just tell it to make a purchase when there's cash in the account. The last step is to let Sharebuilder know where to get the money to make the trade with. You can either buy from your cash balance in the account, or set it to withdraw funds from your checking account on the trade day.
That's all there is to it. Make sure the plan is set to on, and then Sharebuilder will buy your stock on the Tuesday you chose. If you opened the account using the $50 bonus code, then you should see that deposited to the account about a week after your trade posts.