Mattel And Durable Competitive Advantage
The following is content that was cut from my recently published article "Mattel Is Not Going To Cut Their Dividends". I had wanted to include a discussion about durable competitive advantage in the article but the editors thought that it confused the original point. Hopefully it helps bring some clarity to why I am long this stock.
Looking towards the future.
There seems to be a prevailing belief out there that these trends are caught in an unbreakable death spiral of some kind. As if no matter what Mattel does, they cannot recover from these problems, and that impression becomes more deeply impressed as more quarters pass during the time that they are struggling. But that is where your judgment is harming you. Mattel is not struggling, it is only your perception that they are, due to interpreting a reduced stock price to mean that something must be wrong. Outside opinions from analysts and other journalists have only added fuel to that fire.
Ever since the 2014 year end results were posted, I have been saying that Disney's (NYSE:DIS) "Frozen" was the direct cause of those "poor" year end results. But exactly how poor were they? Compare their next closest competitor, Hasbro (NASDAQ:HAS) to help frame this: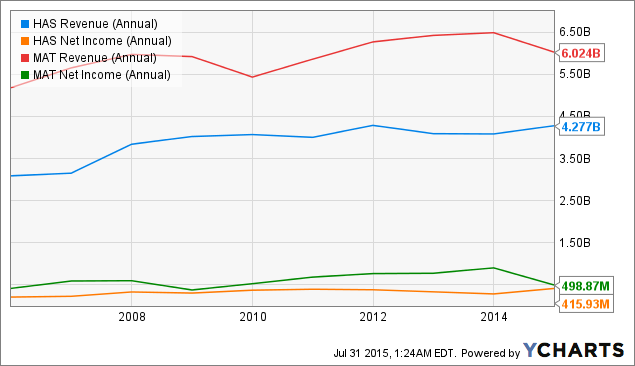 HAS Revenue (Annual) data by YCharts
Every single one of those last ten years, including the last one, Mattel had larger revenues and net income than Hasbro. It has been very commonplace for Mattel to bring in double and even triple the amount of profit each year over Hasbro. Only on one other occasion have they even been close, and that was during the Christmas season of the great recession. This is a common characteristic in companies with DCA. Leaders tend to remain leaders.
The reason I know that "Frozen" has been the cause of so much hurt over the last 5 quarters is that while the last few years leading up to 2014 had fluctuation in product sales overall, the girls brands had been increasing. Barbie being an exception to that, being that Mattel's own Monster High dolls were eating into her sales. But last year, all of Mattel's girls brands suffered slower growth or declines. And if you go through their quarterly results, you can see how the timing of brand declines coincides with the same time that "Frozen" was released into theatres.
Bear in mind here, Mattel still owns those rights to "Frozen" through the end of this year, so any remaining demand that's out there will still at least partly be their beast of burden, but increases in sales for their other girls brands is very likely. In fact, you can go over to Amazon right now and review their top sellers lists, and Mattel products occupy several of the top spots as well as all 20 of the "Most wished for" products in the dolls and accessories category.
Check it out here: http://www.amazon.com/gp/most-wished-for/toys-and-games/166118011/
Note that as of this writing, "Frozen" has moved all the way down to #8 on that list. This is the Durable Competitive Advantage of Mattel flexing it's muscles. And those dolls that did not require the additional cost of licensing are going to bring their SGA costs back down too. When Hasbro takes over the Disney Princess line in 2016, the reality is that they'll be holding an "Also-ran" brand by that point. Mattel will have the added benefit of no longer having to compete with themselves for sales.
2. Greenburg's second point: There is still weakness in Barbie Sales.
Mr. Greenburg had a couple of other things I wanted to briefly go over. There are two specific issues I want to raise about this point. One is with regards to the earlier argument that there has been weakness directly due to "Frozen" sales over the last 5 quarters. The second issue is, so what? Barbie is not Mattel, they do sell other things. In several of the years prior to "Frozen" being in theaters there were declines in sales of Barbie. It didn't matter, the company sold enough of everything else to keep increasing earnings in every one of those years.
It has been known for a long while now that Barbie sales had been starting to slip globally. But the other brands were not seeing that kind of year over year decline. That said, recall that the entire Mattel revenue stream across all of their girls brands was suddenly hit hard in the 4th quarter. Boys brands saw growth. So it wasn't just Barbie right there, it was "Frozen" successfully competing against all other girls toy brands for sales.
Focusing attention on Barbie as a single weak area is missing the forest for the trees. The increases in Fisher Price and boy items this quarter reinforces that concept. That said, I remain optimistic on the Barbie brand eventually coming back to being dominant as "Frozen" goes on to be well remembered for its music and not its potential for sequel material.
3. Greenburg's third point: The Dollar will stay strong.
Well, he's got Goldman Sachs (NYSE:GS) in his corner, it's hard for me to say anything negative about that. But I do have this caveat: The graphic I posted above was for the North American division of the company. The "As reported" numbers for NA outperformed the global market on the whole. That means Mattel's most profitable market is the one that's recovering fastest right now.
An interest rate increase from the Fed could take us down a few notches, but if the dollar stays strong, Mattel is in a position to come out ok as long as U.S. sales continue to increase.
In closing
Nothing is ever guaranteed. My readers know that I've been expecting a turnaround in the stock price for a good while now, having first started collecting shares in July of last year. Not only has that price increase not materialized, the price has continued to drop even further. Mind you, I've been buying this stock since it was in the high $35's, and now we're sitting at a price 35% below that.
One of the possible risks I mentioned in the article I wrote previewing the second quarter was that analysts could take a "show me" attitude, and it looks like thy are. They will be watching for a solid turnaround in the business. If you are waiting for that turnaround as well, understand that the market will move very quickly once that change is verified. By the time it is obvious, it will be too late.
The position I have here is that Mattel is very undervalued in relation to a market price in place when the rest of the market thinks that "Everything is better now". You might be able to make a quick purchase when you see the turnaround, but odds are that you'll end up paying more than today's price by trying to time that. I'm continuing to buy as much as I can every week. I'm not certain how long it will take for the turnaround, but I know that one will eventually happen.
Disclosure: I am/we are long MAT, HAS, DIS.