Last week, ECB Governor Mario Draghi mentioned during his rate statement that the central bank is monitoring the euro's appreciation very closely. This caused a strong selloff for EUR/USD as traders feared a possible currency intervention later on.
The longer-term uptrend is still very much intact though as seen from the rising trend line on EUR/USD's 4-hour chart. Last week's selloff could be the start of a huge correction, at which the pair could pull back to the 1.3300 major psychological level.
As you can see from the chart below, 1.3300 lines up with the 50% Fibonacci retracement level and is a resistance turned support zone. Traders have also shown a lot of interest on this level as seen from the consolidation above and below the major psychological mark. On top of that, 1.3300 is right on the long-term trend line, which could continue to act as support and keep the pair on its uptrend. Stochastic reached the oversold zone and is moving north, suggesting a return of euro bulls this week.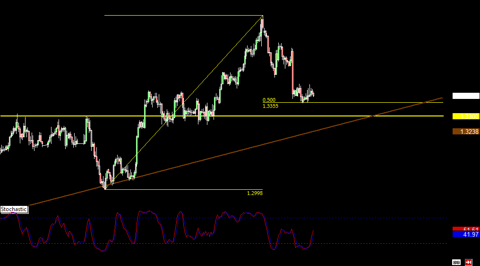 Take note that Draghi has a speech later today and he might grab this opportunity to talk the euro down even further, presenting an event risk for this trade. On the other hand, he could admit that the ECB or other European finance officials aren't ready for an actual intervention just yet. If that's the case, the euro could resume its rally fueled by improving fundamentals in the euro zone.
A long trade at 1.3300 with a stop just below 1.3200 and a target around the recent highs at 1.3700 presents a good reward-to-risk ratio of 4:1.