The New Zealand dollar was able to bounce back against the Greenback during yesterday's trading, thanks to the G7 statement saying that central bank should make their monetary policy decisions based on economic performance and not currency devaluation.
There were no economic factors that supported this bounce so NZD/USD might resume its selloff pretty soon, especially since it's heading close to the .8450 minor psychological level. The 4-hour time frame reveals that this level has held strongly in the past and could continue to do so if it gets tested this week.
Take note that the US will be printing its January retail sales figure during today's New York session and both core and headline figures are expected to show a 0.1% increase. A weaker than expected reading could trigger a dollar selloff and push NZD/USD back to .8450.
If the resistance at .8450 holds, a possible target could be around the recent lows near .8300 and the rising trend line. A stop 25 pips above the .8500 major psychological resistance would yield a 2-to-1 reward-to-risk ratio in this case.
New Zealand will be printing its quarterly retail sales figure for Q4 2012 on Friday's early Asian session and, judging from the same period's weaker than expected jobs figures, we might see a negative reading or a downside surprise. If that happens, the rising trend line could be broken and NZD/USD could fall until the next support around .8150.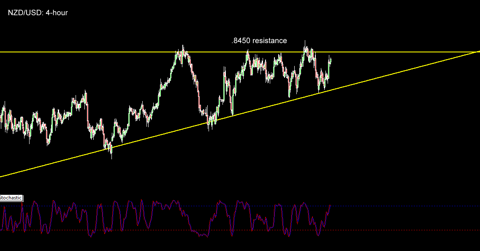 by Kate Curtis from Trader's Way