USD/CHF is still on an uptrend as seen from the rising channel on the 1-hour time frame. However, the pair is nearing the top of the channel, which could act as resistance, at least for the rest of this week.
Before the trading day comes to a close, traders could book their profits from their long USD trades as the sequestration takes place in the United States. This could be dollar negative as the spending cuts include job losses in the government sector, which could derail the ongoing improvement in the jobs market.
Shorting at the top of the channel near .9400 and aiming for the middle of the range near .9350 would be good enough for a day trade. A tight stop just above the .9400 major psychological resistance would yield a decent reward to risk ratio.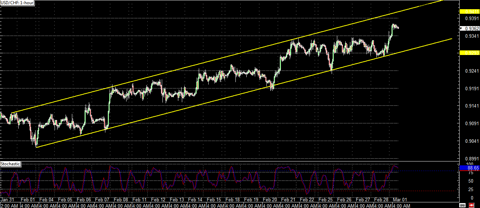 by Kate Curtis from Trader's Way