Gold producers are going out of business, continuously depleting their reserves to sustain production levels. Made worse, in the past five year gold mining bear market, there has been a dearth of exploration activity and new discoveries globally. According to a recent Goldcorp presentation gold reserves among the major producers have declined ~15% during the last three years. Moreover, production is set to decline further over the coming years as the majors exhaust mines which were discovered decades ago: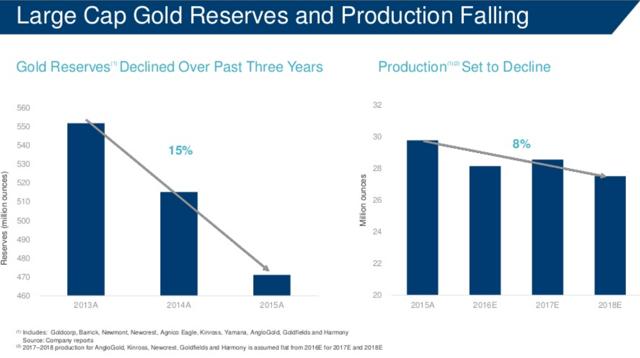 This creates a situation in which the major producers have no choice but to explore multiple strategies in order to find new sources of economic gold to pull out of the ground.
Mining gold and finding gold are two very different businesses. Majors tend to be good at pulling gold at the ground, an engineering and operational activity. Good exploration is part art and part science and requires freedom to make mistakes. For decades, major producers have outsourced high-risk exploration to small explorers, helping fund them and ultimately acquiring their advanced assets.
Examples include Kaminak Gold, acquired for $520 million by Goldcorp (NYSE:GG) earlier this year. Osisko Mining developed its Canadian asset to a $3.9 billion merger with Yamana (NYSE:AUY) and Agnico Eagle (NYSE:AEM) last year. Fronteer Gold, acquired by Newmont for $2.1 billion in 2011. The list goes on.
Enter Millrock Resources (TSX-V:MRO), a roughly $22 million market cap prospect generator company focused on exploring Alaska, Mexico's Sonora province, and British Columbia's Golden Triangle area with major partners. Millrock's exploration portfolio is arguably second to none in North America and Millrock is clear in its objective:
"Millrock is a pure exploration company. Our objective is to find a giant ore body and sell our interest to a major mining company, while at the same time greatly increasing shareholder value. We have formed the foundation of a premier Project Generator company that will be a leader in our subsector and the best in our jurisdictions." (Millrock corporate presentation - October 2016)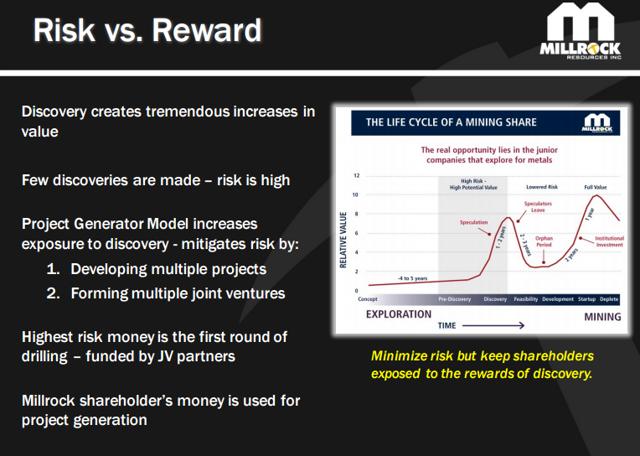 (Source: Millrock)
Millrock increases its odds of finding an economic discovery by advancing multiple projects concurrently and bringing in major partners to help fund the drilling. It is a corporate goal to be always drilling at one project or another, providing shareholders with a steady stream of chances to deliver big.
The company is currently drilling its Los Chinos project in Sonora, Mexico, where it hopes to find a near-surface open pit gold deposit. Centerra Gold is Millrock's partner at Los Chinos and helped pay for the drilling (Centerra can earn 70% by spending $5 million). Success could send Millrock's market cap higher by multiples. Results are expected before year end.
Millrock has 8 projects in Alaska, including several near Sumitomo's rich Pogo mine. Millrock is optimistic the Pogo area will ultimately become a mining district, and is benefiting from a dominant land position in the area. These projects are steadily moving forward and are expected to be a bigger part of Millrock's story next year.
In British Columbia's Golden Triangle, home to some of the world's richest gold mines, Millrock recently acquired several large and promising projects as well as an operations facility. Millrock's properties have seen historically rich results. Millrock may sell or option its BC properties to another company, or look to explore them internally in 2017.
The project generator model which Millrock utilizes allows the company to gain maximum leverage for every investor dollar and maximizes the possibility of making a new discovery: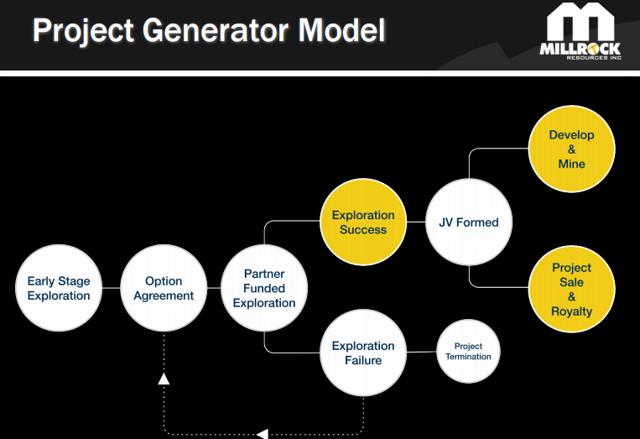 (Source: Millrock)
This model also allows MRO to be fast moving, efficient, and lean. MRO is able to leverage each $1 that shareholders put into a project up to $7-$8 of total exploration: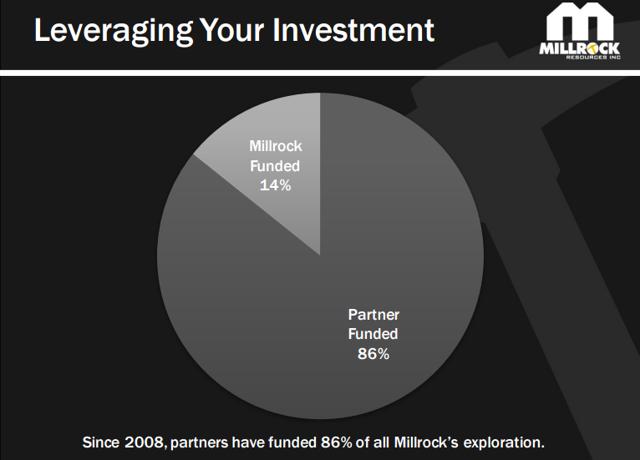 (Source: Millrock)
In the high-stakes game of gold exploration, Millrock increases its odds by advancing multiple projects simultaneously and getting majors to fund the drilling. Their business model has already been validated by an impressive list of shareholders including Sprott and Rick Rule and more than 50% of Millrock's shares are in strong hands. Millrock's tight share structure suggests that when a discovery ultimately comes, the stock price trajectory could be parabolic. With competent management and an attractive valuation and current levels, Millrock is an attractive speculation on the future of the gold industry.
Learn more about them at MillrockResources.com and $MRO on the TSX-Venture. The stock also trades on the OTCQB under the symbol $MLRKF.
Disclosure: I/we have no positions in any stocks mentioned, and no plans to initiate any positions within the next 72 hours.
I wrote this article myself, and it expresses my own opinions. I am not receiving compensation for it (other than from Seeking Alpha). I have no business relationship with any company whose stock is mentioned in this article.