Latin America is clearly the leading growth continent for the resource industry as senior metals producers scramble to replace depleting reserves. Chile is arguably the best country for mining and minerals exploration in Latin America. However, it is increasingly rare to find junior explorers with highly prospective projects in areas that have seen successful historic mineral exploration.
Enter Fiore Exploration (TSX-V:F), a junior gold & silver explorer with one of the most attractive exploration concession packages in Chile. Fiore has accomplished the rare feat of virtually surrounding Yamana Gold's world class flagship El Peñon gold mine. Majors don't usually allow junior explorers to stake huge land packages around their best mines, however, due to a unique situation in which SQM (Chile's largest fertilizer producer) had claims to much of the land surrounding Yamana's El Peñon mine Fiore was able acquire a massive land package consisting of 3 individual blocks encompassing an area more than twice the size of El Peñon: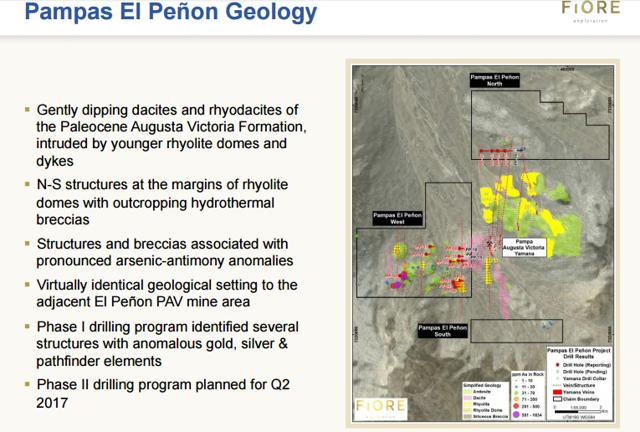 In fact, Fiore has El Penon surrounded on three sides in an area which demonstrates attractive regional geology: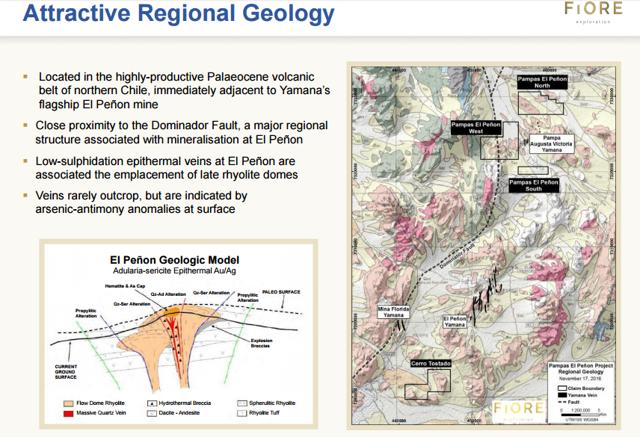 In its latest round of drill results from its Cerro Tostada concession in Chile, Fiore Exploration showed 3 intersections showing high grade silver ranging from 332.5 g/t silver to 830.3 g/t silver (5 g/t - 12 g/t Au equivalent). Fiore CEO Tim Warman offered the following comments:
" We're very excited to begin work on Cerro Tostado, following up on the earlier high-grade silver intercepts drilled by SQM, while we await the final results from Pampas El Peñon. The geology of Fiore's land package surrounding Yamana's flagship El Peñon Mine is very favourable for both high and low-sulphidation precious metal deposits like those at the El Peñon Mine Complex, particularly at Cerro Tostado where mineralized veins have been encountered over a strike length of approximately 160 m, with the veins open along strike and at depth."
Cerro Tostado is located directly to the south of Yamana's flagship El Peñon gold mine and boasts attractive geological formations including a large hill showing intense alteration, breccia bodies, and epithermal vein structures: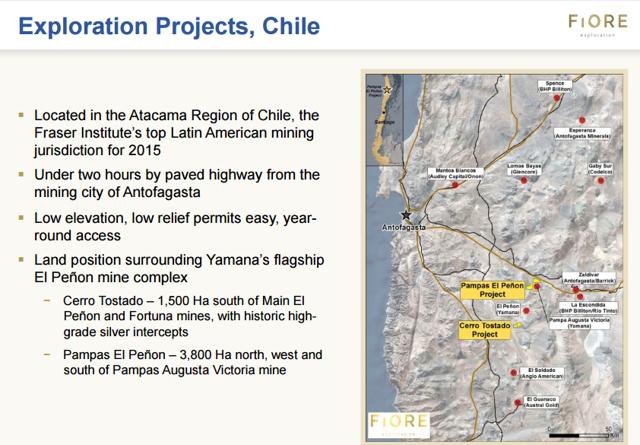 Fiore has also submitted 150 samples from the previous SQM drilling for re-analysis, following a complete re-logging program. With the completion of the ground geophysical surveys, and mapping and sampling well underway, Fiore anticipates beginning a combined diamond and RC drilling program in early Q2 2017.
In addition to a phase 1 drilling program at Cerro Tostada beginning during Q2 Fiore will also launch a phase 2 drilling program at Pampas El Peñon. During a call with Fiore CEO Tim Warman last week Mr. Warman also added that Fiore was close to finalizing acquisitions which could be announced during Q2: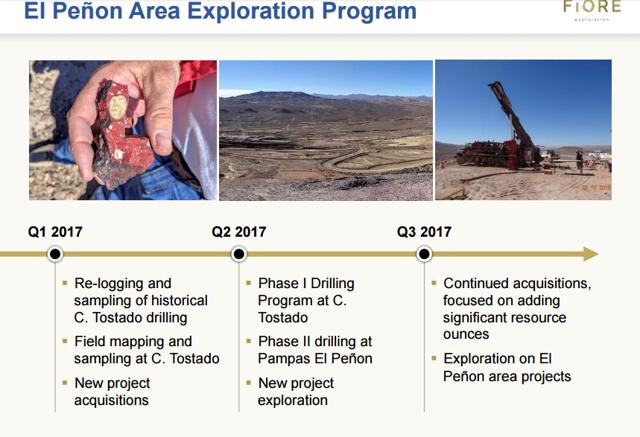 Fiore has a cashed up treasury with more than C$12 million currently in addition to having a strong team of financial backers who are prepared to support in the event of large accretive acquisition opportunities.
Over the next few months investors can expect a steady flow of news from Fiore including:
Results from re-sampling of previous SQM holes at Cerro Tostada
Announcement of the beginning of Q2 drill programs at Cerro Tostada and Pampas El Penon
Initial drill results from drill programs periodically as results come back from the lab
Announcement of 1-2 new Latin American project acquisitions
Fiore is a pure exploration play in South America with a top notch management team including CEO Tim Warman who might be best known for being the VP of Corporate Development of Aurelian Resources which was eventually taken out by Kinross for $1.2 billion. Mineral exploration is a risky business, however, having a top notch management, committed set of financial backers, and attractive project package including concessions which virtually surround one of the largest gold mines in the world in an attractive mining jurisdiction help to put the odds in shareholders favor. 2017 is set to be an exciting year for Fiore and the recent dip in Fiore shares may have presented investors with a truly compelling investment opportunity based upon potential reward relative to downside risk:
F.V (Daily)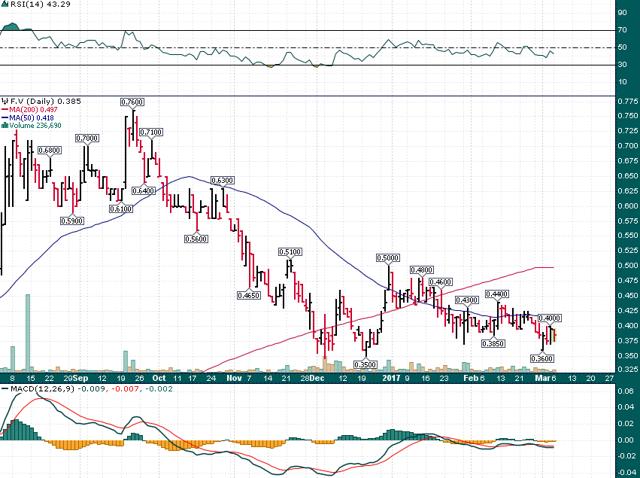 Do your own due diligence. As always it's your money and your responsibility.
Disclosure: I/we have no positions in any stocks mentioned, and no plans to initiate any positions within the next 72 hours.