For eighty years after the first gold of record was mined in 1862, 1.1 million ounces of gold were mined throughout Nova Scotia; the province's mining industry went largely dormant in 1942. Recently however, Nova Scotia has been getting a lot more attention in the gold mining industry as an emerging gold development company, Atlantic Gold Corporation (TSX-V: AGB) is on the brink of becoming Nova Scotia's newest gold producer. Atlantic's first gold pour from its Touquay Gold Project (part of Atlantic's Moose River Consolidated project) is expected towards the end of Q3 2017. Atlantic has has seen its share price rise from $0.28 to $1.60 in just 16 months; reaching a market cap of nearly C$300 million in the lead up to production. Not surprisingly, the hunt is on for investors seeking the next Atlantic Gold opportunity in Nova Scotia.
Historically, Nova Scotia is known for gold mineralization characterized by pockets of high-grade gold located in quartz veins. However, Atlantic's ability to evidence that the rocks surrounding its historic vein resource are mineralized and amenable to open pit extraction has created new opportunities for other projects in similar geological environments to be explored differently than they have been in the past. One Nova Scotia gold explorer, Osprey Gold Development Ltd. (TSX-V:OS), has an existing high grade resource in structurally hosted veins at its Goldenville project, and believes it may have disseminated mineralization similar to that of Atlantic Gold in some of the host rocks surrounding the veins - which was the key to transforming Atlantic's underground mining model into a larger and more cost effective open pit resource. Osprey will be testing for this mineralization style at its Goldenville Project, in addition to the existing high-grade resource.
Osprey has four projects on the eastern shore of Nova Scotia within a region of abundant historic gold production: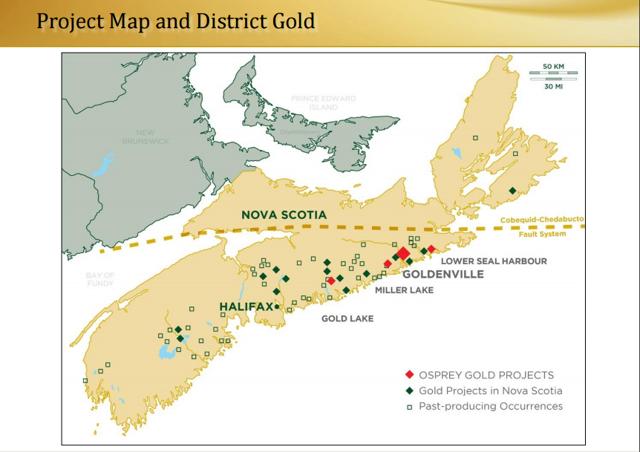 Source: Osprey Gold
Goldenville is the largest historic gold district in Nova Scotia (212,300 ounces of gold production before 1942) Osprey's claim package at Goldenville is believed to contain all of this historic mining district. The Company has a 2.8 million tonne inferred resource grading 3.2 grams/tonne gold at Goldenville; Osprey is committed to conducting an extensive drill program this summer in addition to releasing assay results for 24 historic drill cores which were drilled by a private operator in 2014 but laid un-sampled until now. By the end of the year Osprey plans to have an updated resource estimate completed using data from its recently commenced 2017 work programs expected to include the Company's first phase of resource expansion drill testing this summer.
Goldenville is hosted in the same rock formation as Atlantic Gold's flagship Moose River Consolidated project (or "MRC"). Moreover, the majority of the work done at Goldenville to date has been relatively shallow which offers substantial potential for the resource to be expanded at depth, as well as along strike. Goldenville is also located in close proximity to Atlantic Gold's Cochrane Hill Project which,boasts total life of mine gold production of 1.3 million ounces at 1.62 g/t, according to an October 2014 PEA.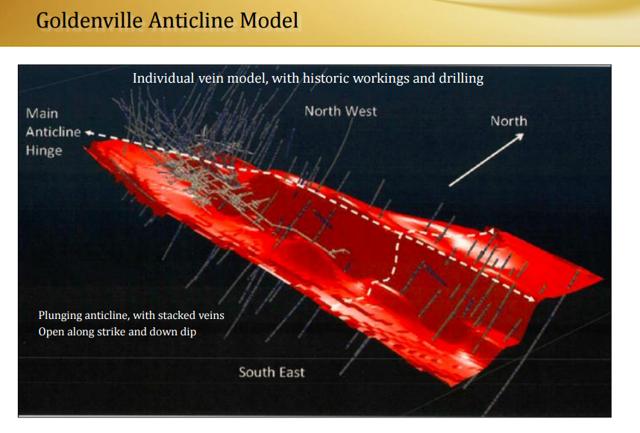 Source: Osprey Gold
In addition, there is substantial infrastructure in the area including roads and residential power on site.
While Goldenville is Osprey's flagship project, Osprey has three other highly prospective projects within Nova Scotia (namely Lower Seal Harbour, Gold Lake, and Miller Lake) which have all seen varying levels of historic gold production dating to the 1800s. Gold Lake in particular is along strike from Goldenville and is located in close proximity to the Touquoy Deposit, part of Atlantic Gold's Moose River Consolidated Project which is set to move into production during Q3 of this year.
After surging higher to begin the year (when the acquisition was announced) Osprey shares have been consolidating within a relatively tight range awaiting the next catalysts to drive the stock higher:
OS.V (Daily)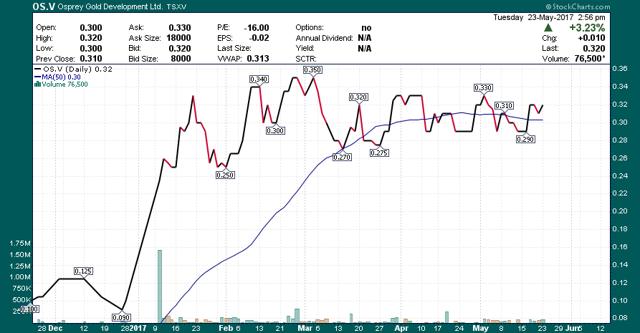 Osprey shares surged on heavy volume to kick off 2017 and have since spent nearly 5 months consolidating within a tight range on light trading volume - A breakout above C$.35 could initiate the leg higher which would target a move up the mid-C$.50s.
Osprey has a tight float (~26.3 million shares issued and outstanding, ~31.7 million fully diluted) and sub-C$10 million market cap which could expand multiples in the event of exploration success. The time to get in could be now as the gold exploration sector consolidates and Osprey begins an aggressive summer exploration program at Goldenville that is expected to generate a substantial amount of news flow in the months ahead.
Do your own due diligence. As always it's your money and your responsibility.
Disclosure: The author of this article intends to initiate a long position in OS.V shares in the open market during the next couple of trading days.
Disclosure: I/we have no positions in any stocks mentioned, but may initiate a long position in OS.V over the next 72 hours.