The Real-Time Portfolio Tracker
Many of my articles have expounded upon the use of my Real-Time Portfolio Tracker and how I've used it in conjunction with my dividend growth strategies.
In order to view this tracker and how it is laid out, and for additional information you may learn more about it at my website, here: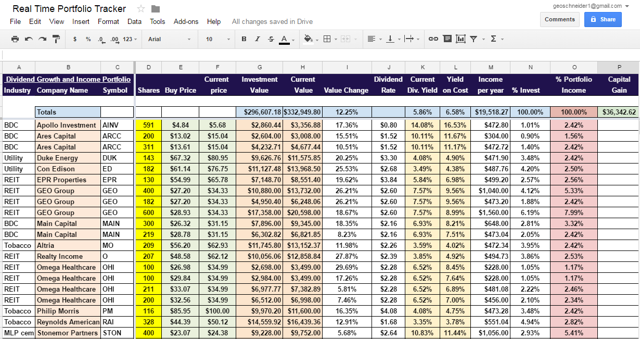 Thousands of Seeking Alpha readers and subscribers have asked for additional information to learn how this digital utility tool can help them improve their own investment performance in the pursuit of capital growth and the building and growing of income for retirement.
For those interested in a powerful utility to track their own portfolios in real time, I've created the Real-Time Portfolio Tracker that will perform all of the following functions automatically, without any effort required of the user:
1. Once you enter your stock tickers, the tracker will automatically update the prices of each of your positions throughout the day.
2. It will display the current price of your equities, grabbed all day from a finance site.
3. It will display the amount you invested in each equity.
4. It will update the current total value of each position throughout the day.
5. This tracker will show you your percentage gain or loss on each position in real time.
6. It will display your current yield based on the moment's price.
7. It will show you the yield you received based on the price YOU paid.
8. It will tell you how much annual income each position is paying you.
9. It will break down in percentage terms, how much value each position represents of your overall portfolio based on current prices.
10. Most importantly, it will tell you what percentage of total portfolio income each position pays to you.
11. It displays the total amount you have invested in your portfolio.
12. It gives you a total portfolio value, updated all day long.
13. The tracker will tell you, automatically, what percent your total portfolio is up or down from purchase.
14. It will display the current total portfolio dividend yield as well as the total portfolio yield on cost.
15. It will display your capital gain/loss for each stock in your portfolio, in dollar and percentage terms.
16. It will tell you your total portfolio capital gain or loss, also in dollar and percentage terms.
17. Lastly, it will display the remaining cash left in your portfolio available for investment.
This Real-Time Portfolio Tracker is a very powerful tool that will allow the investor to stay current and up to the minute on every important aspect of his portfolio. Used creatively, it can point to positions that need topping off or trimming in order to arrive at a portfolio that throws off equal amounts of income from each position.
If you think this new tool can help you in your planning, maintenance and management of your portfolio while everything is on auto-pilot for you, please click the link at the top of this piece. This tool is available to readers for a very nominal amount and at a substantial discount for subscribers. I have already provided these tools to a great many readers and subscribers and the feedback has been extremely favorable.
Disclaimer: This article is intended to provide information to interested parties. As I have no knowledge of individual investor circumstances, goals, and/or portfolio concentration or diversification, readers are expected to complete their own due diligence before purchasing any stocks mentioned or recommended.