Today is your last chance to grab the easiest, fastest $20.00 you've ever saved.
The Clock is Ticking. There are just 12 hours left to save 30% on the Real Time Portfolio Tracker. That's a $20.00 savings off the regular price.
Act Now To Start Organizing Your Portfolio!
30% Off Sale Extended For My Newest Subscribers and Loyal Followers, Too!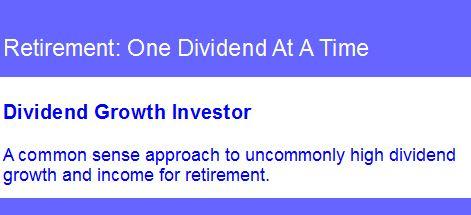 We reached another milestone today, thanks to you.
Because you chose to follow my work, we have now surpassed 17,400 followers. In celebration of this accomplishment, I'd like to show my appreciation by offering you my most popular stock market research digital tool at a huge discount.
Back by popular demand, for three days only, we're offering you the Real Time Portfolio Tracker at a 30% discount. Since you follow me, I know that you appreciate a sale as much as I do. Many of you wrote me after this sale ended last month requesting it, so here it is, one more time.
This tool normally sells for $69.99. Today I'm offering it to you for a very limited time for just $49.99. You save $20.00!
You've seen me demonstrate this tool and how it helps guide me to good entry points and higher yields and income. I invite you to see a brand new demonstration of it today, in this hot-off-the-press, just published new article, "Smart Retirement: Target Has Been Targeted".
You'll be able to read my latest analysis on the retail sector and why Target Corp is approaching a good, target entry price for future capital gain and consistent dividend growth, sporting a compound annual growth rate of 9.86% over the past 4 years. Discover my target entry price for Target, today.
This tool is built to automate much of your research for you. It will update in real time all day long and feed you data on your tickers, including current stock price, price you paid, current dividend yield, how much you invested in each stock in your portfolio, its current value, the value percentage change, your yield on cost, the amount of annual income generated from each equity as well as the total portfolio and the percent you've invested in each stock. In addition, you'll see what percent of income comes from each stock, your capital gain on each stock as well as total capital gain on the entire portfolio.
This application works on all computers, tablets and smartphones and does not require you to have any software on your computer to run it. It will update all of your positions in your portfolio all day long in real time. There is no additional cost for the data you'll receive. You pay only once for this tracker. There are no ongoing costs.
Click this link now to learn more and place your order today.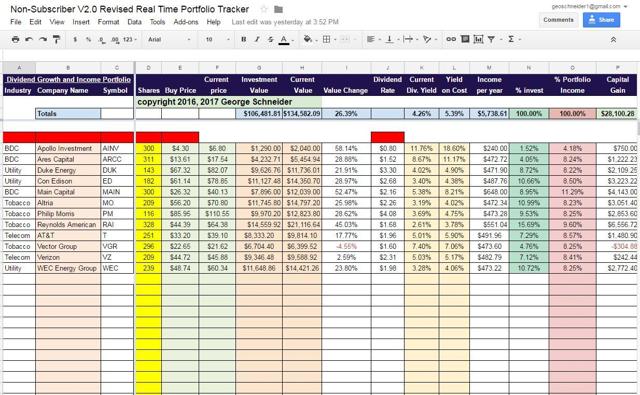 If you'd like to start improving your stock investing performance today, don't delay. For the most unique gift, buy it for the favorite investor in your life or buy it for yourself. This exclusive sale, only available to my followers and subscribers, ends tonight at midnight, on Sunday, June 25, 2017.
If you were thinking about incorporating this tool into your investment toolbox to improve your investment outcomes, act now to save $20.00! You'll be glad you did.
Thank you.
Best,
George
Seeking Alpha's #1 ranked Retirement Author
Disclosure: I am/we are long ALL FILL-THE-GAP PORTFOLIO STOCKS.