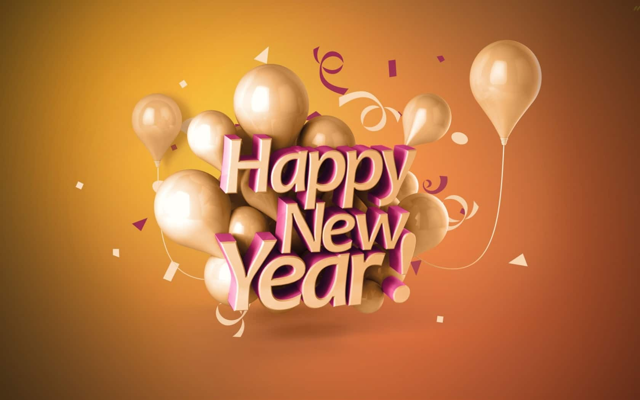 New Year, New IRA Contributions
We've heard it so often, it's coming out of both ears at once; invest early, invest often, and invest as much as you can if you want a comfortable, secure retirement.
The investing early part is what I want to address as we begin a brand new year, today, New Year's Day.
IRA Contributions Survived Tax Reform
With all the changes in the new tax law, and so many deductions that many of us lost, we must be grateful that at least we didn't lose the tax deductibility of traditional IRAs. For those of us under 50 years of age, this provides us with a $5500 deduction each year from our gross income. Those over 50 years of age  get a catch-up contribution and we can contribute up to $6500 per year. Depending upon your income tax bracket, this could result in a savings of thousands of dollars each year that you don't have to pay Uncle Sam.
Those savings, if used wisely, can be deposited in our regular, taxable brokerage accounts and used to buy additional dividend stocks to grow our income even faster. This is the double whammy effect that smart investors utilize to get to their goals sooner with more dollars.
Make Your IRA Contribution Now To Get The Biggest Bang For Your Buck
Not only is it important to begin the saving and investing habit early in life, it's just as important that we apply this mantra to doing so at the very beginning of each and every brand new year.
The sooner we make our IRA contributions, the sooner we can put that money to work for us. The sooner it's working, the sooner we benefit from the compounding effect that dividend growth investing offers us.
Many Ways To Invest
As we all know, there are many ways to invest your hard-earned money. Some like to keep it hidden under their pillow, or in a vault, yearning for complete security but earning no return.
Others invest with a tilt towards growth, while still others focus their attention on income. Dividend growth investors train their attention on growing their income. Vigilant dividend growth investors look to grab value from temporary market dislocations, or stock mispricing. This style of investing combines value investing with dividend growth for a double whammy that super-charges an investor's initial yield along with constant growth of dividend income.
I am a vigilant dividend growth investor. It's not for everyone, of course. But it could be for you.

While speculators have their fun (or jump off the roof when the market moves prices against them), we have better things to do. We invest in companies that pay us real cash every month, or every three months. And the more they raise those cash dividends, the higher their stock prices go. 

We are not traders or speculators that invest in shiny coins that don't even exist since their only existence is in the form of one's and o's (1,0) on anonymous computers. And even staunch advocates of Bitcoin acknowledge they can be easily stolen even if you stick yours in a virtual wallet.

While the price of Bitcoin swings wildly, let's not forget there are other, more reliable ways to make a lot of money out there.
My favorite strategy is something I like to call "vigilant dividend growth investing".
This investment technique works no matter what happens to cryptocurrencies.
Thousands of you liked the idea of practicing this technique by tracking your portfolio in real time for $69.99; Even more of you  loved it at just $39.99!
Keep reading to learn more about this special, extended offer.
The Tortoise Always Wins The Race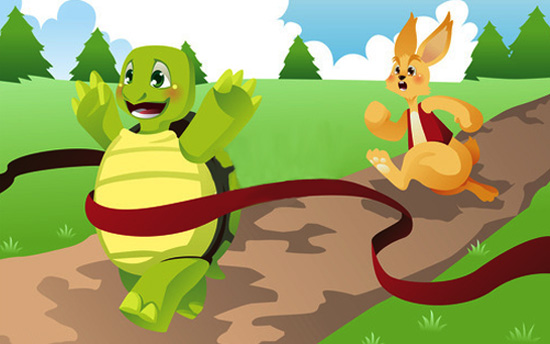 You've heard it a thousand times, at least. "Slow and steady wins the race". The tulip craze in Holland in the 1600's taught us how far people would go to make a quick buck, then lose their life savings trying to do so.
Today, Bitcoin is all the rage, and thousands of investors have already lost their shirts after they paid $20,000.00 for one shiny coin, only to see its value drop to $11,000.00 in just a few days.
While your hairdresser and plumber quit their day jobs, trade bitcoin and tell you their wildest stories of wealth creation, it's hard to keep your distance from all the excitement. Let me remind you; fall victim to these types of fads, investing in shiny coins with no intrinsic value, can cost you a whole life of savings. It's all about the "bigger fool theory". Those buying Bitcoin today are simply hoping they can sell it to the next, bigger fool for more than they paid for it yesterday. Those who paid $20,000 for it last week are licking their wounds, having lost more than 45% of their wealth in just a few days. Is this any way to prepare for your retirement?
Ready To Grow Your Wealth and Income Dependably?
If you want to learn the secrets of growing your wealth and income slowly but surely, and growing it securely, keep reading. You'll discover that one of these methods is as simple as being vigilant and buying temporarily out of favor, beaten up stocks. I'm talking about companies we all use, like AT&T or Verizon, for instance.
Instead of getting a 5% yield, you can get yourself a 15% yield. If you use the right tools and act quickly, you can increase and sometimes triple your income, for life. Now that would make your retirement a reality, a lot sooner and a lot easier, wouldn't it?


So many of you liked the idea of tracking your portfolio in real time for $69.99; Even more of you  loved it at just $39.99!
There was such enthusiasm for this offer, we had to extend it for just a few more days.
Read on and I'll tell you more about those buyers who earned capital gains of 22.5% in just 3 days and locked down a 15.3% yield, all at the same time, all on one stock! My subscribers and I were guided to this very successful trade with the Real Time Portfolio Tracker.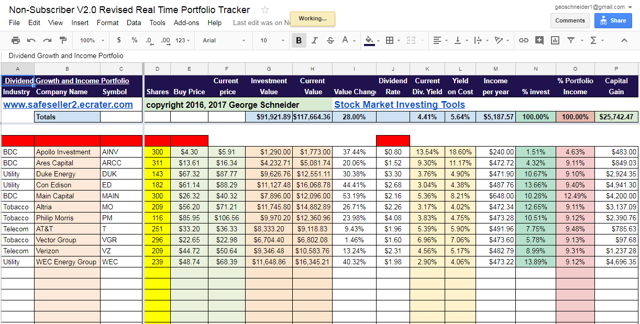 Oops! I had a senior moment a few weeks ago and I'd like to apologize by spreading some heavy-duty good will today.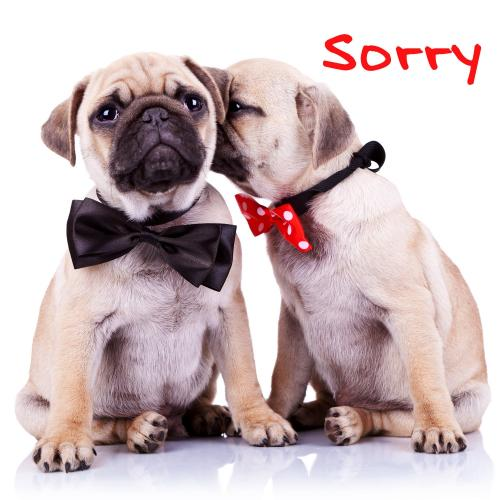 Recently, I put on offer the Real Time Portfolio Tracker for 30% off. I noted that instead of the usual $69.99 selling price, I was marking it down to just $49.99 for three days.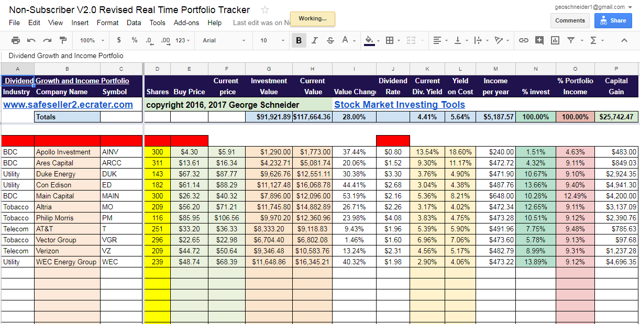 Here's the rub. Though I offered the discount, I forgot to change the price on my website to reflect the lower price.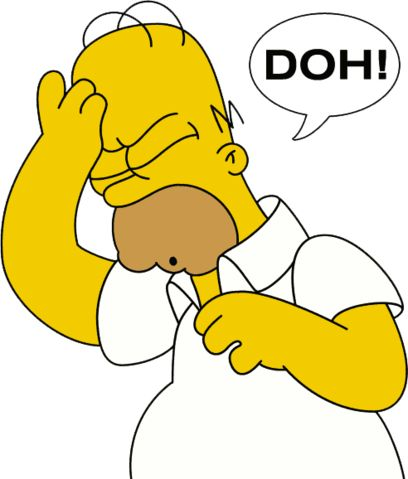 Homer, and other prospective buyers were sorely disappointed to find the price was not what they expected.
To make up for this error, I'm extending my offer by marking it down again as a good faith gesture, to just $39.99. That's a savings of $30.00 off our most popular digital tool, or a 43% savings. How's that for good will?
Yesterday we offered 26 of these powerful digital tools, first come first served. Today, we're offering just 18 more to the first comers who recognize tremendous  value when they see it. Once they're sold out, the price will go back to the usual $69.99 selling price.
Want More Income For Retirement?
K.I.S.S. your assets goodbye and swap them for income producers!
No, not that type of Kiss! I'm talking about the acronym we often use here on Seeking Alpha. K.I.S.S = Keep it simple, stupid!
Simple Applications Lead To Simply Great Trades And Income
You can read today's brand new article, "Yummy, Yummy:DineEquity Serves It Up With All The Fixins" for a clear demonstration of how this powerful digital tool leads me to historically, temporarily depressed stock prices which always bring historically heightened dividend yields which enormously boosts your annual income.
Another recent and very popular article, "Who'd Buy This Hated Telecom That Just Popped 10%?" gave a demonstration of how the Real Time Portfolio Tracker leads me to good entry points and accidentally high yield from misplaced beatings served upon temporarily broken companies. Read how just a few strong catalysts for CenturyLink (CTL) turned investor perception on its head and led to 10% capital appreciation one day, then another 8% the next day. It then jumped another 4.5%. Also grabbed was a 15.3% dividend yield for astute investors who knew the score.
The yield has already fallen to 12% in a few days' time. If the price continues to rise at the rate it has this past week, the yield will contract to 10% in no time. Should CenturyLink rise back to the $32.00 range, the yield will be 6.75%, just a bit higher than AT&T's yield a few weeks back.
Read the above new article to discover the many new positive catalysts that may propel the stock to that possible upside.
Here's how simple it can really be to grow and increase your income. We took note of a very obvious trend developing in the markets over this past year. It seemed everyone had come to the conclusion that Amazon (AMZN) was going to beat all retailers at their game and be the only retailer left standing (or floating in the clouds).
Knowing this was obviously a false conclusion, we stalked Tanger Outlets (SKT) until it had been beaten to a pulp, marked down 40% from its 52 week high. That's when we pounced and established our starting position at $22.67 for our newsletter subscribers to Retirement: One Dividend At A Time.
As I write this, shares of SKT are changing hands at $26.36. Just four weeks after we became business partners with this specialty niche mall retailer, we've helped subscribers and readers to a 16.3% capital gain.
My most popular digital app, the Real Time Portfolio Tracker helped guide me towards this trade and the 6.01% dividend yield we obtained from it.
Much of my work is devoted to taking complicated concepts, words and systems and breaking them down so that anyone can understand them.
Please read last week's new article, "Confessions of A Serial Stock Predator"  if you wish to see how simple we address complicated concepts and turn them to your advantage. In it, we discuss the tipping point the country seems to have reached as more women are finding their voices and joining the #MeToo movement. I think you'll find it interesting how I demonstrate parallels of this important moment to my investment style. Hundreds of readers have already felt moved to comment on the controversy surrounding this important article. Contribute your thoughts today, please.
Over 160,000 readers on Seeking Alpha alone read my recent piece, "Retire Smarter: Big Social Security Changes For 2018 And FTG Portfolio Supplements" because I keep things simple and informative. With the huge increase in the Medicare premium and stingy 2% Social Security increase, this article has taken on ever more urgency.
Get Rich Quick? Forget About it!
If you're only interested in Bitcoins or other such get-rich-quick schemes, don't bother reading any further. But if you're interested in getting rich slowly through investment in safe, dependable and reliable dividend growth stocks, please read on.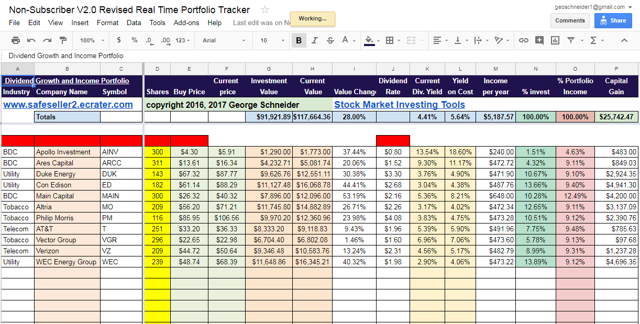 The Real Time Portfolio Tracker has been helping thousands of investors like you to monitor their portfolios in real time during the trading day. Built for investors who buy companies to share in profits through a growing dividend stream, it has helped to identify:
Temporarily dislocated stock prices.
Higher yield opportunities resulting from panic selling.
Monitor current prices on your stock tickers all day.
How much you invested in each company.
How much that investment is currently valued at.
Your percentage capital gain or loss.
Your current dividend yield on each ticker in the portfolio.
The yield on cost for each position.
How much income you earn from each equity and total portfolio income.
The percentage investment allocation you've made to each ticker.
The percentage of income that each ticker contributes to the portfolio.
The dollar capital gain on each ticker as well as the entire portfolio.
Monitoring Your Portfolio For Advantage
If staying on top of your investments is important to you for all the advantages it can bring, you'll be pleased to know that today I'm offering you this very powerful and popular tool at 43% off its regular $69.99 selling price.
For just two more days, order this digital tool for just $39.99 and discover all of the valuable data it brings you.
Pay Once, That's It!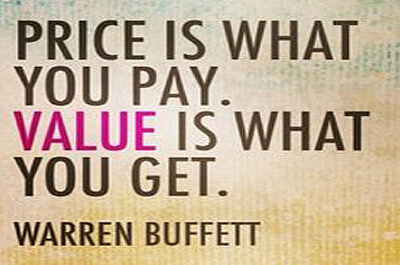 Unlike other tools and services, this one is yours to use for just one low price. There are no ongoing fees, no data charges, no subscription fees to use all of its functions. You pay the price just once. Value is what you get, forever.
No Software Required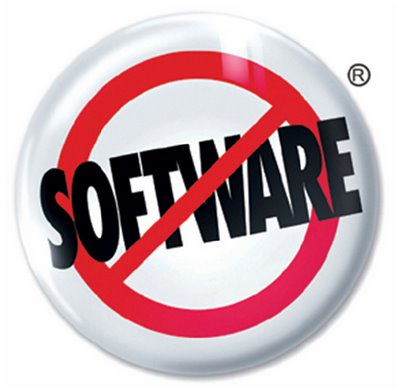 This powerful digital tool does not require you to have any software on your computer. It is totally self-contained, works in real time and requires no effort on your part.
No Math Skills Required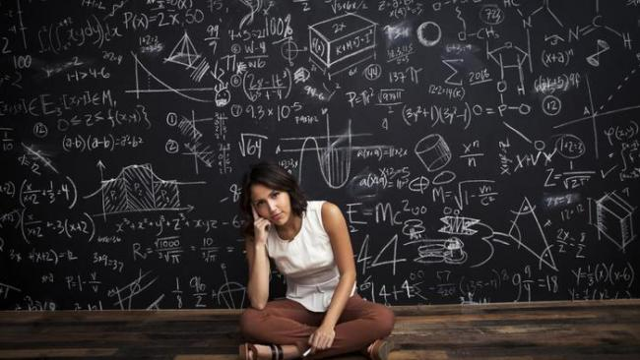 Sometimes users are put off by software that requires mathematical or programming skills. You'll find none of these challenges with this tool. I've built all the algorithms into it so that no figuring or mathematical skill is required of you. If you can enter a ticker symbol and the amount of shares you own, you're good to go!
No Set-Up Hassles
Some tools take hours to set up and make you jump through hoops just to get it going. Not the Real Time Portfolio Tracker. Simply click one button in the email file I'll send you, and you're automatically up and running!
Works On All Platforms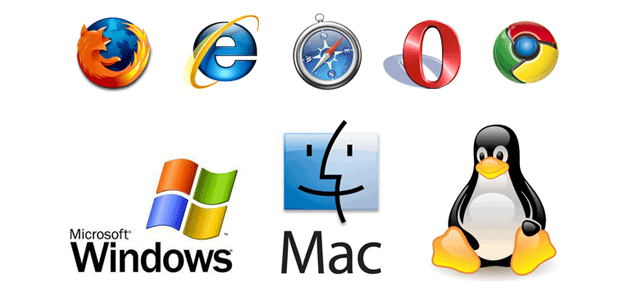 This tool works on all computers, all platforms, all tablets, all smartphones.
Learn More
Feel free to learn more about this powerful digital tool and, if delighted, place your order and pay just $39.99 and save $30.00 today. I really, really marked it down this time. I promise. Click this link if you don't believe me. Click this link if you'd like to learn more.
We're only offering this powerful digital tool to 18 more serious investors before the price goes back up to $69.99. Be the first to claim yours today!
You may learn more and order the Real Time Portfolio Tracker, here.
This offer will end Monday at midnight, January 1, 2018 or when the last 18 trackers are sold out, whichever comes sooner.
Start this New Year off right, with this very useful and versatile digital tool that will empower you and your portfolio performance.
Here's wishing you a very happy New Year and a very prosperous 2018!
Best,

George Schneider
Disclaimer: Past performance is no guarantee of future success.
Any stocks used in this presentation were for demonstration purposes only and do not constitute a recommendation to purchase. Do your own due diligence and consult your financial advisor and tax specialist.
It is my sincere hope that if you bought any of my digital tools recently that you are enjoying using it and that you see it as a reflection of the value I bring to all of my Seeking Alpha newsletter subscribers on a daily basis.
I was hoping you'd read this and perhaps join our highly ranked newsletter subscription on Seeking Alpha in order to share in our outperformance in both capital appreciation and income growth.
We are the #1 ranked newsletter in the Retirement category.
We began the RODAT Subscriber Portfolio with $500,000.00.
Subscribers who proportionately mirrored this portfolio with any amount of money have received the same percentage returns and dividend yields as we have.
The current portfolio yield for new subscribers is 6.25%.
Charter members have a yield on cost of 6.70%.
Subscribers already have annual dividend income of $32,106 from this exclusive portfolio.
We maintain a current cash position of $214,228, ready to deploy as dry powder when opportunity presents to grow income further.
We have achieved capital growth of the portfolio, including realized capital gains, unrealized capital gains, dividends and covered call premiums of $249,673.
We began with $500,000. Current portfolio value is now $728,723 for growth of 45.7%.
2018 promises to be just as exciting with lots of opportunities coming our way to grow income.
To sign up for a free two week trial of my premium subscription service, please go to this link:
After signing up, please reply to this message with your email address so I can send you the Portfolio Income Tracker, a digital application that will help you stay focused on the dividend income production of your portfolio, $24.95 for non-subscribers, but FREE for subscribers.
Join us and stay with us and I'll send you a free digital portfolio income tracker to track your portfolio's income and that of the subscriber portfolio as well. This is a $24.95 value, free for subscribers only!
You can take a look at it here: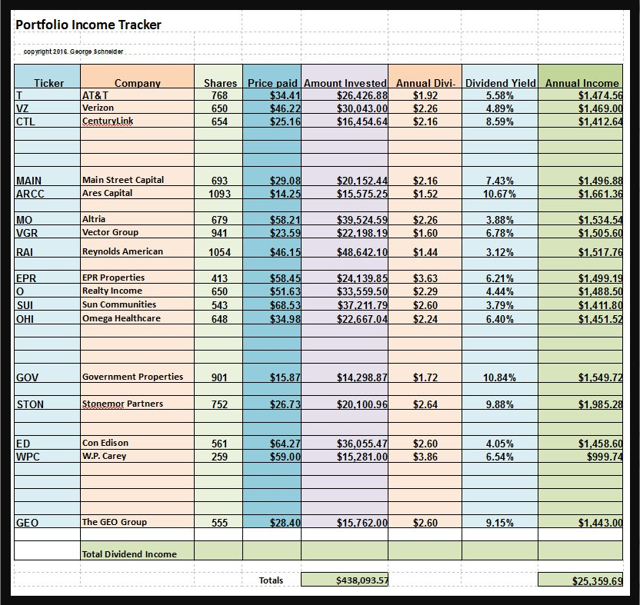 Learn more about my service and this free subscription offer today.
Retirement: One Dividend At A Time
Learn more about your free 14-day free trial today by clicking this link now!
Have a prosperous New Year!
Best,

George Schneider
I look forward to welcoming you to membership today.
#1 Ranked Contributor in the retirement category
Disclosure: I am/we are long ALL FILL THE GAP AND RODAT PORTFOLIO STOCKS.