Only yesterday, after markets kept registering new record highs almost on a daily basis, I addressed the need to be prepared for the bubble bursting. After all, nothing goes up in a straight line, forever. What goes up, must come down.
Because the air could be heard leaking out of the bubble yesterday, last night I sent out my high-priority watch list to all of my subscribers. It contains several equities with my target entry prices, current dividend rate and the dividend yields that will be achieved if those target prices are reached.
O.K., so you don't chew gum anymore
O.K., so you don't chew gum anymore and this is not a concern for you.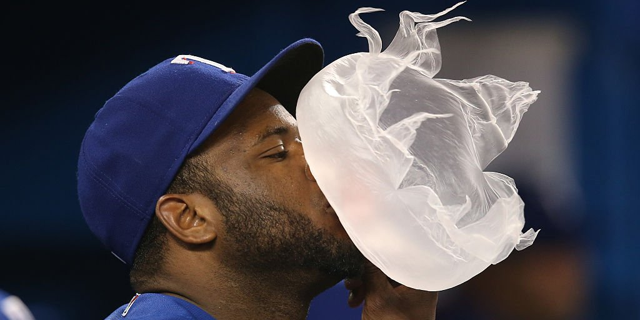 How about this bubble burst? Is this a concern for you?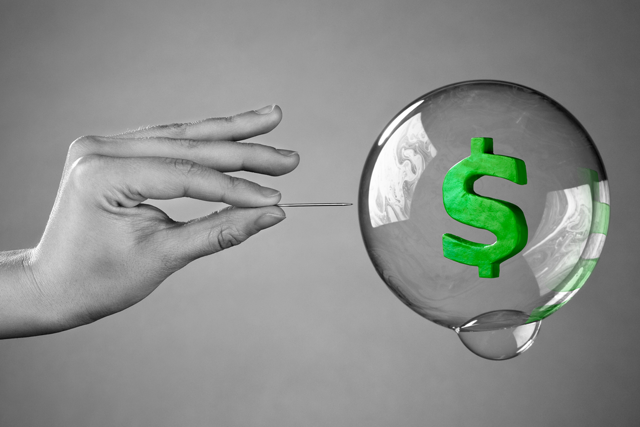 The markets have not suffered so much as a 5% pullback in over a year.
All three major stock market gauges finished last Friday at new record highs for the fourth straight week in a row. We had lift off for most of 2017 and 2018 has seen the major stock market indices up 7% to 8% already.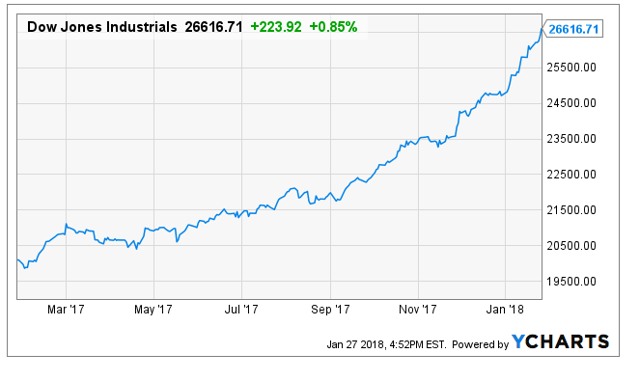 At this rate, making 1000 point strides in a matter of days, traders will push the Dow up to 50,000 by Spring!
The Old Saw

You know the old saw. As January goes, so goes the year. In other words, if January is up, the year will close positively. This has been the case for over 80 years. When the markets close up in January, 87% of the time the year closes in positive territory.
Furthermore, when January rises 7% or more, the year usually shows a gain of 17% or more. Once, we saw a gain of 31% under these circumstances.
What About Those Bursting Bubbles?
So, why am I talking about bursting bubbles? It's simple. Just because history indicates a proclivity of positive yearly gains when January shows a gain, this does not preclude the possibility that volatility makes a comeback. This means we might experience some bumpy roads along the way. For income investors, looking to grow their income, this spells opportunity ahead.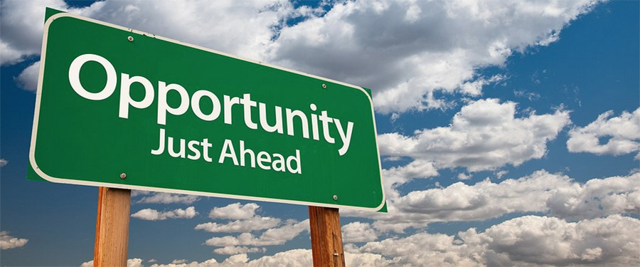 That opportunity may have just begun as the Dow Jones Industrial Average collapsed 177 points at Monday's close. And the other major stock market gauges all closed with very similar percentage losses.
Get Your Watch List Ready
Get your watch list ready for the all the bargains that will develop once the bubble finally bursts.
Just last night, I sent out my high-priority watch list to all of my subscribers. It contains several equities with my target entry prices, current dividend rate and the dividend yields that will be achieved if those target prices are reached.
Remember, I'm not predicting this bull market is about to end. I'm simply suggesting that this nine-year-long bull has been charging ahead with practically no rest. It is logical to presume that it may be ready at some point to take a breather. Even a bull needs a little snooze, now and then.
And when it does, the bursting of the bubble may be small, medium or large. When it finally bursts, those investors who have prepared their watch lists with beneficial target entry prices, will be the ones to profit the most from this opportunity.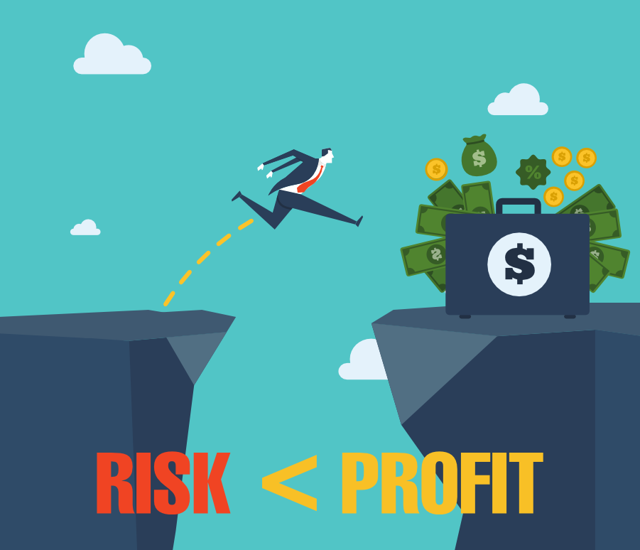 As you'll recall, growth stocks outperformed value stocks by a handy margin last year. Over the long haul, value stocks outshine growth stocks. Eventually, growth stocks will come in and revert to the mean, and value stocks that pay and grow dividends will shine once again.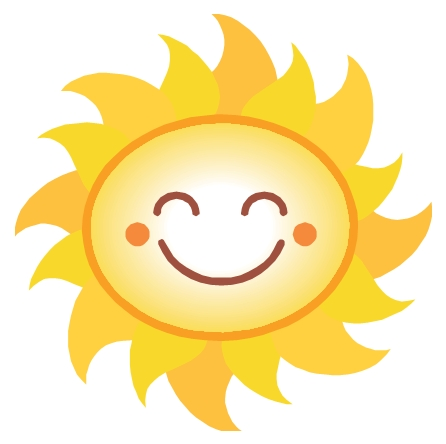 Discover Your Next Bargain Stock Generating 7% Monthly Income
Please take a moment to read my brand new article, "The Seesaw: Interest Rates Up, REITs Down". Discover which stock is about to become a great bargain and generate excellent, monthly dividend income for your portfolio. It's all revealed, including my target price. You'll find it instructive as it deals with the massive reduction in market value of many REITs from their 52 week highs, popular with all ages of income investors attracted by their elevated and attractive dividend payments.
You'll see some suggestions on how you can profit from this excellent opportunity and why it is so important to keep an active watch list handy so you can take full advantage of the higher yields and higher income opportunities I foresee.
Prepare Your Watchlist: Profit From The Bubble Burst
Make a list of those stocks you've been wanting to add to your portfolio. But don't resort to old-school paper and pencil. A reader commented the other day that he was using a paper ledger and pencil to track his watch list candidates and all his dividends.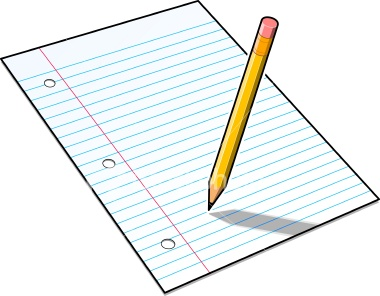 Get with it, man. This is the 21st century and we have new digital tools to make your job a lot easier and a lot more fun!
To help me get the stocks I want, at the prices I want to pay I use powerful digital tools. To get the yield and income that I need, I use the
  New Edition V 4.0 Watch List Real Time Tracker.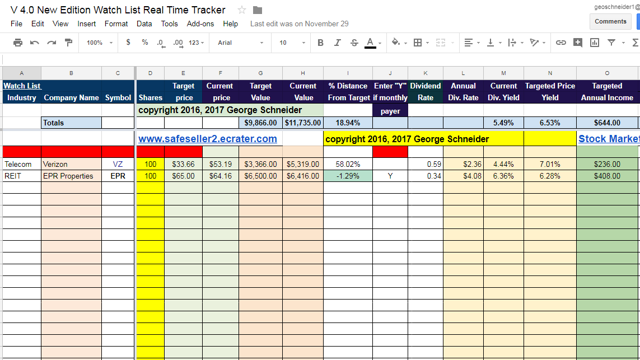 Housing your Watch List in a handy, powerful tool like this keeps you locked and loaded and ready to launch your limit orders when they can get you the biggest bang for your buck.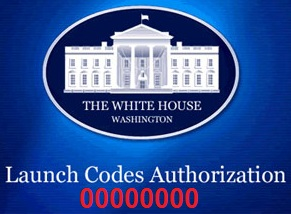 You, and only you, hold the launch codes and are authorized to act when you deem it appropriate.
This brand new edition will load all your tickers quickly, smoothly and reliably. It is also very stable. You can keep it open all day if you like and it will continue to update all your metrics in real time for you throughout the trading day.
And it's loaded with all the metrics you'll find helpful to research your watch list candidates, all at the touch of a button.
It even lights up in green when your stock candidate comes within 3% of your target price, giving you a visual heads up.
Want Help To Monetize Your Assets?
If you're a DIY (do it yourself) investor, the New Edition V 4.0 Watch List Real Time Tracker is the tool built for you.
Click this pic to enlarge and see all the other functions it tracks.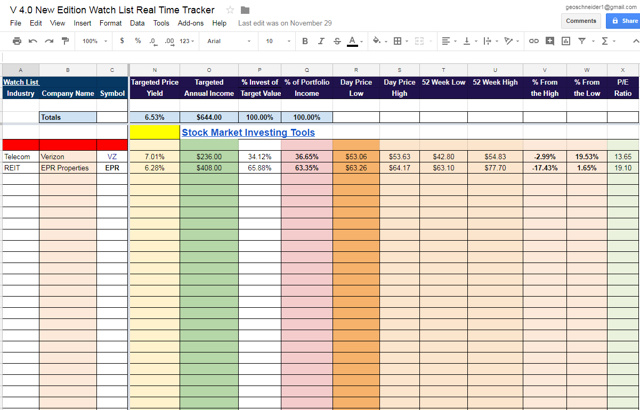 The New Edition V 4.0 Watch List Real Time Tracker, used by thousands of your fellow readers and subscribers, will update in real time all day long and feed you data on your tickers, including current stock price, your target price, target value, current value, distance from your target price, annual dividend rate.
In addition, you'll see the current dividend yield, the targeted dividend yield at your target price, the annual dividend income you're targeting, and the percent of investment based on the targeted value.
Want More?
If that's not enough data for you, here's what else you'll get, all in real time, all automatically delivered to your tracker:
1. The percent of portfolio income that each ticker will get you.
2. The day's low price.
3. The day's high price.
4.  52 week high.
5.  52 week low.
6. % from the high.
7. % from the low.
8. P/E ratio.
Every one of these metrics will change, automatically, all day throughout the trading day and reflect real time metrics that will help you achieve your goals to pay the price you want, to achieve the income you want.
If you're up to the task to do your own due diligence and pick stocks that will provide the extra income you need for your retirement, this powerful tool will help you get the job done.
The New Edition V 4.0 Watch List Real Time Tracker  is your key to unlocking your portfolio data so you can see what your watch list dividend income will be and how to grow it in the future. It's all about helping you monetize your assets for income. 
Now You Can Grab Hold Of Your Income to Grow It Into The Future With A Simple, Powerful Tool.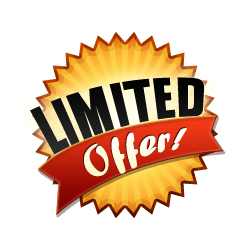 Friday we offered 50 trackers to our readers. This is a very limited time offer at a 43% off sale price. Today there are just 12 more available to the first readers who respond; first come, first served.
Today we are making it available at this special sale price for the first 12 that respond to this offer now.
Can you afford to retire today? How about five years from now? This new tool will help you find out.



The New Edition V 4.0 Watch List Real Time Tracker is built to help you track your portfolio in real time, discover accidentally high yield situations and to organize your portfolio in real time. It  automates much of your research for you.
Long Story Short
This tool  normally sells for $69.99. Because the market began to show some cracks we decided to extend this sale. For one more day I'm making it available exclusively only to all of my Seeking Alpha followers and subscribers for just $39.99. This 43% savings event will end  at midnight, Tuesday, January 30, 2018. The New Edition V 4.0 Watch List Real Time Tracker  is your key to unlocking your portfolio data so you can see what your dividend income from watch list candidates will be at the price YOU wish to pay.
Monitoring Your Portfolio For Advantage
If staying on top of your investments is important to you for all the advantages it can bring, you'll be pleased to know that today I'm offering you this very powerful and popular tool at 43% off its regular $69.99 selling price.
For just one more day, order this digital tool for just $39.99 and discover all of the valuable data it brings you.
Pay Once, That's It!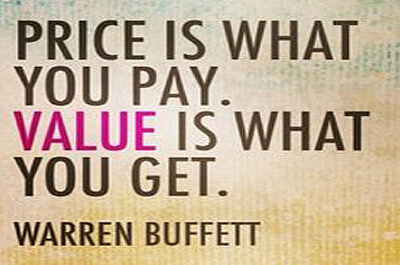 Unlike other tools and services, this one is yours to use for just one low price. There are no ongoing fees, no data charges, no subscription fees to use all of its functions. You pay the price just once. Value is what you get, forever.


Use It To Research Your Next Stock Purchase
You can use this digital tracker as a comparative research tool, to measure different outcomes of several different stocks. The same few inputs made on each stock will give a wealth of information that will enable you to compare the eventual dividend income outcomes of various companies. 

Armed with this very detailed and clear information, it becomes possible to make better investment decisions for those of you who are concerned about matching your income with eventual expenses in retirement and always staying a step ahead of inflation.
About This Digital Tool
The New Edition V 4.0 Watch List Real Time Tracker  is a web-enabled application and does not require any additional software on your device. It works on all platforms, operating systems, computers, tablets and smart phones. You can track common stocks, CEFs, BDCs, REITs and MLPs, American, Canadian and British, all in real time. There is no charge for the data that comes to you in real time.
There is no ongoing subscription fee to use this tool. Pay once and that's it!
No Software Required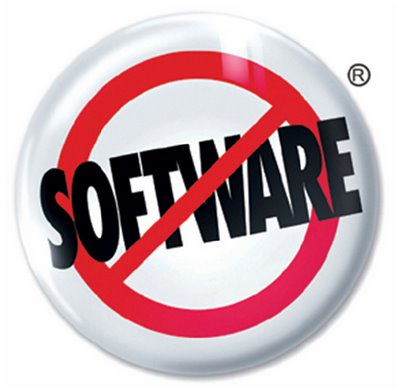 This powerful digital tool does not require you to have any software on your computer. It is totally self-contained, works in real time and requires no effort on your part.
No Math Skills Required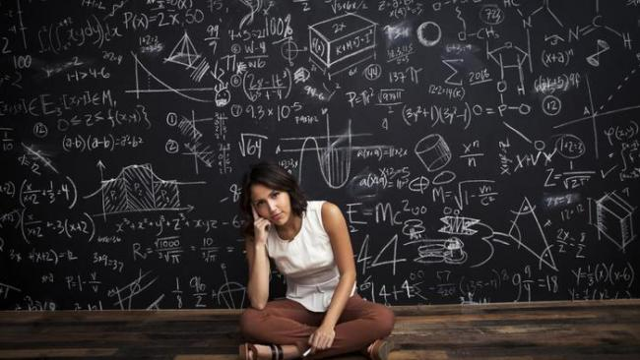 Sometimes users are put off by software that requires mathematical or programming skills. You'll find none of these challenges with this tool. I've built all the algorithms into it so that no figuring or mathematical skill is required of you. If you can enter a ticker symbol and the amount of shares you own, you're good to go!
No Set-Up Hassles
Some tools take hours to set up and make you jump through hoops just to get it going. Not the Watch List Real Time Tracker. Simply click one button in the email file I'll send you, and you're automatically up and running!
Works On All Platforms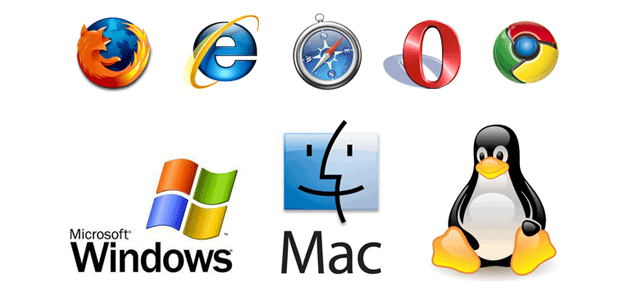 This tool works on all computers, all platforms, all tablets, all smartphones.
Learn More
Feel free to learn more about this powerful digital tool and, if delighted, place your order for just $39.99 and save $30.00 today.
You may learn more and order the Watch List Real Time Tracker, here.
This offer will end Tuesday at midnight, January 30, 2018 or when the last 12 trackers are sold out, whichever comes sooner.
Start this New Year off right, with this very useful and versatile digital tool that will empower you and your portfolio performance.


Don't delay. Only the first 12 readers who respond today will be eligible for this special sale price.
This sale ends Tuesday, January 30, 2018  at midnight. Buy it for yourself or give a very unique gift to that special investor in your life.
Place your order here now.
If you're interested in taking a peek at the full suite of stock market digital tools I've developed to help investors improve their investment performance, you can find them all at Stock Market Investing Applications.
Here's wishing you a very happy New Year and a very prosperous 2018!
Best,

George Schneider
Disclaimer: Past performance is no guarantee of future success.
Any stocks used in this presentation were for demonstration purposes only and do not constitute a recommendation to purchase. Do your own due diligence and consult your financial adviser and tax specialist.
I was hoping you'd read this and perhaps join our highly ranked newsletter subscription on Seeking Alpha in order to share in our outperformance in both capital appreciation and income growth.
Get your watch list ready for the all the bargains that will develop once the bubble finally bursts.
Just last night, I sent out my high-priority watch list to all of my subscribers. It contains several equities with my target entry prices, current dividend rate and the dividend yields that will be achieved if those target prices are reached. Join us today to find out what is on my watch list.
We are the #1 ranked newsletter in the Retirement category.
We began the RODAT Subscriber Portfolio with $500,000.00.
Subscribers who proportionately mirrored this portfolio with any amount of money have received the same percentage returns and dividend yields as we have.
The current portfolio yield for new subscribers is 6.35%
Charter members have a yield on cost of 6.70%.
Subscribers already have annual dividend income of $32,106 from this exclusive portfolio.
We maintain a current cash position of $214,228, ready to deploy as dry powder when opportunity presents to grow income further.
We have achieved capital growth of the portfolio, including realized capital gains, unrealized capital gains, dividends and covered call premiums of $249,673.
We began with $500,000. Current portfolio value is now $728,723 for growth of 45.7%.
2018 promises to be just as exciting with lots of opportunities coming our way to grow income.
If you choose to emulate the subscriber portfolio, you may devote any amount you are comfortable with. Whatever that amount is, you will receive the same percentage gains in capital and dividend yields and growth of income that we do. 
To sign up for a free two week trial of my premium subscription service, please click this link:
After signing up, please reply to this message with your email address so I can send you the Portfolio Income Tracker, a digital application that will help you stay focused on the dividend income production of your portfolio, $24.95 for non-subscribers, but FREE for subscribers.
You can take a look at it here: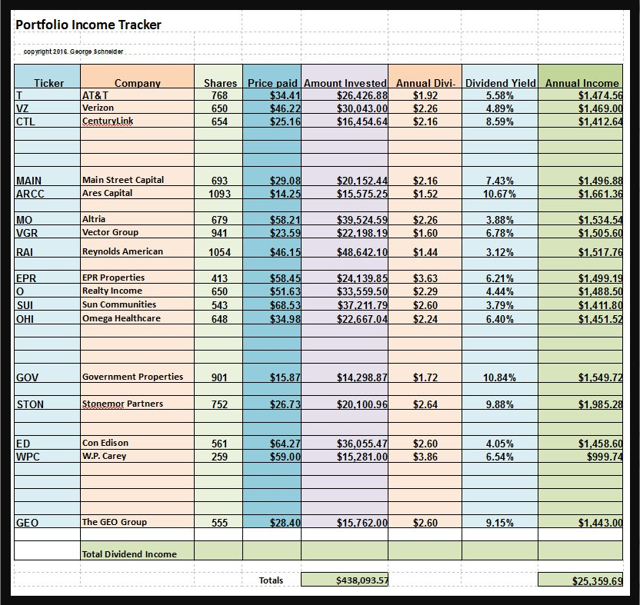 Learn more about your free 14-day free trial today by clicking this link now!
Please click this link to learn more:
Retire 1 Dividend At A Time - Marketplace Checkout
Or:

Have a prosperous New Year!
Best,

George Schneider
I look forward to welcoming you to membership today.
#1 Ranked Contributor in the retirement category
Thanks for reading. Interested in more dividend strategies and ideas? 
I run Retire 1 Dividend At A Time to help investors stay focused on their portfolio income and long-term goals.
My promise to you: With every exclusive article, email, instant-text and chat, I'll help guide you to:
Increased income for retirement, one dividend at-a-time.
Under-valued stocks for a greater margin of error and higher capital appreciation.
Methods to safely diversify your portfolio.
Strategies to build, grow and protect your income for retirement.
Join today to get started on the next step of your investing journey!

Disclosure: I am/we are long ALL FILL-THE-GAP PORTFOLIO STOCKS.