The market was vulnerable to a down move given moderating expectations from a fundamental perspective prior to earnings season kicking in. Technicals may be suggesting that the market has further downside risk mainly due to:
I. Triple top formation
II. Breaking under 50-DMAs
III. Weakening fundamentals from an earnings expectation standpoint
The S&P 500 faces some support at 1425. The next support may be close to 1400 if not the 200-DMA at around 1374. This could spell a 4% sell off if risk off sets in.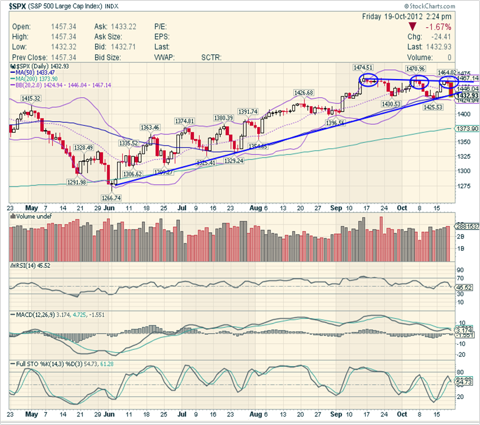 Risk mitigation may be in order as expectations get ratcheted down, risk aversion effects on multiples may add further contraction bias with an overall effect of lower stock prices in the very near term.
An active risk management approach is warranted and convex payoff structures are desirable in this environment.
Disclosure: I am long SPXU, VXX.
Additional disclosure: For absolute return portfolio, I have a tactical Beta-Hedge against mostly active exposures utilizing SPXU and an additional tactical hedge using VXX. I may remove or add to these at any time and without prior notice.