Interest rates are close to historical lows. Much of this is a result of the Great Recession suffered between 2008 and 2009. Economic fundamentals have pulled interest rates lower while monetary policy has further pushed interest rates lower. This backdrop has caused the unprecedented low level of interest rates. As long as growth remains sluggish, demand for bonds and current monetary policy will likely persist. Fighting the Fed as it tries to reflate the U.S. economy and promote growth and employment has been a painful stance coming out of the Great Recession. Risk assets have rallied since the market bottom reached in March of 2009 and bonds have enjoyed a powerful artificial buying boost by the Federal Reserve's bond purchase programs with its recent $85 billion mandate to purchase bond securities to help keep the level of market yields low to help boost the economy.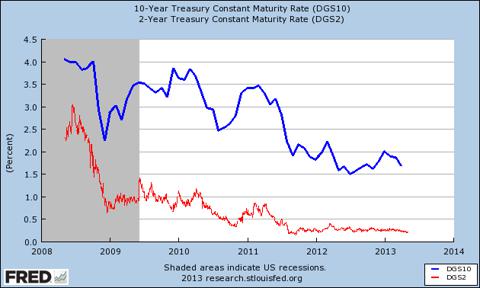 Source: Federal Reserve of St. Louis
If one agrees with what the Wall Street consensus call for economic growth and inflation expectations are, then at some point yields will have to start normalizing and align more with fundamentals. In addition, under this scenario, the rationale for the Fed to continue its bond purchases would diminish. As such yields would start moving higher as fundamentals would be pulling yields higher and the exit from the Fed would remove the artificial push down in yields we have recently witnessed. Typically, the market will start moving ahead of fundamentals and monetary policy. Given short-term rates are anchored by monetary policy via rate setting, longer-term yields see greater volatility and magnitude in moves when compared to short-term yields. As such the spread between longer-term and shorter-term bonds would likely widen. This potential reversal in spreads between 10-year and 2-year Treasury bonds is what I refer to as a dormant giant opportunity.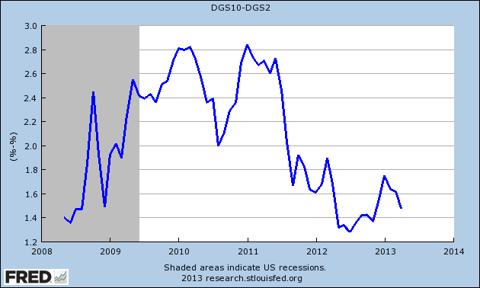 Source: Federal Reserve of St. Louis
As investors consider and evaluate strategies to help protect them from rising rates or help mitigate some of the potential risks associated with rising rates, a steepening strategy might be one worth studying in greater depth if one has conviction behind the trajectory of future yields and the shape of the yield curve.
There are many factors that explain the curvature of the treasury yield curve. When one compares a 10-year note with a 2-year note one can explain the spread by differences in economic growth, inflation, fiscal and monetary policies. These factors translate into the term premium or spread between the 10-year and 2-year notes - 10/2-Treasury Spread.
Given the more probable scenario that the consensus view is projecting, that is, an accelerating economy and the return of inflation; it is very likely that yields start experiencing more volatility to the upside and that a strategic allocation to a steepening strategy be initiated and built up over time. One could potentially enhance this strategic view with a tactical overlay to take advantage of shorter-term trends and technicals by employing some form of modeling techniques.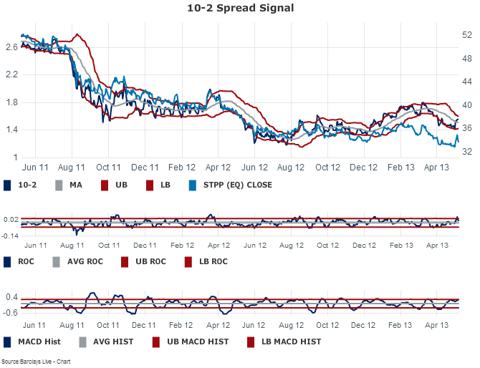 Example of Technical Overlay Model from Point Guard Capital LLC employing Barclays Live Analytical Tools
An investor ought to remember that this steepening strategy would be considered a "risk-on" trade as it would be correlated with the trajectory of other risky assets such as equities and commodities. Hence, it is not a defensive strategy but rather an aggressive one that seeks to pursue return opportunities in a scenario where either or both projections for economic growth and inflation accelerate to the upside.
Tipping the scale in one's favor by understanding the push/pull dynamics and having a strong conviction view can help one be proactive and be prepared to face this dormant giant when it wakes up.
Disclosure: I have no positions in any stocks mentioned, but may initiate a long position in STPP over the next 72 hours.
Additional disclosure: The information and opinions contained in this document have been compiled or arrived at from sources believed to be reliable, but no representation or warranty, express or implied, is made as to their accuracy, completeness or correctness. The views and opinions are the author's only and may or may not reflect the views of Point Guard Capital LLC. This document is for informational purposes only and is not, and should not be construed as, an offer or a commitment to enter into a transaction, nor is it professional advice. This information is general in nature only and does not take into account an individual's personal circumstances. All opinions expressed in this document are subject to change without notice. The author does not accept any liability whatsoever for any loss howsoever arising from any use of this document or its contents or otherwise arising in connection therewith.