I do not consider myself to be a 100% technically driven investor but I do pay attention.  Throughout my experience technical analysis can complement a fundamentally driven process to either validate or challenge certain investment views and ideas.  In this particular case technical analysis may be validating my view that growth expectations are likely to continue being revised lower from both a macro and earnings perspective.  Therefore, if equity returns are driven by income and capital appreciation which can be decomposed into its sources of earnings growth and multiples; one can expect the market to undergo some re-pricing of expectations that are likely being adjusted to the downside.

The S&P 500 Index has been on an upward trajectory since the lows it posted back in 2009.  Recently it has encountered a bit of resistance and seems to be caught in a rectangle box pattern that is 100-points wide.  Of importance is the fact that the index is sitting close to its 50-DMA.  Also of interest is that the 50-DMA has started to trend downwards which may suggest a sustained soft patch for equity markets in the near-term.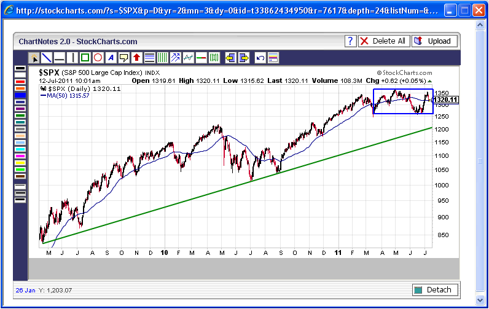 Source: www.stockcharts.com

In the near-term technical analysis may suggest that we test the upward (green) trend line (support) as markets digest the debt situation in Europe and related austerity measures and resulting impact on economic growth for many countries.  The U.S. is not immune to this phenomenon as it deals with its own debt issues and needs to find a speedy resolution to the debt ceiling for starters.  Another driver for testing the trend line may come as a result of the above mentioned moderation of growth expectations for earnings and associated multiples investors will be willing to pay for the lower expectations.

Some active risk management may be appropriate at this juncture to mitigate some potential downside risk.