The evidence is mounting that the U.S. economy may already be in the midst of or enetering another recession as certain negative feedback loops emerge.  The actual official declaration of whether or not the third quarter ends up being a recession will be too late for it to be actionable.  Once the news comes out it will be too late!

I wrote a piece a few months back around the leading indicator relationship between the economic cycle and commodity prices.  I have taken the time to update a chart and the message may be suggesting that we are in the midst of a major slowdown if not outright recession.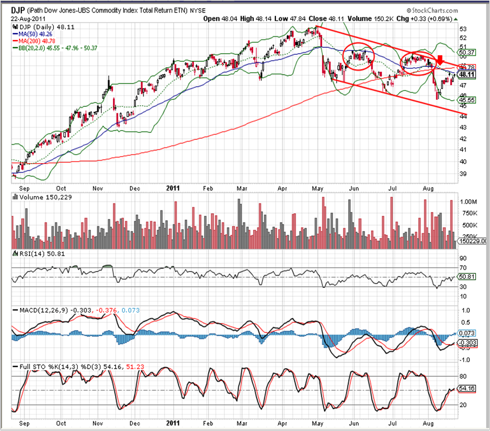 I have employed the iPath Dow Jones-UBS Commodity Index TR Index ETN (NYSEARCA:DJP) as a proxy for commodities.  What is striking is the down trending channel that formed back in April/May period.  The proxy has made lower highs and lower bottoms vacillating around and  cycling lower and just recently saw its 50-DMA cross below its 200-DMA.  This may be one of several real-time indicators that may suggest we may already be in a recession.

In an earlier piece I also wrote about the potential for 2nd Quarter GDP growth to come in way under consensus.  As it turned out, it did.  Looking forward and on a qualitative basis we can reconcile some of the recent negative feedback loops and offer some guidance:

Consumers will likely flat line if not contract based on the psychological impact of experiencing another bout of market volatility and continued housing deterioration.  All-in-all affecting the sentiment and prospect for growth in spending as insecurities begin to mount yet again.

Businesses have started to cut back again.  We have witnessed renewed layoff waves by public companies downsizing and restructuring.  Capital spending has been relatively healthy but may start receding as a result of the recent volatility in capital markets and continued European malaise and a slowing Asian growth engine.

Governments are contracting.  State and Local spending is off and is contributing negatively to overall GDP growth.  As for the Federal government there is the notion of Austerity given recent debt ceiling passage and related concessions in spending over the next several years which may shave off a material amount from GDP growth.

Trade has been a mixed blessing.  For the time being Exports have done well given a weaker U.S. Dollar when compared to a global trade basket of currencies.  If other economies slow down this may impact Exports.  If Oil prices recede then Imports may see some breathing room in terms of its negative contribution to GDP.  Hence, Trade will likely be fairly neutral based on this exercise.

This tips the odds in favor of another recession.  Were it not for massive government intervention, we would have likely never exited the recession that began back in 2008.  Contrast the two diagrams below that compare the Macro Flow of Income back in 2008 versus 2011 and the problem areas that dominated the negative feedback loops that ensued and the origin of the current risks.


Note that the origin of the negative feedback loop, back in 2008, had to do with the malfunction of Capital Markets triggered by massive debt write downs and a collapse in lending by financial institutions.  This as we now know triggered a negative feedback loop that extended into business spending reductions, layoffs and consumer spending erosion.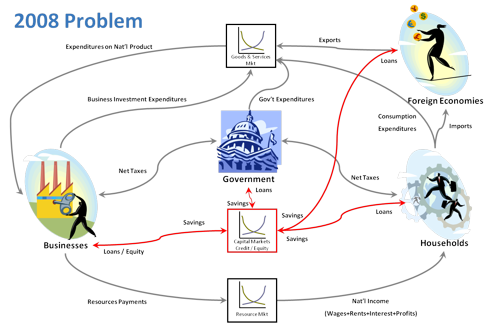 Source: Point Guard Capital LLC

Today (2011) the origin of potential problems centers around Government and its fiscal situation and prospects for lowered spending and potential for higher taxes.  Both decreased spending and higher taxes take away from potential GDP.  In addition Government spending typically has a multiplier effect in the private economy and the potential for further business spending cuts and renewed waves of layoffs is a real threat to the overall economy which lacks any sustainable source for growth.  In addition monetary policy is virtually exhausted preventing the Fed to stimulate the real economy versus impacting capital markets.  As we know now, that is not where the origin of the current malaise resides.  Therefore any Fed maneuvering may be extremely limited unless it has a real economy tie in.  Maybe my call for a National Infrastructure Bank at the Milken Institute Global Conference back in 2010 may be in the horizon.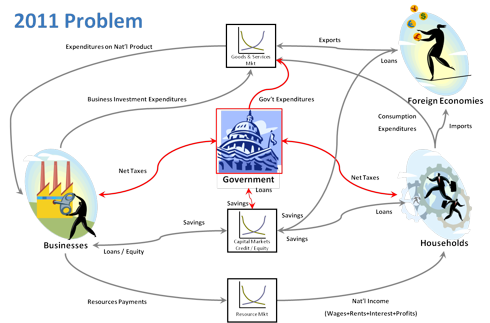 Source:  Point Guard Capital LLC

The investment ramifications suggest active risk management and increasing the quality of investments and the Income contribution to Total Return, everything else equal.  For example if one owns equities, consider reallocating allocations towards high quality dividend payers with attractive long-term businesses and valuations.  There are certainly more strategies to employ but one cannot generalize some of these and are best suited for a one-on-one discussion with your financial advisor to address particular objectives (both risk and return) and constraints.

This is meant to be for informational/educational purposes and there is no implied recommendation or solicitation to buy or sell any investment or security.  Investments can lose money. Make sure you understand any strategy or investment before investing.  Securities referenced are for example purposes only and should not be construed to be a recommendation of any sorts.