It has been circa 5-years since the housing malaise first began as evidenced by Housing Starts seen below and the sub-prime crisis that began 2/2007.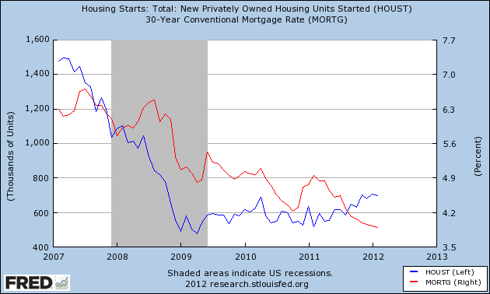 There has been a recent upturn in starts thanks to low mortgage rates as well as favorable weather.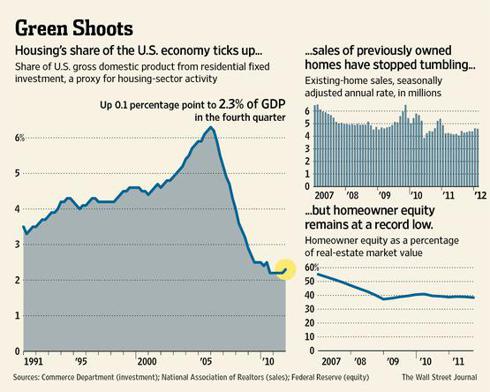 Many may be tempted to get overly optimistic about housing making a sustainable turn for the better. There are four major headwinds having to do with:
1. Mortgage rates inching higher just recently
2. Negative home equity
3. Unemployment rate
4. Low savings rate
As rates head higher the affordability of housing lessens. Given that most home buyers qualify based on monthly debt service, any small jump in rates can magnify the effect of lessening the amount of house one can afford based on the monthly principal and interest payment. Therefore, interest rate moves will play a major part in the housing recovery. With the Fed engaged in "Operation Twist" that ends by June 2012, there may be an additional catalyst that could trigger rates to move higher by Summer.
Negative equity affects homeowner mobility. This in turn can distort real estate supply by suppressing what otherwise could be on the market exerting further downward pressure on home prices.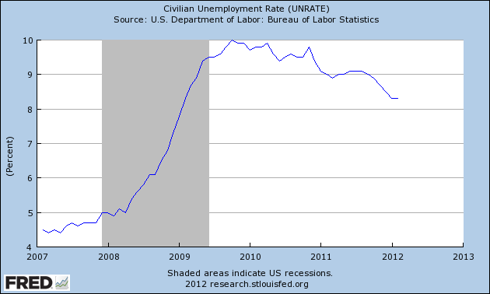 The high level of unemployment is not conducive to being able to generate home purchase demand. Income are required to support a mortgage and/or come up with enough of a down payment through savings to afford a home.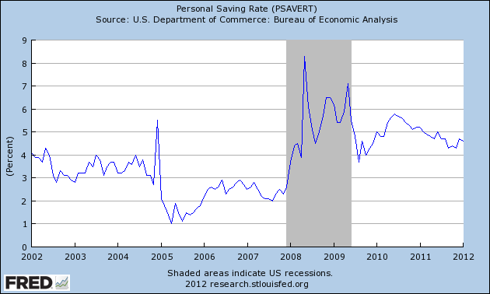 The low savings rate is not supportive of house-formation as tight credit standards require a hefty down payment to be able to qualify for a mortgage.
Hence, recent housing data should not be taken as a tell-tale bottom. Skepticism should reign as we work through major headwinds to be able to lay the foundation for a sustainable housing turnaround.