MSCI Emerging Market index is 50% overvalued
. Index investors looking for decent returns need to focus on the developed markets.
The likely return of the MSCI Europe index for the next five years is 8.1% per year. The index offers a comfortable risk premium of 5.89% over 5 year German government bond yield of 2.21%. In fact, already the dividend yield (4.6%) of the index is twice the bond yield.
The chart below show the MCap/GDP multiple of each index component versus the average multiple of the last 10 years.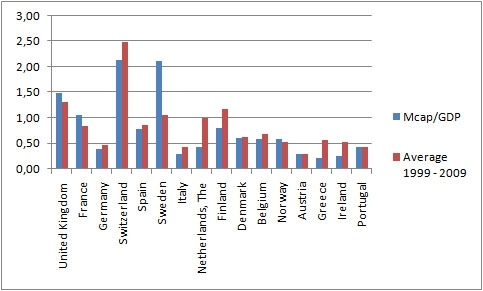 Source: IMF
The weighted average MCap/GDP multiple of the index is very near of the long-term average - the index is fairly valued.
The investment return is determined by dividends, growth and valuation change:
Investment return = Dividend + Growth + Valuation Change
Factoring in the dividend of 4.6% and the 5 year weighted average growth of 3,5% results into 8,1% investment return.
All in all, MSCI Europe is a fairly valued index, which offers a decent return. The downside risk is limited by a healthy dividend.
Disclosure:
I have no positions in any stocks mentioned, and no plans to initiate any positions within the next 72 hours.