Please Note: Blog posts are not selected, edited or screened by Seeking Alpha editors.
Summary
Moderna and Pfizer/BioNTech are not only top efficacy but also the most tested in the elderly where outcomes are the greatest concern.
Moderna's forward revenues appear solid with acceleration likely.
Moderna has a proven platform and large pipeline ready for deployment of cash and development that is significantly derisked.
Moderna's forward price to revenue is notexpensive and the likelihood of improving projections are clear.COVID-19is morphing into a clear long term global issue with vaccines being the primarysolution.
While many Covid-19 vaccines are still in testing it is already clear that the new mRNA technology is superior in the fight against Covid-19. Prior technologies have been unable to reach the efficacy of the two approved mRNA vaccines and they have struggled to show performance in the most important testing group-older individuals. Other vaccines have either failed to test this key demographic or they have failed to show results with the group. This is of vital importance to the governments buying doses because the hospitalizations and deaths are occurring heavily in people over 55 years of age. In addition, as the age increases there is a direct relation to hospitalization and death increases. (SITE) New CDC data sheds light on who's been hospitalized with COVID-19 across 14 US states. Connecticut and Michigan had the most per capita.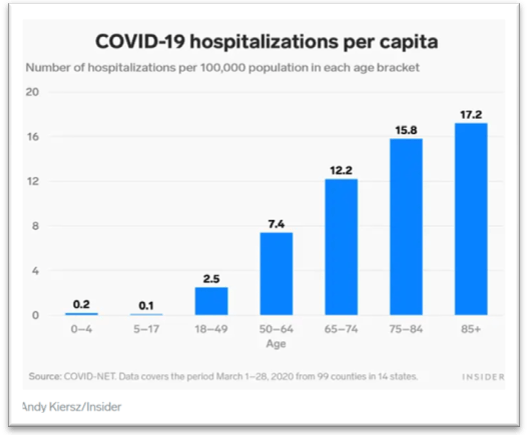 mRNA Vaccines are Best in Class
The only mRNA Western Competitor approved for use is ChAdOx1 (AZD-1222). This vaccine is almost totally untested in older people. It claims to limit severe COVID but the promise is facing doubts due to the trials lacking older people as participants. The Eastern Vaccines (Sputnik V, Sinopharm, Sinovac, ect.) also have limited data over age 60.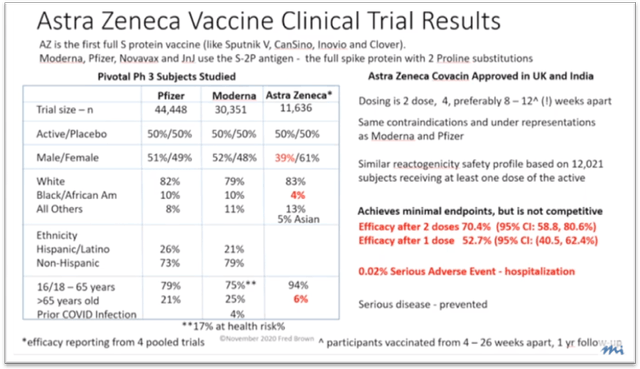 MITechNews.Com COVID 19 Mutations And What They Mean For Pandemic Controlling COVID-19 - FRED BROWN
The picture does not change much when looking at the results with older people outside of mRNA Technology. CanSino struggled with this group in trials. (SITE) Immunogenicity and safety of a recombinant adenovirus type-5-vectored COVID-19 vaccine in healthy adults aged 18 years or older: a randomised, double-blind, placebo-controlled, phase 2 trial Recently, Johnson and Johnson's Ad26.COV2.S showed immunogenicity data in the lower half of Human Convalescent Serum and did not even publish boost results for the older age group. (SITE) https://www.nejm.org/doi/full/10.1056/NEJMoa2034201 Currently Novavax's NVX-2373 has only offered immunogenicity in 29 participants all under 40 in its forward dose (Age-yr Sentinel n=3 23.7±7.37 and Group C n=26 29.5±7.99). (SITE) https://www.nejm.org/doi/full/10.1056/NEJMoa2026920?query=featured_coronavirus The group was catagorized as 18-59 but the peer reviewed publication exposed the true ages. (SITE)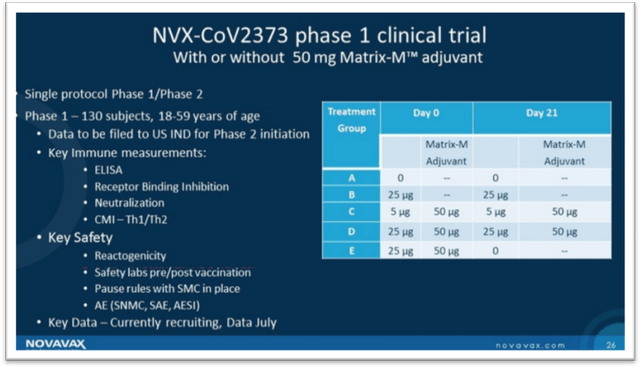 https://ir.novavax.com/static-files/ed244bf5-fd3c-4d8c-97a3-3d779496d21a
Novavax is currently a company with Phase 1 data trading like it has further results. It has two trials that are fully enrolled and regularly delayed and somehow maintains Phase 3 valuations. This makes it an extremely desirable short with a 30 year history of failure, no successful efficacy trials, and two failed Phase 3 trials in the past. (SITE) Novavax plummets after another phase 3 RSV study miss, this time in infants Beyond these hopefuls, there are currently a few projects hoping for approvals in the second half of 2021. (SITE) Sanofi and GSK announce a delay in their adjuvanted recombinant protein-based COVID-19 vaccine programme to improve immune response in the elderly | GSK
The COVID vaccines are currently selling in government contracts that show tremendous pricing power for mRNA. Much of the market has shown oblivion towards the pricing power of mRNA. It has translated AZD-1222's cheap price into some form of virtue and seen a $30 vaccine as evil. (SITE) "Shkreli Award" goes to Moderna for "blatantly greedy" COVID vaccine prices This ignores top vaccines regularly charge four to six times the mRNA prices. (SITE) Does Medicare provide cover for Prevnar-13? Costs, benefits, and more And even at AZD-1222's cheap prices many countries are looking for alternatives. (SITE) Australian scientists suggest delaying AstraZeneca vaccine as infections fall The reality is an effective COVID vaccine that eliminates bad outcomes, reduces spread and gets economies running again is almost priceless in these times.
Reliable Forward Revenues
This point is supported in the current government contracts where forward revenues appear solid with acceleration likely. Both Moderna and Pfizer/ BioNTech have sold out supplies into late 2021 and the drugs have been on the market for less than a month. (SITE) BioNTech and Pfizer plan to supply 700m more Covid vaccine doses Moderna recently estimated Advanced Purcharse Agreements at FY 2021 to be $11.7 billion.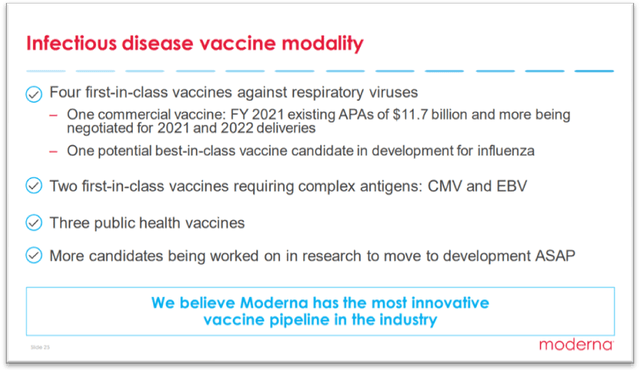 https://investors.modernatx.com/static-files/2931ab42-9a4f-46d1-a7ce-2e1ec499eeb5
Moderna also raised its base case for production from 500 million doses annually to 600 million. (SITE) Moderna dials up low-end COVID-19 vaccine supply estimate, setting sights on 1B doses in 2021 Moderna has kept it's production goal at 1 billion doses. CEO Stephan Bancel has indicated production of mRNA-1273 is his first priority and that the company is being conservative about numbers to avoid disappointing valuable government customers.
Moderna, Inc. (MRNA) CEO Stéphane Bancel Presents at 39th Annual JPMorgan Virtual Healthcare Conference Transcript
(
SITE
)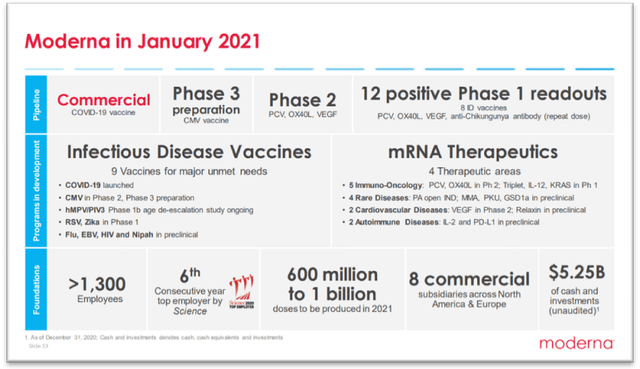 https://investors.modernatx.com/static-files/2931ab42-9a4f-46d1-a7ce-2e1ec499eeb5
It is important to realize no one has ever brought an mRNA drug to market before. Typically, yields improve and margins grow with experience in production of a new drug. Because there is no cell culturing in mRNA production it is expected to be an efficient process in the future. How Can the Biotech Industry Speed Up Vaccine Development in Future? (SITE)Moderna is also a platform so the benefits learned for mRNA-1273 production should carry over to future vaccines as well. How Can the Biotech Industry Speed Up Vaccine Development in Future? (SITE)This also means Moderna can scale up mRNA-1273 and have flexibility to efficiently apply the scale to its other drugs in trials of necessary.
Commercial Success
Moderna has not only dramatically increased revenue through government contracts for mRNA-1273, but it has made those deals with upfront deposits that have increase cash on hand to $5.25 billion in cash equivalents. This cash can be diploid in its pipeline for immediate growth without rish of near term capital raises.Moderna 2020 Shareholder Letter (SITE) In particular, Moderna has 9 vaccines for major unmet needs in its infectious disease pipeline. These projects are significantly derisked from a technology standpoint with the approval of mRNA-1273. This should allow both a high probability of success with future projects and a greater speed through clinical trials. In addition the synergies and development of the modality should continue with further investment.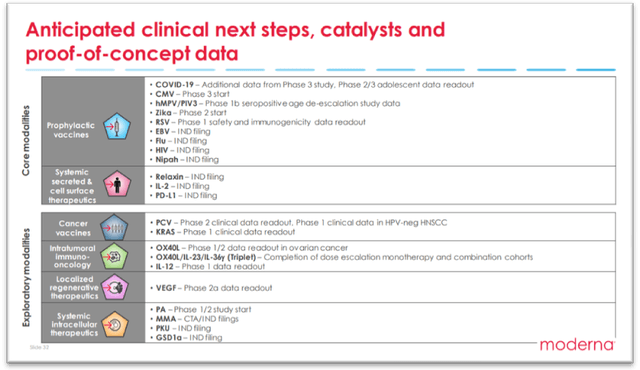 All of these factors insure accelerating revenue going forward. Some have suggested COVID sales may not be reoccurring, but with the size of the global vaccination task and the current mutation picture it is likely the best mRNA drugs have a long runway. Moderna CEO says the world will have to live with Covid 'forever' (SITE)Adenovirus vaccines like AZD-1222, Johnson and Johnson's Ad26.COV2.S, and even Vaxart's pill vaccine are limited in value for redosing. The boosting process enhances vector immunity and will limit the application of these drugs in the future. Adenoviral Vector Immunity: Its Implications and circumvention strategies (SITE)
There are other mRNA platforms that could compete with Moderna and BioNTech. But both of these companies have significant financial and technical advantages as first movers. Why Investors Should Buy Moderna Stock (SITE) And both of these companies are already showing why competition in mRNA may not be a major issue for a long time. Messenger RNA is a new class of medicines. It's potential and applications are enormous. The story of mRNA: From a loose idea to a tool that may help curb Covid (SITE)It takes medicine from a molecular approach to an information molecule. That is a dramatic change. We see BioNTech advancing their cancer platform and Moderna is focused on vaccines going forward.
Vaccine Platform
These paths make good sense based on the nature of each of these companies. For Moderna the value of infectious disease vaccines is obvious and underappreciated by many in the market. First in class vaccines for unmet needs have been huge revenue drivers in big pharmaceutical companies in recent decades.
https://investors.modernatx.com/static-files/4e743767-f381-4ba0-8cff-1fef7dd4bbc3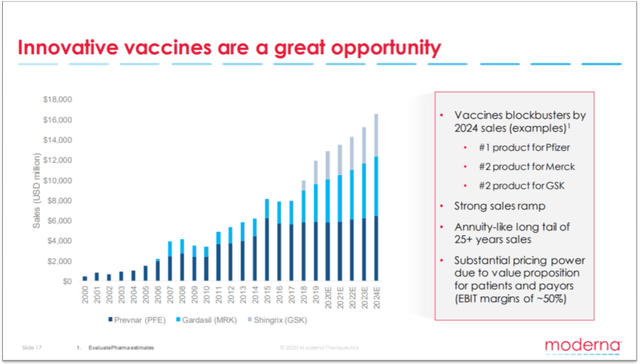 Pfizer's leading drug is Prevnar13 and it's been selling for over 20 years. For Merck, Gardesil has been a big revenue driver for 15 years. And now Glaxo Smith Kline has seen excellent sales for Shindrix. Many investors ignore this success and assume vaccines take too long to approve and have small margins. The margin argument is clearly false and it makes little sense for bears to say in one sentence that mRNA is too expensive and Moderna is price gouging. And then in the next they claim vaccines have narrow margins and fail to generate earnings. Governments around the world are willing customers to Moderna and each bear claim appears false.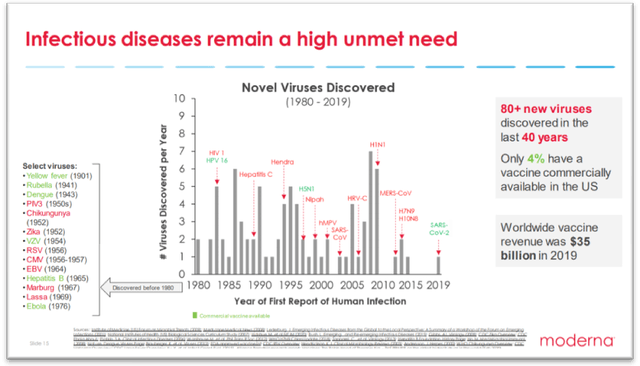 https://investors.modernatx.com/static-files/2931ab42-9a4f-46d1-a7ce-2e1ec499eeb5
But the biggest benefit to vaccines for Moderna is its paved path of reoccurring revenues. They are generating a large number of drug candidates very quickly. 2 Reasons Moderna Will Be a Top Growth Stock in 2021 (SITE)There are a number of unmet needs in the field. The mRNA drug development process and FDA regulatory processes seem streamlined by the COVID experience. And while future drugs will not receive pandemic acceleration the collaboration and regulatory experience should be easier with each new drug for Moderna. The biggest factor is the proof of concept experienced through mRNA-1273. With mRNA proof of concept on display in Covid-19, Moderna plots HIV vaccine moonshot as part of pipeline expansion (SITE)All of the vaccines use the same formation, delivery, and manufacturing processes. Only the gene sequencing changes from vaccine to vaccine. Gene sequencing has become a quick inexpensive process and immunogenicity can be tested early in the investment. Advances in Gene Sequencing Technology Enable Scientists to Respond to the Novel Coronavirus Outbreak in Record Time with Medical Lab Tests, Therapies - Dark Daily . (SITE) Drugs with strong immunogenicity and pre clinical data will have a high probability of success.
Moderna, Inc. (MRNA) CEO Stéphane Bancel Presents at 39th Annual JPMorgan Virtual Healthcare Conference Transcript
. (
SITE
) Such a business model establishes reliable growth with a lesser risk of failure verses tradition drug development.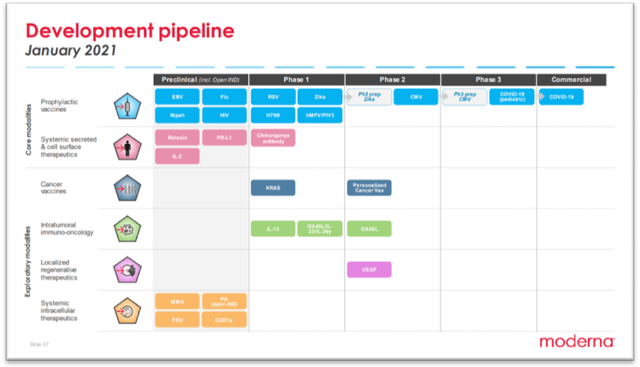 https://investors.modernatx.com/static-files/2931ab42-9a4f-46d1-a7ce-2e1ec499eeb5
Conclusion
Moderna bears endlessly and falsely site valuation as the cornerstone of their case against Moderna. When you understand the revenues already under contract for mRNA-1273 we see the valuation is on firm footing. That could easily rise with increased production; greater yield in manufacturing maturation; and through additional government contracts. Moreover, Moderna's multiples deserve a premium price since the platform and pipeline establishes reliable future drugs with a high chance of success in proven markets with large unmet needs. Moderna is a biotech that has not only reached commercial success in the last month. At this point it shows the ability to be a large pharmaceutical with disruptive innovations that give it great competitive advantages.
Seeking Alpha's Disclosure: Past performance is no guarantee of future results. No recommendation or advice is being given as to whether any investment is suitable for a particular investor. Any views or opinions expressed above may not reflect those of Seeking Alpha as a whole. Seeking Alpha is not a licensed securities dealer, broker or US investment adviser or investment bank. Our analysts are third party authors that include both professional investors and individual investors who may not be licensed or certified by any institute or regulatory body.