Moderna's Defense Against The South African Variant (B.1.351)
Please Note: Blog posts are not selected, edited or screened by Seeking Alpha editors.
Summary
Moderna showed Human Serum from those Vaccinated with mRNA-1273 neutralized the South African Variant (B.1.351).
A Two-dose regimen of the Moderna COVID-19 Vaccine at the 100 µg dose is expected to be protective against all emerging strains detected to date.
Moderna announced a 6.4-fold GMT reduction in antibodies.
Despite this reduction, neutralizing titer levels with B.1.351 remain above levels that are expected to be protective.
Thoroughness of the Moderna Evaluation.
Moderna recently assessed the neutralizing capacity of sera from human subjects or non-human primates (NHPs) that received mRNA-1273. No significant impact on neutralization against the B.1.1.7 variant was detected in either case, however reduced neutralization was measured against the mutations present in B.1.351.  
https://www.biorxiv.org/content/10.1101/2021.01.25.427948v1.full.pdf
Moderna looked at all of the mutations that are characteristic of the B.1.1.7 and B.1.351 variants. Mutations had a similar impact on neutralization when tested in VSV or in lentivirus PsVN assays.  Human vaccine sera against the B.1.351 (South African) variant remained at ~1/300. Geometric Mean Titers were not effected for neutralization against the B.1.1.7. (United Kingdom) variant. Taken together these data demonstrate reduced but still significant neutralization against the full B.1.351 variant following mRNA-1273 vaccination.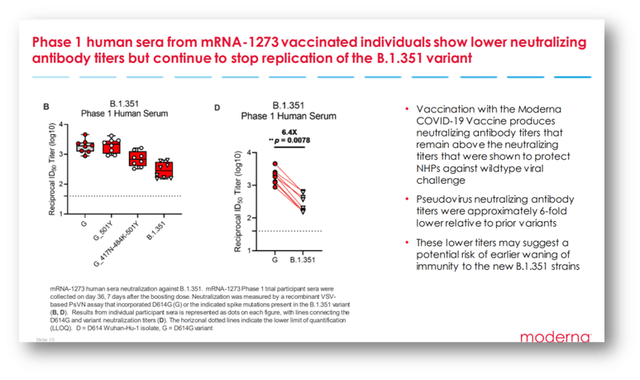 https://investors.modernatx.com/static-files/1f770088-5909-457b-af99-7ff2454ba28a
A Two-dose regimen of the Moderna COVID-19 Vaccine at the 100 µg dose is expected to be protective against all emerging strains detected to date. Two understand Moderna's conclusion it's important to understand the antibody levels of mRNA-1273 and to appreciate the full spectrum of the immune response. The following slide shows the titer level of the two dose vaccine and the effect of a 6.4 reduction in those antibodies. The Blue Lines are the median antibodies resulting from the two dose vaccine in immunogenicity evaluations during  clinical trials. The Gray Line is the median level of Human Convalescent Sera. And the dotted red line is the line adjusted for a 6.4 reduction of antibodies.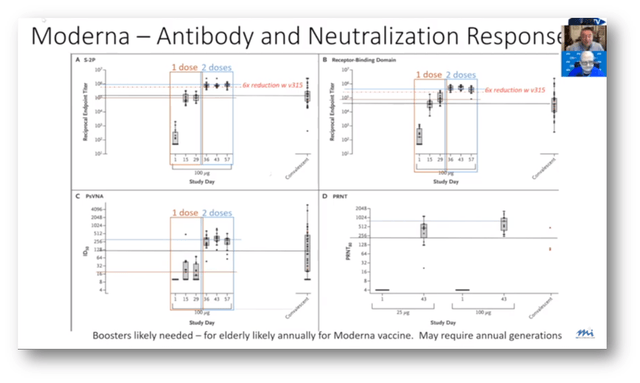 https://youtu.be/ufgAl93WUEk MITechNews.Com
The key here is that the vaccine has a very high level of antibodies to the original variant. The margin for error is reduced but still stays above  Human Convalescent Sera.
The other factor to consider is the full range of the immune response cause by mRNA-1273. The above slide shows that antibodies after the first dose should not be protective. However we saw Moderna's Cumulative Incidence Curve separates after one dose and Day 12. This suggests a protective cellular immune response even before antibodies reach protective levels.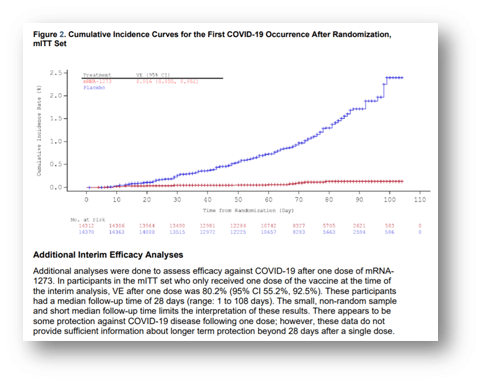 https://www.fda.gov/media/144434/download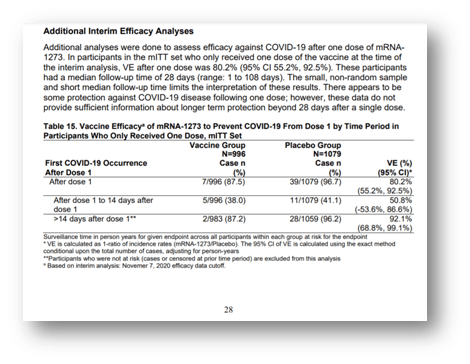 This cellular immunity is an important consideration when determining protection with these variants. Of course without efficacy data for the   B.1.351 (South African) variant the certainty and level of efficacy cannot be fully established. 
One important issue with Moderna's data was the extent of this testing. The South African variant has three key mutations in the Receptor Binding Domain and several other mutations. The combined effect of multiple mutations is key to determining the likelihood of efficacy to a variant. Moderna tested against the all of the mutations in the main variants. The follow slides show the full detail of the Moderna testing.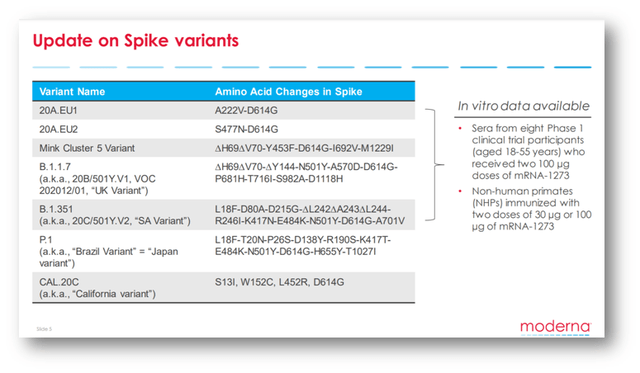 https://investors.modernatx.com/static-files/1f770088-5909-457b-af99-7ff2454ba28a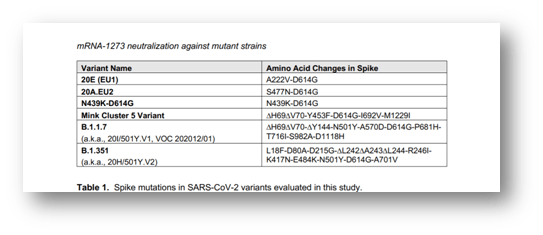 https://www.biorxiv.org/content/10.1101/2021.01.25.427948v1.full.pdf
If you look at the diagram of the Spike and the mutations it shows the importance of the Moderna thoroughness.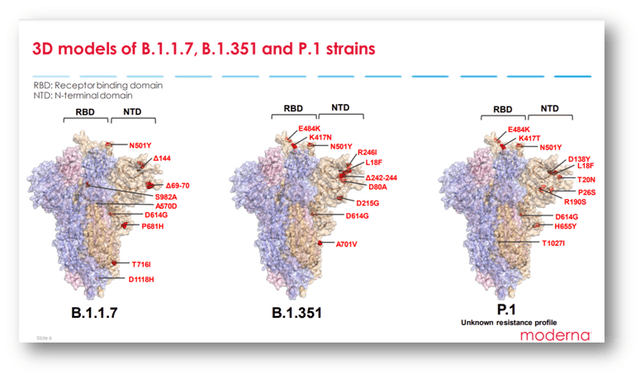 https://investors.modernatx.com/static-files/1f770088-5909-457b-af99-7ff2454ba28a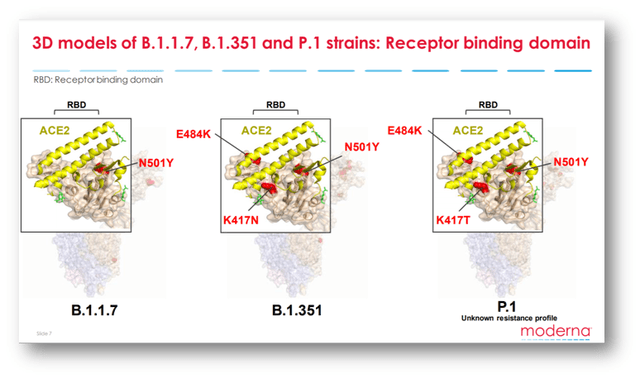 In contrast we can see in the Pfizer study that key mutations were not a part of their evaluation.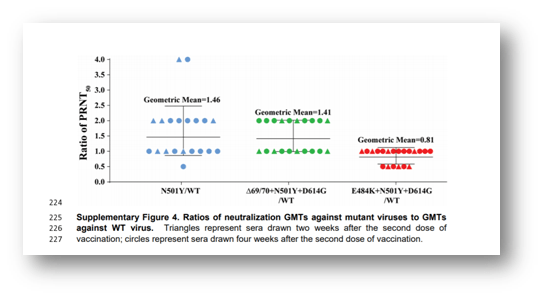 https://www.biorxiv.org/content/10.1101/2021.01.27.427998v1.full.pdf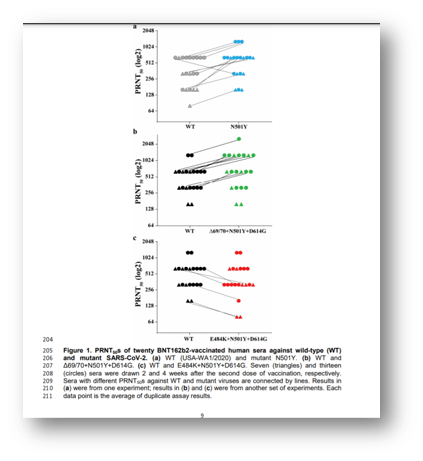 Pfizer noted as a limitation of the current study is that the engineered viruses do not include the full set of spike mutations found in the UK or SA variants.3,4 80 Nevertheless, preserved neutralization of 81 N501Y, Δ69/70+N501Y+D614G, and E484K+N501Y+D614G viruses by BNT162b2 vaccine82 elicited human sera is consistent with preserved neutralization of a panel of 15 pseudoviruses bearing spikes with other single mutations found in circulating SARS-CoV-2 strains.
The problem with their study is mutation K417N is found in the center of the  Receptor Binding Domain. It is a key mutation that would be likely to effect immunogenicity but was not tested.
But one of the key benefits of mRNA is it's ability to address variants quickly. Moderna has already decided to test a booster dose against the South African variant. Pfizer is also creating an antigen to the variant as well. The speed of these projects will partly be determined by the degree of regulation needed by the FDA. An mRNA booster will have the same chemistry in the Lipid Nanoparticle (LNP); the same chemistry in the mRNA; and the synthesis would be the same as well. This could produce a process like annual flu or the FDA may require more details.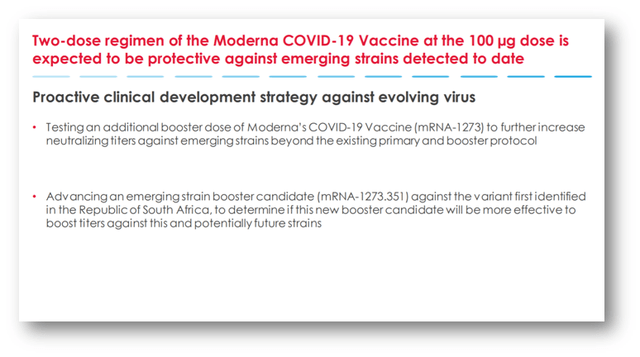 To determine the potential speed it is helpful to
-The NIH announced that the first participant in its Phase 1 study of mRNA-1273 was dosed, a total of 63 days from sequence selection to first human dosing.
-Two months after that Moderna announced positive interim Phase 1 data for mRNA-1273. 
https://www.modernatx.com/modernas-work-potential-vaccine-against-covid-19
These factors suggest Moderna can continue this effort in parallel while using mRNA-1273. By developing mRNA-1273.351 this way Moderna is ensuring they will stay effective against COVID-19 and it's progression. It also will show the superior nature of the technology on this essential issue. All viruses mutate based on three main pressures:
1) Transmission- As a virus moves through a population the transmission that occurs responds to natural selection and will inevitably cause mutations.
2) Within Immunocompromised responses- Individuals that mount a weak response to an infection often are a source of mutations because the virus replicates within the individual longer. This prolonged infection and response creates natural selection pressures within the person that increase the possibility of mutation. 
3) Vaccine Escape- Viruses mutate to escape vaccine immunity to a varying degrees. No vaccine is ever 100% effective. Some virus will mutate to escape vaccination. 
None of these mutations necessarily must occur. But the concern is always present with any virus and the current studies show this will be an issue with SARS-CoV-2. All of the vaccines are likely going to need to progress with changes or boosters to remain effective.
Analyst's Disclosure: I am/we are long MRNA.
Seeking Alpha's Disclosure: Past performance is no guarantee of future results. No recommendation or advice is being given as to whether any investment is suitable for a particular investor. Any views or opinions expressed above may not reflect those of Seeking Alpha as a whole. Seeking Alpha is not a licensed securities dealer, broker or US investment adviser or investment bank. Our analysts are third party authors that include both professional investors and individual investors who may not be licensed or certified by any institute or regulatory body.