In my earlier writings about Moly I was very critical of the lack of transparency. I felt the stock was vague about it's development and primarly riding trader interest based on the increases in China FOB rare earth prices.
I was very pleased with the Molycorp Q2 2011 Earnings Call because it had a Q & A with tough questions for the first time. I was further encouraged that Smith explained that Hitachi had agreed to a longterm supply agreement, but was exiting the joint venture plans to persue a Hitachi magnets plant in the United States on their own. Finally, I found Smith's willingness to discuss the challenges to the Sumitomo deal refreshing and candid. Moly is not perfect and it does not need to be. But it does need to be more transparent to be investable in my opinion.
So now the key issue remaining is the full picture for the Phoenix project. Smith says the project is "on time and on budget". That is good news, but junior investing has taught me sckepticism towards "on time and on budget". Essentially I would say we are all on time and on buget in this world as investors until we are too late or margin called. That's not a knock on Molycorp, rather it is a knock on mining stocks in general.
With that thought in mind, the next issue is what hurts a project's timeliness and budget? From my experience as an investor I would say the biggest factor within the company's control is engineering. Engineering is a hugh issue in rare earth investing. Rare earth mining is essentially two businesses in one. It is the extraction mining with a concentration element like alot of metal mining. But then it also requires a specialty chemical processing plant to seperate the different oxides from the concentrate. In each case this is a multi-step process often influenced by the unique geology and contaminants in the the minerals of every mine. And if that was not enough there is frequently a waste issue involving radioactivity.
Molycorp has some help on this issue since they process bastnasite ore that is lower in radioactive thorium. But for Molycorp to get the heavier Lanthanide elements they will likely need to process the monazite at Mountain Pass in their tailings and pit. This step will most likely create a thorium issue, but for now they can address that issue later.
Now if all of this is not ambitious enough for you Molycorp has taken the additional step of wanting to own a manufacturing business as well. They hope to mine the elements; seperate them into oxides, combine the oxides into alloys; make the metals; and finally produce the magnets end users use in the high technology products we use in portable and green energy devices everyday. Give them credit, as true Americans they dream big; and as a fellow American I love that part of Molycorp.
But as an investor I have to put my money in a project that will work and will complete more or less as scheduled. Delays and additional costs hurt a junior stock price. And while Molycorp is a past and current producer with earnings, Project Phoenix is still the key to Molycorps stock price and business model.
The nearest comparison to Molycorp's Project Phoenix may be the Lynas Corporation's Mt. Weld Concentrator and Lynas Advanced Materials Plant combined. The Lynas Corporation has two seperate projects working together. They have completed the Mt Weld mine and the concentrator within 1.5 kilometers is running and currently producing 36% REO concentrate. Lynas plans to truck this concentrate from Wt. Weld near Laverton, Western Australia to Fremantle (a port near Perth) in WA. From there they will ship the concentrate to the Gebang industrial park in Kuantan, Malaysia. This is where the Lynas Advanced Materials Plant (LAMP then processes the plant into concentrate. The LAMP is scheduled to start producing 11,000 tonnes per annum of rare earth oxides at the end of the year. And the modular plant is already building a second phase that should double that production capacity to 22,000 tpa of rare earth oxides.
This may seem like an elaborate model but it is actually simple compared to Molycorp's Project Phoenix. Project Phoenix will all be located at the Mountain Pass mine site but it has several new technologies that do not exist in the rare earth industry. They plan to eiliminate the use of flotation ponds in the concentration process and use half the ore to achieve the same recoveries as they did in the past. On the processing side they want to recycle reagents and use only one acid and one base in the process. They also plan to recycle almost all of the waste water they use and have a second power generation system on site. And if all of this is not enough, they intend to produce twice the rare earth oxide that they made before the plant shut down years ago.
So, can Molycorp do all of this? The best answer is maybe. But the bigger question to investors is can they do it on time and on budget? Here I am a doubter. Lynas in September of 20010 included the following slide in a presentation: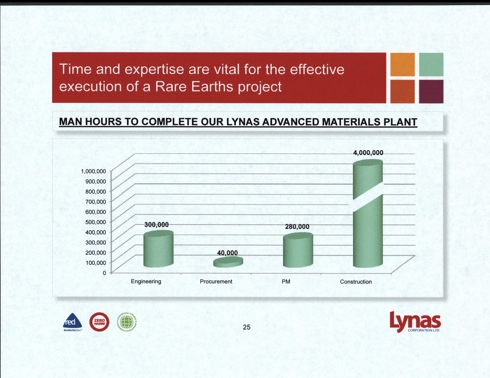 The slide shows just the man hours involved in Lynas Corporations processing plant project alone. It also shows 300,000 man hours of engineering to build a processing plant using established technology provided by Rhodia (a French company currently seperating rare earths in China). That is a lot of man hours and engineering for a simpler project using established technologies. And while the LAMP construction is new, the planning has been in the works for many years.
So why can't Molycorp jut do more than Lynas? Well, they can. But to do it the planning should be greater and very likely a greater number of man hours will be required. And on projects this size two critical considerations need to be accounted for at every stage: 1) Cost and building efficiencies need to be maintained and; 2) Bottlenecks and operational problems need to be avoided. The best way to acheive these two critical elements is to have as much engineering planned out in advance of project construct.
This is the first red flag I see with the Project Phoenix construction. Molycorp has provided no flow charts, processing diagrams or details of the final Phoenix operations. The best we can find the following Project Risk Managent slide from their April 2011 Analyst Day presentation: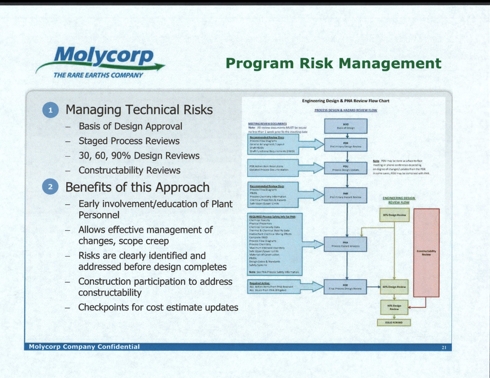 The slide shows how engineering will apply to construction of Project Phoenix in a way designed to manage project risk. But with vague information about the final engineering of Project Phoenix one has to be concerned about this engineering approach. If anything is a miss after construction is progressing, redesigns or other changes can be very expensive and time consuming. The above slide is designed to address those concerns. But let's blow up the right side diagram and take a closer look: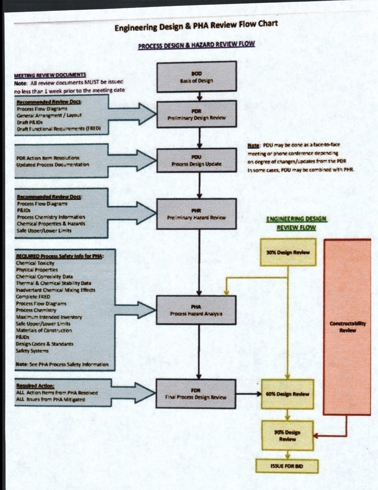 www.commodityintelligence.com/images/201...
(Slide 21)
I know this is small print but the point is key. The chart is very general and suggests a lot of the engineering will be taking place while the project is being built. That is big trouble from an investor perspective. The idea that these guys are building a $750 million dollar project and doing this much engineering "on the fly" is impossible for me to accept. I cannot see such a project avoiding several redesigns. I also think delays are likely due to certain parts of the project waiting on other parts. These are elaborate systems feeding into each other are bound to create bottlenecks during construction. And unless there is much greater tranparency going forward, it will be near impossible to guage Moly's progress on this issue.