Note: all valuation and pricing figures updated as of January 7th, 2011. Time-charter rates, ship resale values and commodity demand estimates from Clarksons, a well respected shipping data provider and brokerage. Forward freight agreement pricing (FFA pricing) from Baltic Exchange.

Genco Shipping (ticker: GNK US) is an overvalued, overleveraged stock operating in an industry with significant risk to the downside. The Company currently owns 49 dry-bulk spread across various vessel sizes. Genco also has 4 vessels on order that should be delivered by Q3 2011. Lastly, Genco has a 25% stake in a fully consolidated, publically traded subsidiary called Baltic Trading (ticker: BALT US). BALT owns a fleet of 9 dry-bulk vessels.
– The dry-bulk industry is structurally oversupplied and will become increasingly challenged over the next few years. A healthy demand environment has led to step-wise growth in new shipyard capacity, which in turn has led to a surge in the pace of fleet expansion. The size of the existing order-book and current shipyard capacity ensures that the market will remain over-supplied under almost any commodity demand scenario.
– Imbalanced fundamentals are already putting tremendous pressure on dry-bulk freight rates. The Baltic Dry Index (a measure of spot freight rates) is down 50% from early September 2010, a period that corresponds with one of the largest deliveries of dry-bulk vessels on record. Long term charter rates are down significantly as well; clear indicator the market does not view this as a temporary issue.
– Genco's earnings are poised to fall dramatically as its vessels roll-off of long-term charters that were put in place before the financial crisis. Many of these ships are earning rates that are more than 2x current market rates. As these ships roll-off into the weakened market, Genco's earnings will fall from $4.20 per share in 2010 to $0.62 in 2012, or a drop of 85% (assuming ships are re-charted at current 1-year charter rates). Genco is currently trading at 25x 2012 EPS.
– Genco's debt covenants and mandatory amortization schedule means the Company will not be paying a dividend or buying back share for the foreseeable future.
– US analysts are positive on Genco, partly because a persistently bullish view on the dry-bulk market. However, the market has continued to weaken and today some of these estimates are implying near term rates that are over 80% above the dry-bulk futures market. These estimates are now so far from reality that they will have to be adjusted downward.
– In a generally unnoticed move, Genco has decided to completely reverse from its stated operating strategy and move its ships from safe, stable long-term time charters onto the spot market. This move was made despite the Company's significant fixed cost base and current industry headwinds.
– As Genco's fleet rolls off of charter coverage, its financial performance will become increasingly sensitive to freight rates. Greater spot exposure, coupled with its over-levered balance sheet means that even a 10% further drop in freight rates in the next few years could put the Company at going concern risk.
– Catalysts are in place to drive a re-rating of Genco
;
1)
continued deterioration in industry fundamentals
2)
awareness that Genco diverged from its stated operating strategy as it puts more and more of its expiring time-charter ships onto the spot market
3)
continued deterioration in financial performance because of point #1 and #2
4)
analyst estimate re-rating that are more inline with where the market is today
5)
issues with debt covenants, especially its 5.5x total leverage covenant
6)
insufficient cash flow coverage on mandatory debt repayment schedule
7)
realization that Genco will not return cash (dividends or buybacks) to shareholders for the foreseeable future.

The dry-bulk industry is experiencing substantial and increasing headwinds due to structural factors including oversupply

Exhibit 1A: Dry-bulk historical and projected supply/demand balance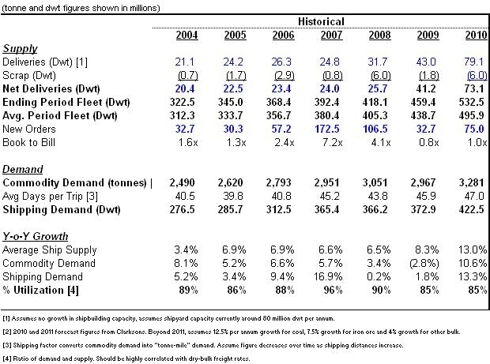 Exhibit 1B: Dry-bulk historical and projected supply/demand balance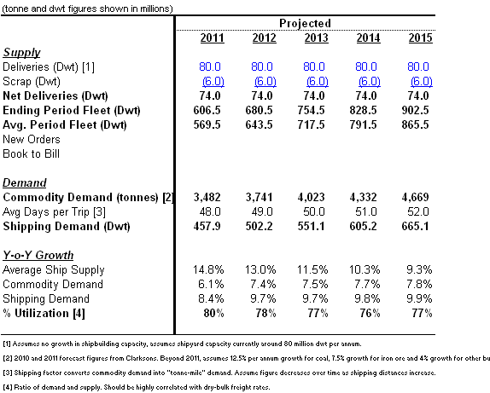 Dry-bulk vessels are used to transport commodities such as iron ore, coal, grains, minerals, forest products and other dry cargoes throughout the globe. For at least the past 5 years dry-bulk shipping has been supported by surging demand for coal and iron ore. The primary driver for this demand has been China. Today, Chinese demand for iron ore, coal and other dry-bulk commodities continues to remain strong and has recovered to above pre-recession levels. In the several years leading up to the financial crisis, the shipping industry was unprepared for the growth in Chinese demand. Shipyards were producing at full capacity, but this capacity could not keep up with 10%+ per annum demand growth. As a result, freight rates surged, thereby driving increased investment in new ships and new shipyard capacity. Today, shipyard capacity has increased dramatically, as evidenced by the fact that four times more ships were produced in 2010 than in 2004. There is now enough shipyard capacity to ensure the market remains fully supplied even if demand grows at 12% per year for the next 5 years. To put this figure in perspective, in the five years from 2005 to 2010, dry-bulk tonne mile demand (actual commodity demand plus changes in shipping distances) increased at an annualized rate of 8% per year. The effect of supply outstripping demand will lower utilization over time. This will ultimately lead to lower freight rates. Lower utilization is already being reflected in the freight rate markets. In 2009, Capesize freight rates averaged $42,000 per day. In 2010, Capesize rates dropped to $33,000 today. Today, Capesize futures market is pricing in a drop to just under $20,000 per day for 2011.

Dry-bulk oversupply is likely to continue because the problems facing the industry are structural. One of the most important factors in this structural oversupply has been the growth of shipbuilding capacity, and in particular Chinese shipbuilding capacity. Prior to 2008, China was a minor player in the shipbuilding industry. Today, China has moved ahead of Japan and South Korea to become the world's largest shipbuilder. Many of these shipyards were built in the years leading up to the recession. At the time, capacity expansion made sense because shipyard production could not keep up with demand. However, the lag-time to complete a new shipyard means much of this new capacity is coming online today, in a market that is vastly oversupplied. Moreover, the emergence of Chinese shipbuilders is important because these shipyards appear willing to build ships even though the market is clearly oversupplied. As shipbuilding is an important source of employment and an important user of Chinese produced steel, the central government has taken a number of steps to support the industry. These measures include attractive financing from Chinaexim Bank (State backed import/export bank) to buyers of Chinese dry-bulk vessels, attractive financing for new yard construction and speedy new yard permit approvals to state backed and "key enterprise" yards (see IPO of China Rongsheng). These measures are designed to, and have succeeded at, ensuring shipyards keep their production lines full. Going forward there is every reason to believe that these shipyards will continue delivering new ships and taking new orders, even as the oversupply issues become more clear.

Structural oversupply is also evidenced by the booming market for new ship orders. Prior to the financial crisis, new ship ordering greatly exceeded new deliveries. This lead to an average book to bill ratio (ratio of new orders to new deliveries) of 3.3x. Today, new ship ordering has slowed down, but by the end of 2010 was roughly equivalent to the volume of delivered ships. The current book to bill ratio of 1.0x will ensure shipyards have enough orders to continue producing at current rates. While ordering more ships into an already oversupplied market may seem irrational, it makes strategic sense for others. Vale, which is the largest iron ore producer in the world, is also one of the largest customers of dry-bulk shipping. During the run-up in commodities prices in 2008, Vale gave up a substantial portion of its iron ore margins to shipping costs. To counteract this issue going forward, Vale implemented a plan to exert greater control over its shipping supply chain. A core part of that strategy is to create, own and operate one of the largest dry-bulk fleets in the world. New ships, called Very Large Order Carriers will help Vale achieve this goal. These vessels, which will be delivered beginning in 2011, will be the largest dry-bulk vessel ever built. When the deliveries are completed, Vale will have flooded one of the most important dry-bulk routes, Brazil to China, with extra tonnage. While Vale stands as a stark example of continued ordering into an over-supplied market, there are other participants as well. Other iron ore producers, coal producers, steel mills and power plants have also recently placed new shipbuilding orders. As with Vale, these strategic operators have other objectives that would see them benefit from lower freight rates.

Genco's financial performance is set to deteriorate

The deterioration in freight rates has not yet affected Genco because it has historically fixed its fleet on long-term charters. Many of these charters were entered into before the financial crisis and are earnings rates that are more than two times what they would earn today. However, these ships are now coming off their charters and will be entering into a much weaker market. By Q1 2011, 21 out of Genco's 49 ships (43% of its fleet) will be facing exposure at current market rates. By the end of 2011 that number increases to 86% of Genco's fleet.

Exhibit 2: Genco's Spot Market Exposure

Genco's financial performance will continue to deteriorate as more of its ships roll-off charter. The table below illustrates how Genco's financial performance will trend as its ships come off charter. These figures assume ships coming off charter will earn the current 1-year time charter rate for the vessels size class and age.
Note that these figures do not assume any further deterioration in the dry-bulk market.

Exhibit 3: Genco Current Valuation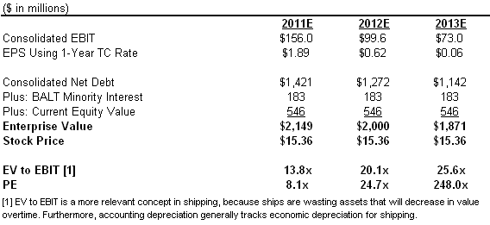 There has been a major shift in Genco's core chartering strategy, dramatically increasing the Company's risk profile

Historically, Genco has sought to maintain long-term charter coverage on 75%+ of its fleet. As recently as November 2010, the Company reaffirmed its intention of fixing a significant portion of its fleet for the next fiscal year.

"…our goal for next year is to, the original strategy of Genco to get to the 70%, 75% fix, that hasn't changed…" (John Wobensmith, Genco Shipping – CFO, Q3 2010 Earnings Call)

Genco's charter coverage, is what gave investors and lenders confidence that the Company would have enough cash flow to service is large debt load and possibly pay a dividend. In fact, in 2010 Genco IPO'ed its subsidiary, Baltic Trading, specifically so it could have a company that utilized a spot exposed / no leverage strategy. At the time, the market view was that a spot exposed company should carry no leverage, due to the shipping market's notorious volatility. However, it now appears Genco has dramatically shifting its charter strategy. 2010 was, and 2011 will be, a watershed year for Genco. Many of Genco's ships were put onto long-term charter pre financial crisis boom. Today, those ships are coming off charter. If Genco were to continue with its stated strategy (re-affirmed in November), it would fix 75%+ of expiring vessels on long-term charter. Instead, the Company has decided to gamble with it stakeholders' money and play the short-term charter and spot markets. For example, Genco had 17 ships came off charter in Q4 2010. Many of these ships came off charters that were put in place in 2007/early 2008. Out of 17 ships, ZERO were placed on charters lasting more than one year. A few ships were placed on one-year index charter, which guarantees employment, but is essentially spot market exposure (since the rate is indexed off of the Baltic Exchange spot rate). The rest were either short term extensions of expiring charters, or 1 to 3 month trip/time charters. By the end of Q1 2011, many of these ships will need to get re-chartered. By then another nine ships (in addition the 12 from Q4) will be coming off charter, meaning 43% of Genco's fleet will need to be re-chartered by Q1 2011. By the end of 2011 even more ships will come off charter, resulting in 86% of their fleet needing to be re-chartered. No matter how you look at it Genco does NOT have 70% to 75% of its fleet fixed for 2011. Instead, the Company has massive spot exposure. Perhaps not surprisingly, Baltic Trading has also decided to change its core strategy. Though the Company explicitly stated the following in its S-1…

"We expect to finance our fleet primarily with equity capital and to utilize little to no leverage, and we intend to enter into a revolving credit facility for bridge financing for acquisitions." (Baltic Trading, S-1, March 2010)  

…it now carries a permanent debt facility because it was unable to refinance a bridge loan. Clearly, having an actual strategy that runs counter to stated strategy is normal operating procedure for Genco and Baltic Trading.

Analyst estimates have not been updated to reflect substantial deterioration in the spot, time charter and FFA markets

US based equity analysts are bullish on Genco Shipping. Most have buy ratings on the stock, none have a sell rate. Underpinning the bullishness on this name are freight rate estimates that are far above current market levels and levels implied by the FFA market and the time charter market. The table below details 2011 freight rate forecasts for a sampling of Genco analysts.  Note that all three analysts have "buy" ratings on Genco, I was not able to obtain detailed freight rate estimate for other analysts. On average, sample analyst estimates for 2011 are 27% above current 1-year time charter rates and 40% above current 2011 FFA rate. Most analysts last updated their freight rate forecasts in early November. Given the market has continued to slide, a downward revision should be expected prior to Genco's Q4 earnings release in late February / early March 2011.

Exhibit 4: 2011 Analyst Forecast versus Current Market Rate

A recalibration of analyst estimates could have a meaningful near term impact on the markets view of Genco. The table below compares two cases for Q1 and Q2 2011. The first assumes Genco puts its expiring vessels into 1-year time-charters at current market rates. The second assumes consensus estimates. The table clearly shows that at current market rates Genco should be earning 12% less than consensus in Q1 2011 and 27% less than consensus in Q2 2011.

Exhibit 5: Quarterly Forecast versus Consensus Estimates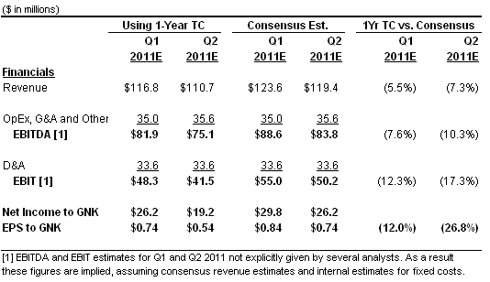 Genco may have difficulty staying compliant with debt covenants and current with required debt amortization

Genco has a significant debt load that comes with a number of financial covenants and large amortization requirements. Genco has three primary credit facilities, each with a number of covenants. All three facilities have a consolidated net debt to EBITDA covenant of 5.5x and interest coverage covenant of 2.0x. Genco's primary lenders include DnB NordBank ASA, Crédit Agricole, Skandinaviska Enskilda Banken AB, BNP Paribas, DVB Bank SE and Deutsche Bank. The impact from the roll-off of Genco's above market charters will increase its leverage profile over the next several years. The table below illustrates how the Company's leverage will trend through 2013. Also shown is how its leverage increases with decreases in freight rates. Should Genco breach a covenant, it will have difficulty negotiating a cure due to the number of facilities and lender that the Company would have to deal with.

Exhibit 6: Projected Total Net Debt to EBITDA
 

 

 

 

At Current 1-Year Time-Charter Rate

 

 

 
Genco's credit facilities also come with significant required repayment schedules. Genco will have mandatory debt repayments of $77 million in 2011, $184 million in 2012 and $220 million in 2013. These repayments are significant relative to its free cash flow. At the very least these repayments will likely mean Genco will not be paying a dividend or buying back shares for the foreseeable future. Also, as with its debt covenants, Genco's ability to meet mandatory amortization is highly sensitive to freight rates. Should the market slip further, the Company's ability to continue meeting its rigorous amortization schedule will be questionable.  

A further slip in freight rates would create a going-concern risk for Genco
Genco's financial performance is highly sensitive to freight rates. The Company's large fixed cost base (including interest) means even a 10% move in freight rates can more than double earnings per share. The figures below illustrate how Genco's earnings move with freight rates.

Exhibit 7: Genco Projected Earnings Sensitivity
 

 

 

20% Above Current 1Yr TC Rate

 

10% Above Current 1Yr TC Rate

 

 

 

10% Below Current 1Yr TC Rate

 

20% Below Current 1Yr TC Rate

 

 

 

 

 

 

 

 

 

 

 

20% Above Current 1Yr TC Rate

 

10% Above Current 1Yr TC Rate

 

 

 

10% Below Current 1Yr TC Rate

 

20% Below Current 1Yr TC Rate

 

Genco is trading at a significant premium to its liquidation value

Genco is also trading at a premium to its liquidation value. The table below estimates what Genco could be worth today in liquidation. The resale values are from Clarksons. They are updated as of December 31, 2010 and take into account vessel class, size (within each class) and age.

Exhibit 8: Liquidation Value Analysis
 

 

 

 

 

 

 

 

 

 

 

 

 

 

 

Plus: BALT Investment [2]

 

 

Plus: Jinhui Investment [3]

 

 

Less: Additional Vessel Contributions [4]

 

 

 

 

 

 

 

Implied Liquidation Price

 

 

 

 

 

 

 

[1] Values are estimates provided by Clarksons.

 

[2] Represents current public market value for GNK's stake in Baltic Trading.

[3] Represents current public market value for GNK's stake in Jinhui.

[4] Represents additional cash GNK will have to deposit for on order vessels.

Two important things to note about the liquidation analysis; 1) the resale values used are meant for single asset sales. Genco might get lower rates in a wholesale liquidation and 2) current resale values are high relative to current charter rates. On the second point, a modern, 2nd hand Capesize currently trades at over 6.5x annual revenue (when using 1-year time-charter rate). This roughly comes out to a pre-tax equity return of about 7% assuming 50% LTV financing, 10-year charter at $24,240 and resale value of 50% of purchase price. Over the past twenty years, the average vessel price to annual revenue multiple has averaged closer to 4x and pre-tax equity returns closer to 15% using the same financing assumptions.
Genco's high leverage means its equity liquidation value is highly sensitive to vessel resale values. The table below shows how sensitive Genco's equity value is to small changes in ship resale values.

Exhibit 9: Liquidation Value Sensitivity
Target Valuation

Genco's financial performance should continue to deteriorate through 2013, when the last of its pre-recession charters rolls off. Using current 1-year time charter rates for ships that roll off, Genco should essentially be breakeven in 2013. From 2014 onward, Genco's financial performance should begin to improve as it continues to pay-down debt. Given the length of time it will take for Genco's earnings to trough and begin rising again, a DCF is the most appropriate way to value the Company. The following assumptions were made to come to a DCF value for Genco:

– Revenue assumes current 5-year time charter rates as provided by Clarksons. Uses forecasted projections through 2013 (factors in the impact of existing, above market charters).

– 20 year life for Genco ships. On average, Genco's ships are 5 years old, so analysis uses a 15 year DCF. Assumes ships are sold for scrap value (~$400 per light weight tonne) at the end of 20 years.

– Cost of capital assumptions: Risk free rate using 15 year swap rate, average cost of debt assumed to be 250bps over LIBOR, projected beta inline with historical beta.

– DCF values Genco at $8.85 per share, or 42% below current trading value.

DCF valuation of $8.85 per share would imply a 14x PE multiple off of 2012 EPS. It would also imply a 7.5x EV to EBITDA multiple and an 18x EV to EBIT multiple for 2012.
Disclosure:
I am short
GNK
.