Sotheby's Stock Price: The World's Best Overconfidence Indicator?
Sotheby's as an art / risk / discretionary appetite indicator
From <http://blogs.cfainstitute.org/investor/2012/12/17/sothebys-the-worlds-best-overconfidence-indicator/>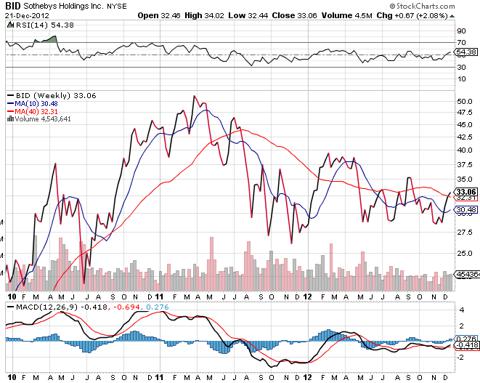 Rich managers, poor clients. Investors have paid too much for hedge-fund expertise. Better to focus on low costs than star fund managers:
If the outlook for returns in both equities and bonds is subdued, investors should concentrate on the one factor they can control: costs.
From <http://www.economist.com/news/leaders/21568740-investors-have-paid-too-much-hedge-fund-expertise-better-focus-low-costs-star?fsrc=scn/tw_ec/rich_managers_poor_clients>
The Paradox of Skill: Why Greater Skill Leads to More Luck By Michael J. Mauboussin
From <http://changethis.com/manifesto/show/100.03.SuccessEquation>
DAVID ROSENBERG PRESENTS: 34 Charts You Must See Before Making A Move In 2013
Mamta Badkar | Dec. 21, 2012
From <http://www.businessinsider.com/david-rosenberg-2013-investment-outlook-2012-12#>
David Rosenberg Presents 10 Things In The Economy That Are 'Nearly-Certain'
Mamta Badkar | Dec. 19, 2012
From <http://www.businessinsider.com/rosenberg-10-near-certainties-2012-12>
Japan
Popular idea of two trades in one: long Japanese stocks, short the yen, can be expressed with $DXJ: