A Simple Trading Strategy To Seek Out Undervalued Stocks Combining Both Fundamental And Technical Analysis...

By Shiraz Lakhi - Self Directed Trader/Publisher

One of the core trading strategies we regularly bring into play involves a simple, common-sense mix of both fundamental and technical analysis, designed to seek out strongly trending, undervalued stocks...

By applying a precise 4-point screening criteria, we look for stocks with a PEG ratio of less than 1, a Price-To-Cash-Flow ratio of less than 10, consistently proven year-on-year earnings growth, and a strong rising technical trend. This allows us to quickly drill down from over 5,000 stocks to around 20-30 key stocks we can practically focus on...

To apply these simple rules and check which stocks are in play right now, go directly to the stock scanner, click on 'Screener' at the top of the screen, then click 'All' (last of the 4 tabs). Select the following rules into the scanner, save them (under 'My Presets') and you can check any time for the latest trading opportunities based on these key parameters...

1: First and foremost, a stock must exhibit a Price-Earnings-To-Growth (NYSE:PEG) ratio of less than 1. The PEG ratio measures the stock price 'relative' to the company's expected earnings growth. When the PEG ratio for a company is significantly below 1 (relative to it's industry average), the stock is confirmed 'undervalued' and is shortlisted for the next step...

2: Secondly, the stock must exhibit a Price-To-Free-Cash-Flow (P/FCF) ratio of less than 10, which tells us that the company generates free cash flow (net cash after all expenses) of at least 10% of it's market capitalization, further solidifying the undervalue opinion on the stock. This key ratio provides a superior insight into a business than earnings alone...

3: Thirdly, the company must maintain a consistent track record of growth, with proven, positive earnings growth year-on-year...

4: Finally, once these core metrics are entered into the stock screener, we usually see around 40-50 results - only at this point do we engage technical-analysis/study on each of these stocks, to isolate the specific stocks which exhibit a robust, rising underlying trend...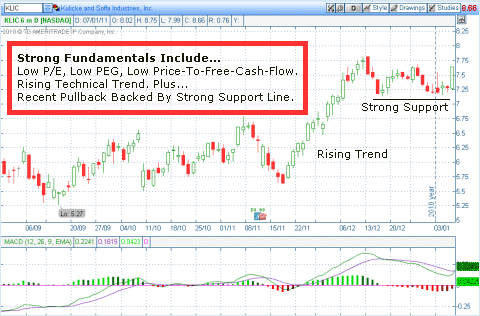 The snapshot above shows KLIC on our radar today. This stock clearly meets our 4-point criteria, currently trading at a PEG ratio of 0.33 (significantly below 1, making the stock heavily undervalued). This year's EPS was up over 280%. The stock trades at a P/FCF ratio of an exceptional 7.73. Also note the strong technical bias to the upside (with strong support at $7.15). This places KLIC firmly within our radar...

Our objective with this trading strategy is to firstly zero in on only fundamentally superior 'undervalued' stocks. Technical analysis is then applied as a means to better 'time' our entries/exits...

Wishing you every success in your investments... and good spirit...
Shiraz Lakhi - Self-Drected Trader/Publisher

Enterprise Value/Free-Cash-Flow Data Sourced From Yahoo Finance. Stock Price, Technical & Performance Analytics Sourced From TradePilot. View Shiraz Lakhi's Daily Trading Blog Here (Latest Articles Based On FCF/EV Yield).