By Shiraz Lakhi - Many investors who follow my
articles
and trade ideas here on SA will know I look primarily for strong free-cash-flow-yield metrics, as a basic starting point for potential plays - preferably within a 'sector' which has become technically oversold.
One such company which appears on my radar today, is Vishay Intertechnology Inc. (NYSE:
VSH
). This broad line semiconductor  company currently generates leveraged-free-cash-flow of $381.36 million on a trailing 12 month basis. The last trading session valued the business (Enterprise Value) at $2.02 Billion, hence returning a
significant free-cash-flow-yield
(FCF/EV) of 18.8%.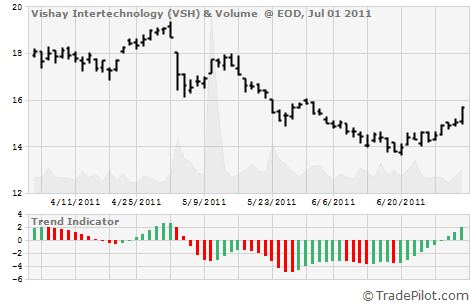 Additional metrics in favor of VSH include: a low PEG ratio of 0.62 and consensus analyst mean target price of $20.50 (significantly above the current price). VSH currently trades at $15.70 per share, 24% below analyst estimates and around 129% above its 52 week low.
Note the emphasis on the
free-cash-flow-yield
. This simple to calculate metric measures the Free-Cash-Flow (or FCF) generated by a business, divided by the Enterprise-Value (or EV) of the company. The FCF is a superior, more accurate reflection of a company's ability to generate profits than the basic, out-dated 'earnings' or 'EBITDA' figure, which is often prone to tactical/questionable accounting...
Similarly, the EV is a superior, more authentic reflection of the true worth of a company, than the commonly used 'market-cap' figure, which most retail investors take at face value. The EV, in simple terms, takes into account the company's debts and cash holdings, effectively 'revaluing' the business based on what a potential acquirer would theoretically pay, in other words, the true value of a business.
Hence, by dividing FCF by EV, we arrive at the free-cash-flow-yield. It is the percentage of true net income a company generates relative to its true overall value. The higher the yield, the more potentially undervalued the stock.
Moreover, the yield provides an excellent basis for comparison of competing stocks within the same industry/sector, and forms a solid basis (starting point) for further analysis into a specific company...
For instance, a stock offering a high (minimum 10%) free-cash-flow-yield, in addition to positive metrics, such as a low price-to-earnings-growth (or PEG) ratio, bullish analyst estimates, increased insider and institutional (smart money) buying, management competence (entrepreneurialism, innovation and drive), provision of a product (or service) within a growth market, all provide weight to strong upside potential.
With fundamentals in favor of VSH, I look to 'time' my entry into the stock. Here, a simple rule is adopted - to trade when the 'sector' for the specific stock (in this case, the technology sector (NYSEARCA:
XLK
) becomes oversold, and exhibits multiple technical buy-long signals...
A simple sector based technical analysis indicator, such as the 'Technology Sector Trend-Indicator', freely available at tradepilot, is applied - where for example, if I am looking at selective stocks within this sector, I wait for the
Trend-Indicator to become oversold
, and to signal a fresh reversal/new green-bar 'long' signal.
The timing method effectively reconciles 'both' fundamentals and technical analysis into a disciplined stock selection and entry process - knowing 'which' stocks to focus on, and 'when' to buy them.
By
Shiraz Lakhi
- Independent Investor/Entrepreneur
Enterprise Value/Free-Cash-Flow Data Sourced From Yahoo Finance. Stock Data & Performance Analytics Sourced From TradePilot.com.