By Shiraz Lakhi - Many investors who follow my
articles
and trade ideas here on SA will know I look primarily for
strong free-cash-flow-yield
metrics, as a basic starting point for potential plays - preferably within a 'sector' which has become technically oversold.
One such company which appears on my radar today, is Kulicke & Soffa Industries (NASDAQ:
KLIC
). This semiconductor equipment and materials company currently generates leveraged-free-cash-flow of $89.43 million on a trailing 12 month basis. The last trading session valued the business (Enterprise Value) at $641.44 million, hence returning a significant free-cash-flow-yield (FCF/EV) of 13.9%.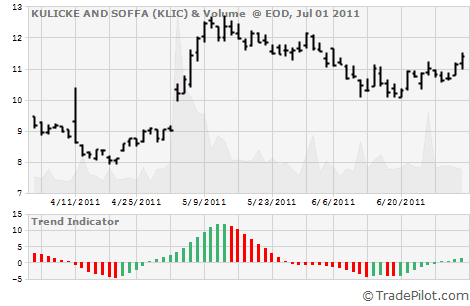 Additional metrics in favor of KLIC include: a low PEG ratio of 0.39, a quick-ratio of 3.24 (strongly bullish), and a current-ratio of 3.82 (strongly bullish). KLIC currently trades at $11.41 per share, around 116% above its 52 week low.
With fundamentals in favor of KLIC, I look to time my entry into the stock. Here, a simple rule is adopted - to trade when the sector for the specific stock (in this case, the technology sector (NYSEARCA:
XLK
) becomes oversold, and exhibits multiple technical buy-long signals.
A simple sector based technical analysis indicator, such as the
Technology Sector Trend-Indicator
, freely available at tradepilot, is applied - where for example, if I am looking at selective stocks within this sector, I wait for the Trend-Indicator to become oversold, and to signal a fresh reversal/new green-bar long signal.
The timing method effectively reconciles 'both' fundamentals and technical analysis into a disciplined stock selection and entry process - knowing 'which' stocks to focus on, and 'when' to buy them.
By
Shiraz Lakhi
- Indenpendent Investor/Entrepreneur
Enterprise Value/Free-Cash-Flow Data Sourced From Yahoo Finance. Stock Data & Performance Analytics Sourced From TradePilot.com.