Value Stock Screening - Growth Stocks Trading Below Book Value
By Shiraz Lakhi
Often times, a good business with consistent sales growth, operating margin growth, strong free cash flow yields relative to industry peers, low debt, and a capable management team delivering year-on-year ROIC growth, can get beaten down with the rest of the market due to macro fundamentals - the wider economy undergoing a necessary correction - or something more fundamental/structural within the business.
One of the key objectives in developing our own in-house stock screener was to provide investors with the ability to combine fundamental screening rules (identifying quality businesses, exhibiting strong value and growth fundamentals), with 'value' ratios (eg., price/book ratio, price/free-cash-flow, etc.), in order to shortlist companies which may have become potentially undervalued.
In this article, I will run through a simple, example stock screen which combines both fundamental 'qualitative' screening rules together with the price/book value ratio. The goal is to identify growth companies currently trading below book value.
Screening Rules:
Selected Sector: All Sectors (Excluding Financials)
Market Capitalization: More Than $50 Million
Average Volume: More Than 30,000 Shares/Day
Company Universe: US Listed Companies Only
Sales Growth: Quarter/Previous Year Quarter Growth
Operating Margin: Quarter/Previous Year Quarter Growth
Price/Book Ratio: Below 1.0
Debt/Equity Ratio: Below 1.0
Results are ranked (sort-order) by lowest Price/Book ratio first.
Note that the resulting list of stocks do not imply any investment or trading opportunity. Rather, the stock screen functions as a filter, narrowing down a universe of over 5,000 stocks into a handful of companies that meet a specific set of qualifying rules, which investors can practically focus on, subject to further research, analysis, reasoning, and due diligence.
The goal is to identify good businesses with solid, continuing growth fundamentals, undergoing a temporary correction, rather than a business with systemic/structural issues, which can be identified and set aside through disciplined research/analysis.
Stock Screen Results:
Pre-Open Monday 13th October 2014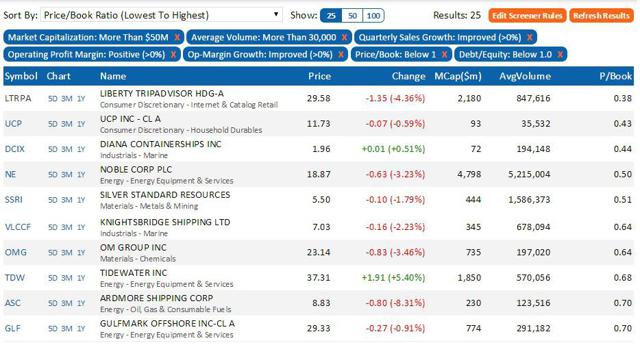 Investors/traders can view the latest stock screen at any time, based on the same rules above, or apply their own...
This includes any number of free stock screening rules, such as quarterly and annual sales growth, ROA/ROE/ROIC growth, margins (gross, operating and net), margin growth, and multiple value ratios, including price/earnings, price/EBIT, price/free-cash-flow, price/book and price/tangible book. Intraday price and volume based technical indicators are also included. The stock screener is 100% free.
By Shiraz Lakhi