Prudent land acquisition, and a diverse customer base underpinned by growing demand for single-family homes, places PulteGroup (PHM) on my radar today. Having had this on my watchlist for a number of weeks, what prompted me to consider buying at today's open are the fundamental positives combined with technical price/volume activity which offers potential short-to-medium term appreciation in the stock price, with an 'initial' target price at the resistance level $31.40.
Many analysts who follow the stock have placed a consensus price target on Pulte at $35.82, adding further support (if you give any credence to analysts – which in my case is 'very selectively') to the bull thesis.
Combining Fundamentals + Technical Price/Volume Activity…
Most of my biggest winners have come from combining fundamentals with price/volume activity, and PHM is no exception. Over the past two trading days, the stock has set up a strong support, coinciding with a rising trend-line (blue) around the $29.10 area. On Tuesday, the stock moved significantly lower on very high (7m) relative volume, which was potentially (now confirmed) a consolidation as the sellers matched up to an equal number of buyers. Yesterday's (Wednesday) price action say the stock under stronger accumulation as an additional 7m shares changed hands, producing a strong reversal candle, with prices closing at the day's high.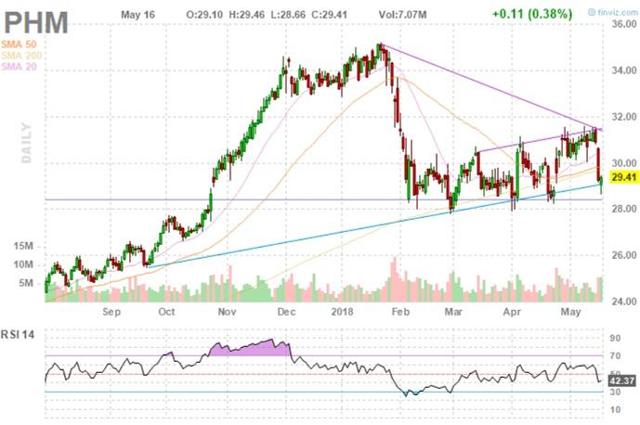 Looking at the fundamentals (combined with a macro view on the U.S. housing market, and demand for single-family homes), the deeper metrics offer a compelling, deep-value opportunity in PulteGroup…
Last quarter's top-line sales revenue (relative to same quarter in the previous year) increased by 20.8%. Gross margins increase a tiny amount (but still grew) by half a percent, while operating margins expanded by a very healthy 17.7%. At the time of writing, the operating-income-to-enterprise-value (EBIT/EV) for PHS stands at a respectable 8.81%, with free-cash-flow-to-enterprise-value (FCF/EV) quoting 5.58%. Relative to businesses in the same sector, and the fact that PHM is an elephant amongst it's peers, there is little doubt management have got a handle on their processes and ability to successfully steer this ship. This is further exemplified by prudent land acquisition strategies…
While a growing housing market, underpinned by an improving economy and the job market in general bodes well for PulteGroup, the company actively (and successfully) micro-manages the supply and demand of its product with forward thinking and prudence. In 2017, the company spent around $1.12 billion on land acquisition. It is expected to spend an additional 10% in 2018, to closely match the growing demand from what are undoubtedly healthy housing market fundamentals.
In the first quarter of 2018, the spend on land acquisition came to around $290 million, which is around 20% more than the same quarter a year ago. More interestingly, from these land deals, post building permissions granted, around 32% of the stock is targeted directly to first-time buyers, 49% to people who are looking to move up the ladder (this is where the demand is the strongest), and a large proportion of the balance offered to active adults. Going forward, management expect to moderate its rate of land spend, and increase the use of land options where possible, to speed up inventory turnover. Selling higher quality premium homes to maximising gross margins (which are growing, albeit fractionally) is an added effort which transpires into a proven bottom line.
It is this kind of focused supply management meeting a diversity of demand in well-research segments is a strategy that seems to be (and likely to continue) paying off for PulteGroup. To maintain some level of nimbleness within a business selling over $8 Billion worth of homes across the U.S., is a challenge, but in the case of PHM, proven time and again.
Headwinds for PHM may be rising labor costs, and materials (such as lumber) which could hit gross and operating margins. And of course, rises in interest rates, the big elephant in the room. I just cannot see any Fed chair (or president) placing obstacles in the way of the American consumer anytime soon. There are other ways (possibly extremely gradual rate rises, with a new norm being lower than historical levels), which would make more sense, as the worst of the post-2008 crisis seems to be receding, albeit at a snails pace.
All else equal, as the current macro's look positive, demand for housing will continue to grow, and PulteGroup is in a good position to benefit from this at least into the next 2-3 quarters, I believe there is strong potential in the share price of PHM to continue upwards from the current level.
Shiraz Lakhi
Strategy Developer | Founder: tradePilot.com
Disclosure: I/we have no positions in any stocks mentioned, but may initiate a long position in PHM over the next 72 hours.
I wrote this article myself, and it expresses my own opinions. I am not receiving compensation for it (other than from Seeking Alpha). I have no business relationship with any company whose stock is mentioned in this article.