GDX is the index for gold miners. GDX has become under enormous pressure since the gold price is decreasing. Is it time to step in or is it still too early to acquire this batterd index?
Since September 2011, when the gold price set a record above $1900, investors are slowly but steadily leaving the gold ETFs. Frightened by doom scenario's people jumped in gold. Since gold was rising since early 2000, every buy was a good buy. Until 2011. A lot of the money flown into the gold ETFs and gold funds is being repatriated. In the search for yield investors rather take their chances with dividend stocks than non-yielding commodities. What is not helping gold is the lackluster demand for the material from the manufacturing industry.
The gold miners have been on a tear as well. Look at this chart, the comparison between the gold price and the gold miners: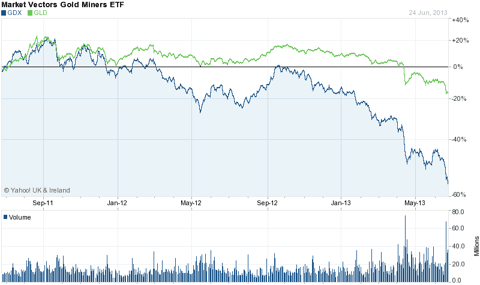 It is astonishing to see the underperformance of the miners. It shows that the decline of the gold price is obviously more than the miners can handle. Looking at the financial reports of a couple of miners, one thing is remarkable: they all have trouble with the cost price of gold. Once the gold price sinks back to levels below $1200, it will be hard for various miners to make a profit per ounce gold they produce. The cost price is simply too high. Investments in new mines and equipment, as they've done the latter two years, cannot be made profitable.
For shareholders, it can even be worse. Some companies are already in financial trouble and need extra working capital. The revenues of selling gold have declined seriously while the costs have gone up. Banks are not standing in line to lend more money to this sector so the only way would be venture capital or issuing new shares.
Conclusion
Is it all so negative? Well, one thing is for sure, if prices keep declining, more and more miners will get out of business. This will reduce the amount of gold produced, which will automatically drive up the price.
Once the gold ETFs are done with their selling, gold can stabilize and gold miners can begin to build a solid profit. But that point has not been reached yet. Till then, fingers crossed.
Disclosure: I have no positions in any stocks mentioned, and no plans to initiate any positions within the next 72 hours. I wrote this article myself, and it expresses my own opinions. I am not receiving compensation for it (other than from Seeking Alpha). I have no business relationship with any company whose stock is mentioned in this article.