I woke up Friday morning and checked my iPad for the direction of futures for the major indices; they were up almost 100 points on the Dow and about 10 points on the S&P. Ten minutes later I turned on the television and the Dow was down 100 points and the S&P was down 10-plus. What happened? China announced retaliatory tariffs of $7.5 billion, and the world had turned a bit upside down.
Let's put that $7.5 billion in some perspective. US exports in 2018 were $2.501 trillion as reported by bea.gov. Exports to China were about 5% of that 2.5 trillion. So, the $7.5 billion amounts to a 0.3% average price increase on total exports, and 6% average on China exports. Further, that is only true if there are no mitigating actions taken by market participants and currency exchange rates stay where they are.
Meanwhile, since January of 2018 the US dollar has increased in value by 9% when measured against a trade-weighted foreign currency basket; that's per fred.stlouisfed.org. So, for the last 20 months, while the economy has been thriving, the exchange rate imposed a 9% price increase on that entire $2.5 trillion export portfolio. So, looking at the macro picture for exports, the exchange rate imposed a $225 billion price increase on exports of goods and services and China tariffs will impose a $7.5 billion price increase. Therefore, following the market's logic, the $225 billion did not eradicate 2% to 3% GDP growth, but the $7.5 billion should tank markets by 200 points on the Dow.
Obviously, I'm missing something. The sky-is-falling crowd would tell us that the $7.5 billion is more important because it signals a ratchet up in the "trade war." Let's examine that. Why did China only tax $75 billion when we export $120 billion to China? Most likely, because they simply view this as a negotiating ploy. By targeting exports from Trump's support States, they hope to increase pressure in the trade negotiations, or ultimately make him unelectable. If it's part of the negotiation, I submit not much has changed.
What ammunition has China got left? They could tax the remaining $45 billion, but that would probably not target Trump supporters. The $75 billion represents exported goods, and the $120 billion is a combination of goods and services. So, more likely a ratchet up would target consultants and service providers, and how much intellectual property would become unavailable to China if they did that?
Anyway, now it's 11:00 AM EDT and markets are largely unchanged from last night; Powell has spoken and what he said has counteracted the China headlines. Look at how the VIX futures curve barely responded to the China turmoil Friday morning.
VIX Futures – Little Changed Friday AM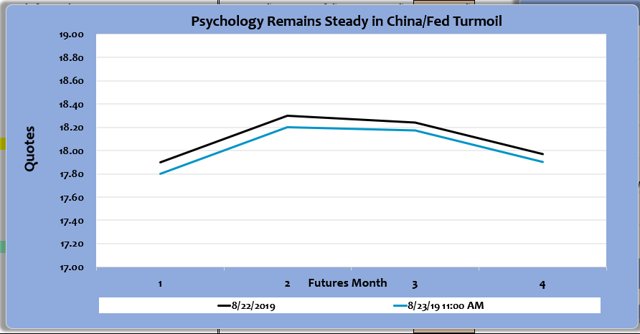 Source: Michael Gettings Data Source: CBOE
But wait! Shortly after 11:00 AM reports circulated that Trump had tweeted this, and suddenly the Dow was down 400-plus:
"Our Country has lost, stupidly, Trillions of Dollars with China over many years. They have stolen our Intellectual Property at a rate of Hundreds of Billions of Dollars a year, & they want to continue. I won't let that happen! We don't need China and, frankly, would be far.... better off without them. The vast amounts of money made and stolen by China from the United States, year after year, for decades, will and must STOP. Our great American companies are hereby ordered to immediately start looking for an alternative to China, including bringing . . ."
All this is interesting, and maybe the markets are wildly overreacting, but does it matter? If the markets overreact and stock prices fall, does it matter if it's not justified? We still lose money. The market psychology will wildly overreact sometimes; the bigger question is can we avoid the intervals when that overreaction runs to the point where it's truly damaging.
That Trump tweet mattered to the VIX futures, but to be clear, it was not enough to move Easy VIX metrics to a sell signal. Here is an updated graph of VIX futures all the way through 2:50 PM EDT:
VIX Futures Did Respond to Trump's Tweet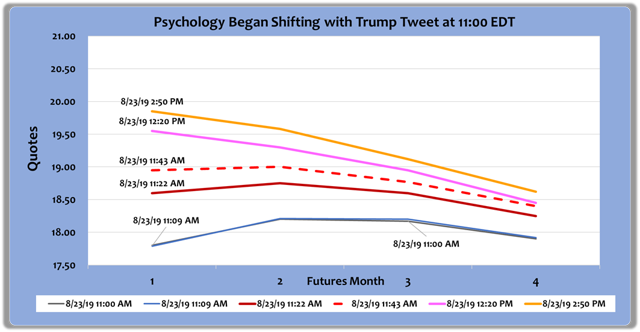 Source: Michael Gettings Data Source: CBOE
It's interesting that whatever impact was driven by the China tariffs is hardly visible on the new scale as the bottom two curves are virtually indistinguishable.
By 2:50 PM EDT and the rout had worsened; the Dow was down about 560 points and the ETF basket was down 2.8%. Don't panic; keep these facts in mind and the stress-induced fog will start to evaporate.
The algorithm does not signal day-to-day market turns, but it does avoid major losses thereby enabling reentry at lower levels when major downturns materialize.
If this is the beginning of a major turn to the downside, the algorithm will say so soon. At the start, we could lose a few percentage points just like a buy-and-hold approach, but if the market heads into a bloodbath, we'll benefit by getting out early and buying back cheaply, unlike that buy-and-hold approach.
The worst that can happen is the algorithm calls a sell after a few points drop and then markets recover adding one to two percent before reentry. That would result in a one to two percent disadvantage versus holding through the interval, an outcome squarely in the "Noise" zone described in the graph below and my prior article linked here.
88% of Sell Interval Outcomes Are Zero-Sum Noise - 1-in-8 Material Downturns Yield Advantage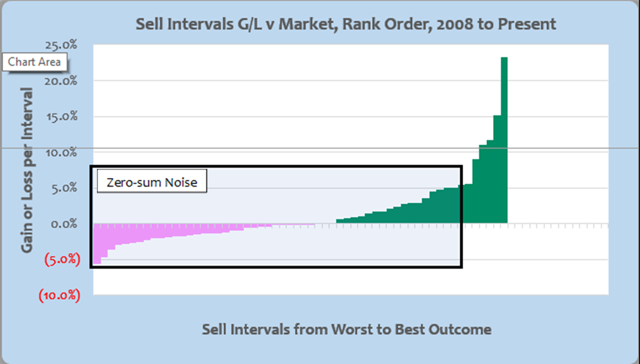 Source: Michael Gettings Data Source: Fidelity, VIVCentral.com & CBOE
Here is the Easy VIX dashboard as of 12:20 PM EDT. A 3:30 EDT update indicated little change; no sell signal yet.
The Easy VIX Dashboard at August 23, 2019 @ 12:41 EDT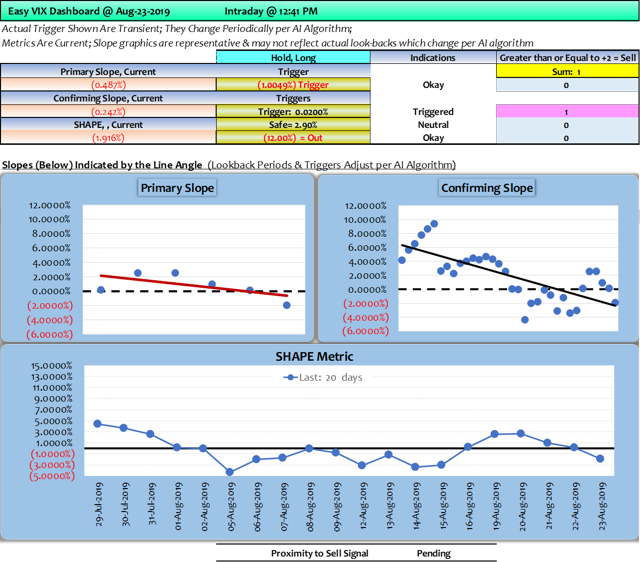 And finally, at 3:57 PM EDT, with the Dow down more than 700 points, I'm still holding; no sell signal and no panic.
So in summary, if you've been following my blogs and articles, you know the plan. We'll get through the transient hard times, and oddly enough if they get really bad, the better we'll do.
Disclosure: I am/we are long SPY.
Additional disclosure: I trade all the tickers mentioned using the algorithm described. The artificial intelligence algorithm monitors daily performance and periodically recalibrates look-back horizons and triggers in a step-wise sequence. New calibrations are applied prospectively only, and never applied to the historical period from which they derived. The algorithm described and the discussions herein are intended to provide a perspective on the probability of outcomes based on historical performance. Neither modeled performance nor past performance are any guarantee of future results.