I'll keep this short and timely.  I'm selling now here is the intraday dashboard.
The Easy VIX Dashboard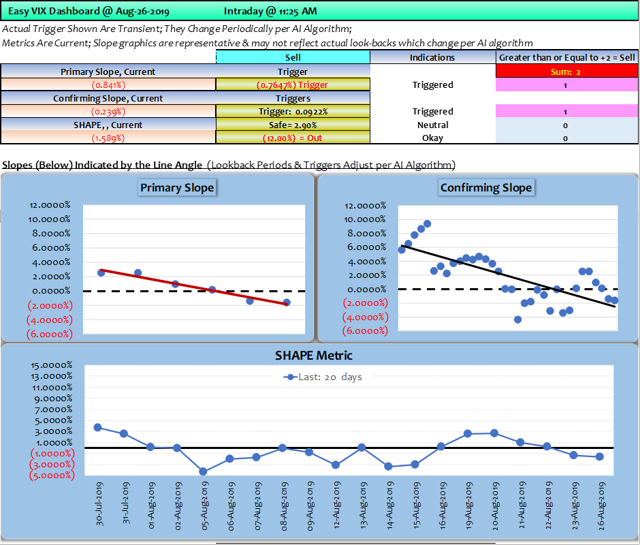 Source: Michael Gettings         Data Sources: Fidelity, VIXCentral, CBOE
If it helps, here is the progression of futures curves:
Progression of VIX Futures Curves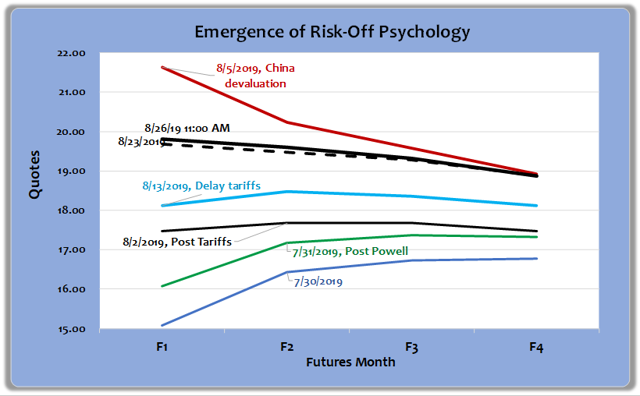 Source: Michael Gettings     Data Sources: VIXCentral, CBOE
For those following the blogs, please keep it up.  I submitted an article early last week and it's still awaiting publication.  By now, with Friday's action, it's wildly obsolete, so I almost hope it gets buried rather than having new readers think I'm out of touch.  I submitted a new article on Friday and hope to see it published mid-week.  That will be more timely I expect, but most of the content was in Friday's blog anyway.
The first disclosure says I'm long SPY, but that is changing as you read this.
So watch the blogs and thanks for following.  Be safe now! 
Disclosure: I am/we are long SPY.
Additional disclosure: I trade all the tickers mentioned using the algorithm described. The artificial intelligence algorithm monitors daily performance and periodically recalibrates look-back horizons and triggers in a step-wise sequence. New calibrations are applied prospectively only, and never applied to the historical period from which they derived. The algorithm described and the discussions herein are intended to provide a perspective on the probability of outcomes based on historical performance. Neither modeled performance nor past performance are any guarantee of future results.