I was planning to write a blog tonight, but I thought it would be a completely benign report about how solid all the metrics looked.  They've been improving steadily for two weeks.  It turned out to be a little different.
Here is the progression of VIX futures curves from the tail end of the last sell interval (August 27th) to yesterday (9/17), and then tonight (9/18). (I'll begin using 'VIX term structure' and VIX futures curve interchangeably):
VIX Term Structures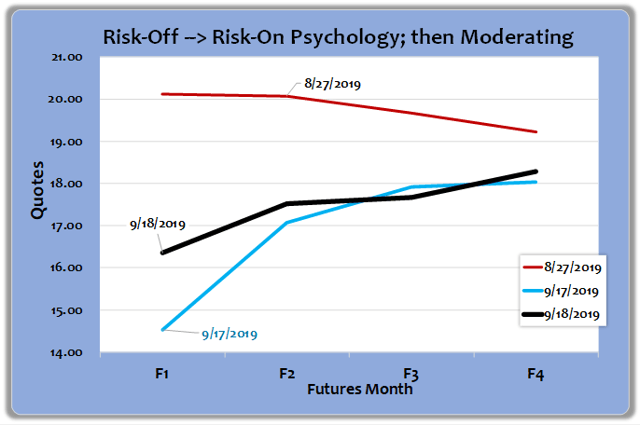 Source: Michael Gettings      Data Sources: VIXCentral.com, CBOE
That move upward on the 18th is a bit of an anomaly in a slightly rising S&P market; the S&P was up only .03% today.  Here is the Easy VIX Dashboard.  I've plotted the appropriate number of days for each slope this time.
Easy VIX Dashboard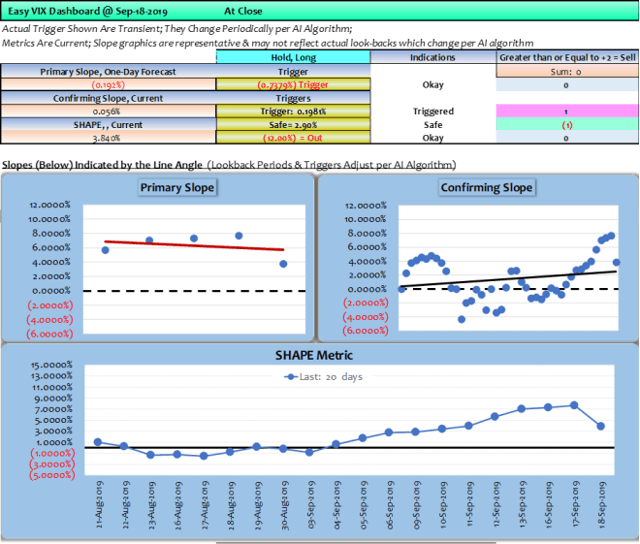 Source: Michael Gettings    Data Sources: Fidelity, VIXCentral.com, CBOE
Look at the 20-day plot of SHAPE metrics and you can see how bullish the trend was until tonight's data point.  As I expected in last week's blog, the Confirming Slope has turned positive; however, it is still below the algorithm's trigger level.
What does it all mean?  It could be that given the market's undecided behavior today, VIX traders are simply injecting a small dose of caution in the bullish mix, or possibly the change represents the start of a psychology reversal. Either way, the metrics will tell a story in coming days.
Housekeeping
I've submitted a proposal to start a Marketplace service with Seeking Alpha.  I hope to hear back this week, and I'll keep you informed.
In the meantime, thanks for seeking out these blogs and thanks for following.
Disclosure: I am/we are long SPY.
Additional disclosure: I trade all the tickers mentioned using the algorithm described. The artificial intelligence algorithm monitors daily
performance and periodically recalibrates look-back horizons and triggers in a step-wise sequence. New calibrations are applied prospectively only, and never applied to the historical period from which they derived. The algorithm described and the discussions herein are intended to provide a perspective on the probability of outcomes based on historical performance. Neither modeled performance nor past performance are any guarantee of future results.