This is the second article covering companies who report earnings during the week starting April 22, 2013. The first article - 3 Earnings-Related Plays For Next Week - included the companies which report before Wednesday, April 24th, and today the rest of the companies are covered.
For several months I have been studying ways to predict stock price action after an earnings announcement using four measures:
Whisper numbers vs. analyst expectations
Stock market action leading up to the announcement
The percentage change predicted by option prices vs. historical post-announcement changes
The implied volatility (IV) advantage of the Weekly options over the next-month out options (this is also a good indicator of how much the further-out options will implode in value after the announcement).
The basic premise is that if expectations are unusually high, there is a very good chance the stock will fall after the announcement, regardless of how much the company beats analyst expectations on earnings, revenue, margins, and guidance. There seems to be a large group of investors who "sell on the news" and at least temporarily depress the stock when expectations are particularly high going into the announcement date.
If expectations are unusually low, the reverse is true. The stock may well move higher even if the company fails to meet analyst projections.
Last week, these expectation measures suggested that SanDisk (SNDK) had extremely high expectations and would likely fall after the announcement, regardless of what the numbers were. The bearish option spread I recommended in How To Play The First Week Of The April Earnings Season ended up gaining 68% after commissions - see details.
As high as SNDK's expectations seemed to be, Google (GOOG) had equally low expectations. In one of our portfolios at Terry's Tips, with GOOG trading about $770, we bought May - April calendar spreads at the 780 and 790 strike prices, paying $4.60 and $4.75. In the morning after the announcement, we sold these spreads for $11.52 and $11.80, more than doubling our money. Once again, our measure of expectations correctly predicted the direction the stock price moved after the announcement.
Apple (AAPL) seems to have as low expectation levels as GOOG did a week ago. This would suggest the outright buy of AAPL in advance of Tuesday's after-hours announcement, or May - Apr4 calendar spreads at higher strikes than the $390.53 current price (e.g., at the 400 and/or 410 strike prices) where calendars can be bought for less than $4. These spreads could easily be worth double those amounts if the stock moves moderately higher next week after the announcement.
Here are the numbers for the remaining companies (trading over $20) with Weekly options that announce next week: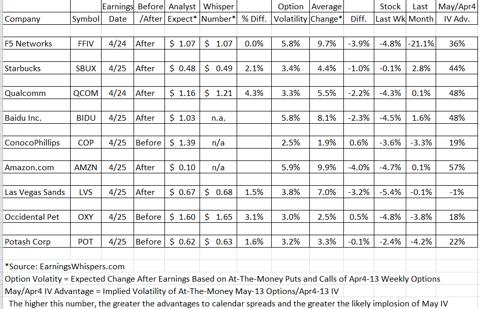 While you may use this information to support or refute ideas you may have about these companies, there does not seem to be a strong indication for any of these companies that expectations are particularly high or low. That is a real shame since I spent many hours calculating these figures.
Occidental Petroleum (OXY) and Qualcomm (QCOM) have whisper numbers which are higher than analyst expectations by the largest margins of any of the other reporting companies, but both companies have traded much lower over the past week and month, suggesting that expectations are not unusually high in spite of the elevated whisper numbers.
Of the nine companies reporting, Starbucks (SBUX) might be the one with the highest expectations (and might be most likely to trade lower after the announcement). Whisper numbers are slightly higher than analyst expectations, the stock has moved higher over the last month, and it fell only 0.1% last week while the S&P 500 fell by 2.1%. However, unless you have other reasons to believe that SBUX is due for some weakness, this level of expectations is not sufficiently strong to suggest a short sale, at least compared to the high levels we saw in SanDisk last week and low levels displayed in AAPL and GOOG.
One interesting note is that many companies, notably Baidu (BIDU), F5 Networks (FFIV), and Amazon (AMZN) have option prices which are quite low compared to the average historical change in the stock price after the announcement (according to EarningsWhispers.com). You could buy a straddle for the percentage of the stock price (Option Volatility column) and make a gain no matter which way the stock price moves just as long as the percentage change is the same as the historical average.
Another way of playing this would be to use the information that option prices for these companies seems to be lower than they should be to pick a direction if you like or dislike a particular company's prospects, and buy either a put or a call. For example, I think AMZN is having difficulties right now, and selling the stock short or the outright purchase of a put might be in order. Even with that inclination, I would be more comfortable buying a calendar spread at a lower strike price because I don't really feel that strongly about the stock moving lower at this particular earnings announcement.
I continue to believe that checking out the level of expectations prior to an earnings announcement is a great way to predict the direction the stock price might take after the announcement (regardless of how good or bad those numbers might be). In order to get a handle on the level of expectations, you have to go through the process of measuring the variables as I have done in the above table.
There is surely some value in concluding that there is not a clear edge to be had in either direction based on these calculations (as we have discovered in the above table), and as long as there is interest from Seeking Alpha readers, I will continue to make these calculations and pass them along to you.
Disclosure: I am long AAPL. I wrote this article myself, and it expresses my own opinions. I am not receiving compensation for it (other than from Seeking Alpha). I have no business relationship with any company whose stock is mentioned in this article.