Situation:
The hedge fund debate over the legitimacy of Herbalife Ltd. (NYSE:HLF) has been in full swing for over a year now and the situation entered a new phase on March 12, when HLF disclosed that the Company received a Civil Investigative Demand (NASDAQ:CID) from the Federal Trade Commission (NASDAQ:FTC).1 While there is a risk that the FTC finds HLF to be operating an illegal pyramid scheme and in a worst-case scenario shuts down the firm's U.S. operations, the fear of a negative outcome has overwhelmed the stock, which is trading at attractive levels with significant upside and limited downside.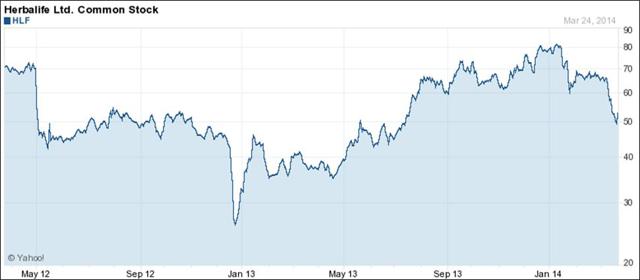 Background:
HLF is a "global nutrition company founded in 1980 that sells weight management, healthy meals and snacks, sports and fitness, energy and targeted nutritional products as well as personal care products."2 The Company operates its business through a "multi-level marketing" ("MLM") platform vs. a traditional retail business model. As a MLM company, HLF sells its products through a network of ~3.7 million independent members in over 90 countries. Historically, MLMs have dealt with accusations of being illegal pyramid schemes (see Webster v. Omnitrition International, Inc.3), the latest of which has been brought by Bill Ackman, founder of Pershing Square Capital Management, L.P., who has waged an impressive marketing campaign against HLF.4 Ackman has the financial power and connections to ultimately force the FTC's investigation;5 however, the length at which he has gone to prove his thesis indicates that this is not black or white and HLF's successful operation over the past 34 years puts the Company in the dominant position.
The Ackman Argument
Though there are almost 200 slides in his presentation, the ultimate point that Ackman makes is that HLF members are joining primarily for a financial gain and there is no "real" consumption of the products. One of his more publicized examples is the fact that heavily discounted HLF products can be purchased on eBay, which begs the question, if one can obtain these products for less on eBay, then why bother going through the Company unless you are trying to sell the product yourself? Ultimately, neither the FTC nor investors will be able to track down every consumer of the product; however, there are some anecdotes6 out there that paint a different picture where overweight/obese individuals with limited means are part of a support group that helps them reach their weight loss goals. As such, the cost of HLF products is much more than just the raw materials.
Furthermore, Ackman's push to force an investigation (e.g. hiring lobbyists, donating to Latino charities, establishing a hotline for HLF "victims") over the past fifteen months reeks of desperation and political maneuvering. He has laid down a very risky $1B short bet that could have disastrous results. As a portfolio manager who has blown up previously,7 Ackman is setting himself up for another embarrassment.
Opportunity - Downside (15%); Upside (55%+):
I would argue that HLF's recent slide (down 18% since March 12, down 35% from the 52-week high)has created a buying opportunity as many investors are either unable to own the stock (due to the current investigation) or have been swayed by Ackman's continued smear campaign against the Company.
First off, let's look at the downside. HLF operates in 91 countries, and according to its most recent 10-K filing, sales in the United States account for ~18% of total sales. Using 2013 numbers, I calculate that if the FTC review results in a complete shutdown of HLF's U.S. business (unlikely), the stock should still trade in the mid-$40s as shown below: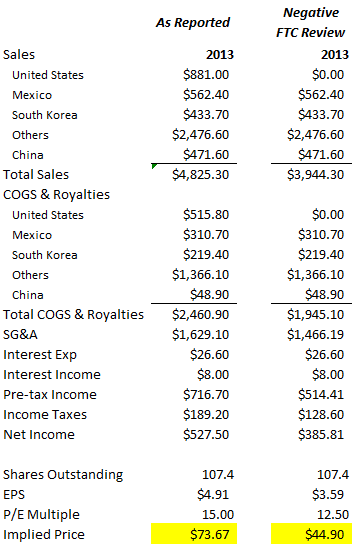 Furthermore, the downside is conservative as the $45 (~15% downside) does not take into account the higher earnings that HLF is expected to achieve in 2014.
I believe that the FTC will most likely issue HLF an immaterial fine as these regulatory agencies are inclined to do (revenue for the government and demonstration of the FTC doing its job), and without the regulatory overhang, the stock should return to at least a mid-$80s level. I reach this number on multiple conservative approaches:
Historical P/E: Since January 2010 (includes period of allegations), HLF has traded at an average forward P/E multiple of 13.5x. At the mid-point of Company reported guidance of $5.95 in FY14, the stock should trade at $80.32.
Relative P/E: While HLF has better than average five-year EPS and EBIT growth vs. comps,8 the average forward P/E for comps is 14.25x. Applying the multiple to EPS of $5.95 in FY14 gets me to a stock price of $84.79.
Average Analyst Target: Three analysts have released reports since the FTC investigation was announced and have an average target price of $82.67.
Taken together, the average upside price is $82.59 (~55% upside).
Conclusion:
I believe that the FTC will find HLF's business practices to be sound and Bill Ackman to come out on the wrong side of this bet. Once the overhang is lifted, investors will be able to see a company with impressive margins (e.g. profit margins of 10.6% vs. 7.4% for comps), strong growth prospects (EPS growth has averaged 35% since 2009), a clean balance sheet (the Company has net cash and an investment grade debt rating [BBB-] by Egan-Jones), and generates significant cash (cash flow from operations has consistently been higher than net income).
Additionally, as obesity becomes a worldwide epidemic9, the demographics for HLF's business become increasingly attractive, which should lead to outperformance on both a sales and profit basis, providing for further upside than the numbers I have reached.
There will likely be volatility in the stock price before the investigation is resolved, but at current levels, this is a great opportunity for event-driven, value and contrarian investors given the attractive risk/reward profile of HLF.
1 ir.herbalife.com/releasedetail.cfm?Relea...
2 files.shareholder.com/downloads/ABEA-48Z...
3 www.mlmlaw.com/library/cases/mlm/federal...
5 www.nytimes.com/interactive/2014/03/10/b...
6 brontecapital.blogspot.com/2013/01/notes...
7 www.reuters.com/article/2010/10/14/us-he...
8 Comps include: NUS, TUP, USNA, MED and NATR
9 www.newscientist.com/article/dn24838-obe...
Disclosure: I am long HLF. I wrote this article myself, and it expresses my own opinions. I am not receiving compensation for it. I have no business relationship with any company whose stock is mentioned in this article.
Additional disclosure: I may change or exit my position without updating this article and without informing the Seeking Alpha community