While few people may be familiar with LRAD Corporation, the company is growing in terms of annual revenues and has received a Strong Buy rating lately from CNBC.  This company is poised for strong growth and a significant upside potential.

LRAD Corporation, formerly American Technology Corporation is engaged in the design, development and commercialization of directed sound technologies and products. The Company develops and delivers directed acoustic products that beam, focus and control sound over short and long distances. It offers a variety of directional sound products, which meet a range of requirements from communicating with and deterring threats over distances up to 300 meters with its hand-held LRAD 100X to distances greater than 1,500 meters with its LRAD-RX.

From a fundamental perspective, this stock is poised for long-term growth. According to IBIS World for the industry as a whole, a steep decline in consumer spending paired with a fast offshoring pace has caused significant revenue drops for the Audio and Video Equipment Manufacturing industry between 2007 and 2009. To boot, consumers substituted some of this industry's products with built-in alternatives in mobile phones and computers. Nonetheless, revenue rebounded in 2010 and is expected to revive further in 2011 as downstream demand from the Movie Theaters and Car and Auto Manufacturing industries jumps significantly.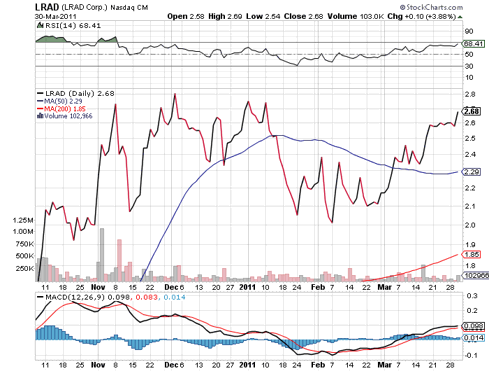 Analysts including those with CNBC and TradeKing have placed a Strong Buy recommendation on the stock.  Please note, the TradeKing Buy recommendation is available for those with access to the advanced research and recommendation features in a TradeKing account.

Yesterday, the stock closed at $2.68 a share, up 3.88%.  As such, the stock  broke through its previous resistance level of $2.60, which is likely to become a level of support in the coming weeks.  Today the stock rose another 4.1% closing at $2.79.

The company is currently working with Congress and Pentagon officials on securing multi-year funding for LRAD systems procurement by the U.S. Army in the 2012 Congressional budget the company's.  The company sees strong potential growth in governmental markets including

• U.S. Customs and Border Protection (NYSEMKT:CBP)
• U.S. Immigration and Customs Enforcement (NYSE:ICE)
• Department of Homeland Security (NYSEARCA:DHS)
• United States Secret Service (USSS)
• United States Coast Guard (USCG)
• Federal Bureau of Investigation (FBI)

In light of both bullish fundamental and technical indicators, LRAD is a strong buy for the long term with the current timing being ideal. 


Disclosure: I am long LRAD.